Bowl contests offering high rewards at low risk
December 13, 2013 - 10:17 am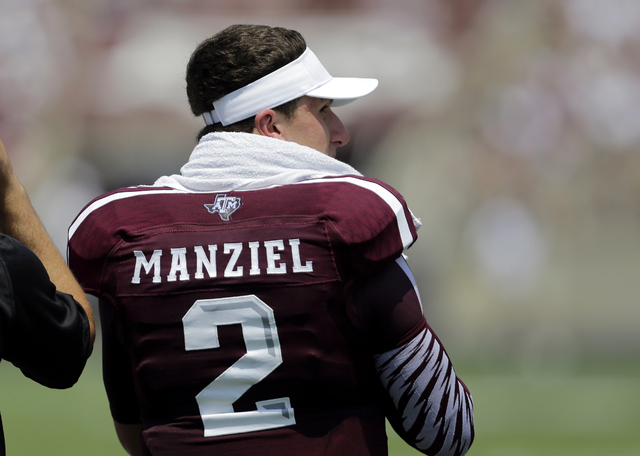 In the final football game of the year, Johnny Manziel will quarterback what is almost certain to be the last game of his college career when he leads Texas A&M against Duke. He's going out with a bang, in a way.
The Aggies' season will end close to midnight on New Year's Eve in the Chick-fil-A Bowl in Atlanta. Manziel, a redshirt sophomore who won the Heisman Trophy a year ago, is moving on to try his luck in the NFL.
He still might be partying when UNLV takes the field for the first football game of 2014.
The oddities of the bowl season never end. Manziel will be history by the time the Rebels face North Texas in the Heart of Dallas Bowl on New Year's Day. That's a scenario no one could have predicted, not even Nostradamus or Lee Corso.
"It's funny to look at the Jan. 1 bowl games and see UNLV on there," Jeff Sherman, assistant manager at the LVH sports book, said with a laugh.
The bowl season is a funny thing, and it's always difficult to handicap. Aside from strange matchups in odd locales, there are coaching changes to consider and player suspensions coming.
Some say 35 bowls are too many, that 34 are meaningless and the Bowl Championship Series title game is the only one that matters. But bettors never say that, and neither do bookmakers.
"The more the merrier," South Point oddsmaker Jimmy Vaccaro said. "I would welcome more bowl games."
Who cares about the Little Caesars Pizza Bowl, matching Bowling Green and Pittsburgh on Dec. 26 in Detroit? If there is money on the line, we care. And if you enter a bowl pool, you care about every game.
"None of them are terrible," Vaccaro said. "Even with the bowls that don't draw a lot of attention, there's a decision. The bowl game here is going to attract big action, so I think we played lucky."
The game here has a new sponsor. The Royal Purple Las Vegas Bowl, pairing Fresno State and Southern California at Sam Boyd Stadium on Dec. 21, is one of four games on the opening day of the bowl season. The Trojans will be led by their third coach of the season, and their next one, Steve Sarkisian, will be watching.
Washington, the team Sarkisian left behind, will face Brigham Young in the Fight Hunger Bowl in San Francisco on Dec. 27. The Huskies' next coach, Chris Petersen, just bolted from Boise State.
The Broncos, without Petersen, are underdogs to Oregon State in the Hawaii Bowl on Christmas Eve. There are plenty more coaching changes, and we don't know yet if Nick Saban will go bowling with Alabama or be looking to replace Mack Brown at Texas.
Coaches are always important, but especially in bowl games. Bronco Mendenhall has won and covered his past four bowls at Brigham Young. Bill Snyder failed to cover his past three bowls at Kansas State, for what it's worth.
Southeastern Conference teams typically whip Big Ten opponents. Mountain West teams don't fare well in most bowls, going 3-7 against the spread since 2011, yet UNLV is 3-0 all time in bowl games, if that means anything.
I jumped into two bowl pools last year and did a belly flop. It was a complete embarrassment, one loser after another, and some people thought that was funny. But I'm jumping in again this year because bowl action is a strong — and sometimes fatal — attraction.
The Aliante, South Point and William Hill sports books are offering bowl contests that fall into the low-risk, high-reward category. Vaccaro's new contest at the South Point — the College Bowl Jackpot Parlay Contest — requires just a $10 entry fee and guarantees $50,000 in prize money.
In today's paper, I attempted to pick the ATS winners of all 35 bowls along with Adam Hill and Kelly Stewart of the Review-Journal and handicappers Dana Lane (DanaLaneSports.com) and Bruce Marshall (GoldSheet.com).
"Sometimes it's hard to bet these games so early," Sherman said.
That's no joke. I took 27 underdogs and sided with seven favorites. The Missouri-Oklahoma State matchup in the Cotton Bowl is a pick-'em, and I picked the Cowboys.
My best bets — which are subject to change, because it's hard to pick these games so early — are Colorado State, Buffalo, BYU, Rutgers, Mississippi, UCLA, South Carolina, Michigan State, Oklahoma and Ohio State.
I also sided with UNLV, a 6½-point underdog, and Auburn, which is getting 8½ points against Florida State in the BCS title game.
Follow along, and feel free to laugh at the losers. Handicapping the bowl season is a funny thing.
Las Vegas Review-Journal sports betting columnist Matt Youmans can be reached at myoumans@reviewjournal.com or 702-387-2907. He co-hosts "The Las Vegas Sportsline" weekdays at 2 p.m. on ESPN Radio (1100 AM). Follow him on Twitter: @mattyoumans247.