Brees, Broncos steal the show
November 2, 2015 - 12:19 am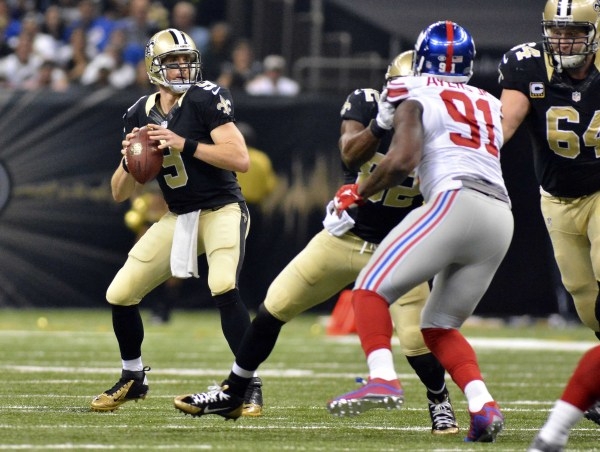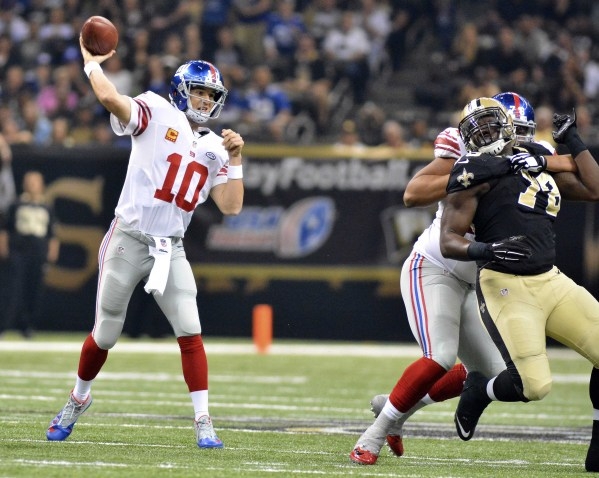 Seven touchdown passes should be enough to win a game, yet Drew Brees needed help. He needed the opposing coach to have a brain cramp, and he needed a kicker to deliver. He got it all, because it was one of those days for Brees.
A Sunday in New Orleans seemed like a college football Saturday with Baylor and Oregon in a shootout. But this was Brees and the Saints trading points with Eli Manning and the New York Giants.
While the NFL produces some boring games — pretty much everything played in London or anything involving Jacksonville and Tennessee — it can be highly entertaining at times. This was one of those times.
Brees passed for 511 yards and a seventh touchdown that tied the score with 36 seconds remaining. Manning passed for 350 yards and six touchdowns, and that should be enough to win, too. The Saints won at the gun 52-49.
"It was a fantasy players' paradise," said Nick Bogdanovich, William Hill sports book director. "If you had fantasy players in that game, you're smiling."
Of course, if you live in Nevada or a handful of other states, you're not playing on DraftKings or FanDuel anymore. But fantasy leagues obviously still exist, and if you're in one, you wanted Brees, Manning or Odell Beckham Jr., who had three touchdown catches.
The Saints were 3-point favorites and the total moved from 49½ to 52, so most bettors either got a refund or got it right. The score went over the total on Manning's 50-yard touchdown pass to Beckham two minutes into the third quarter.
Las Vegas books lost a little on the Giants-Saints total, but it was miniscule in comparison to what the books won because of Peyton Manning.
If you bet the Green Bay Packers, you're not smiling. In a wagering report issued by William Hill's marketing department, around 80 percent of the tickets and dollars bet on the late game in Denver were on the Packers as 3-point favorites.
It was not a good day to have Aaron Rodgers as your fantasy quarterback. In a classic battle between sharps and squares, the sharp money paid off as the Broncos rolled 29-10. Peyton Manning appeared rejuvenated, passing for 340 yards, while Rodgers threw for 77 yards (not a misprint) and got roughed up by the Denver defense.
"Everyone was basically betting Rodgers over Manning," Bogdanovich said. "It was one-sided action, all Packers. It's a big decision. We'll have a good day with Denver winning."
The books also had a good day because of Tampa Bay, an 8-point underdog, upending Atlanta 23-20 in overtime.
"The savior was the Falcons," South Point oddsmaker Jimmy Vaccaro said. "You had to knock out one of the big teaser games. That was the best game for us. That put us in a real good spot."
Favorites won and covered five of the nine games in the morning, which started early from London with Kansas City, a 3-point favorite, slaughtering the hapless Detroit Lions 45-10. Cincinnati beat Pittsburgh 16-10 in a pick'em game. The Giants-Saints decision was a push. So, Tampa Bay and San Diego, which was getting 3½ to 4½ points in a 29-26 loss at Baltimore, were the only early 'dogs to cover.
The worst result for the books was Arizona's 34-20 victory over Cleveland. The Cardinals closed as 7-point favorites after the line opened at 4½.
"We won one game in the morning, and it was the right one to win. Atlanta killed the teasers and money-line parlays," Bogdanovich said. "We won both late games."
The Cardinals and Jets, according to William Hill's report, attracted around 80 percent of the action. New York's vaunted defense was embarrassed by Derek Carr, who passed for 333 yards and four touchdowns in a 34-20 win for Oakland, a 3-point 'dog.
If you like bizarre point-spread drama, look to Dallas, where the Cowboys covered as 5½-point underdogs in a 13-12 loss to Seattle. I considered the line out of whack and bet the 'dog, but it was anything but a routine cover.
After the Seahawks took the lead with a field goal, Matt Cassel came out for a last-ditch drive that started at Dallas' 20-yard line with 1:06 to go. On second down, Cassel's arm was hit and the ball popped loose as his throwing hand was moving forward. Everyone watched the ball bounce on the turf — everyone but the Seattle lineman who scooped it up and rambled into the end zone.
The officials on the field ruled it a touchdown for the Seahawks, though it appeared to be an incomplete pass. At the Westgate, where I watched the end of the game, the crowd in the book erupted over a possible miracle cover for Seattle.
"That would have been insane," Vaccaro said. "Cassel tried to give the game away. He got lucky. That's what makes it exciting, and that's what makes this stuff insane. You can't script this stuff."
After a commercial break and a replay review, the call on the field was reversed. The Cowboys kept possession and covered, though the ending was too dramatic.
In New Orleans, Giants coach Tom Coughlin mismanaged another end-game situation. With 20 seconds left and on their 25, the Giants were forced to punt. The smart move was to punt to the sideline and make sure the ball went out of bounds. But, no, the Giants kicked it to Marcus Murphy, who ripped off a 24-yard return. A facemask penalty on punter Brad Wing moved the ball to the 32-yard line.
Kai Forbath kicked a 50-yard field goal as time expired. Brees, who tied an NFL record with his seven touchdown passes, showed he still has quality time left in his career.
Peyton Manning is not done yet, either.
Las Vegas Review-Journal sports betting columnist Matt Youmans can be reached at myoumans@reviewjournal.com or 702-387-2907. He co-hosts "The Las Vegas Sportsline" weekdays at 2 p.m. on ESPN Radio (1100 AM). Follow him: @mattyoumans247