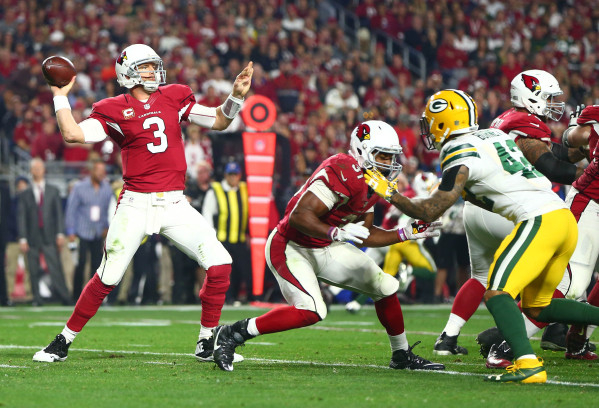 In the postseason, there's nothing wrong with an ugly win. The goal is to survive and send the opponent into the offseason, so in that sense the Arizona Cardinals are just fine. But they need quarterback Carson Palmer to be much better and bolder.
Ugly is not going to be enough again this weekend. Playing scared is a formula for failure. So, a bet on the Cardinals in the NFC Championship Game is a belief that Palmer will be a risk-taker in the biggest spot of his career.
"Palmer has not played well in two straight games," said Chuck Esposito, Sunset Station sports book director. "But he kind of got that monkey off his back by finally winning his first playoff game."
And that could mean a lot Sunday, when the Cardinals go to Carolina as 3-point underdogs. Palmer is leaving the proverbial monkey in Arizona. He admitted to being tentative last weekend. His game plan against Green Bay was to play it safe early and avoid mistakes. But when the game was on the line late, he had to finally let it fly.
The Cardinals got away from their aggressive, gambling nature — the personality of coach Bruce Arians — and almost paid a heavy price for it. Arians said we will see the more familiar Arizona team this time, and there's no reason to doubt him.
Three games remain in the NFL season, and almost everyone wants to wager on these games. But this also can be the most difficult time of the season to find an edge. The conference title games are likely to swing on one or two plays in the fourth quarter. It's not as if the lines are way off and there is invaluable inside information available from a shady tout.
Everyone knows Tom Brady is far better than Peyton Manning at this late stage of their careers, and that's the main reason bettors are pounding the New England Patriots as 3-point favorites at Denver in the AFC title game.
"It's really tough to bet these games. These numbers are right where they are supposed to be," said Ron Boyles, a veteran professional bettor in Las Vegas.
"For whatever reason, I'm just not completely sold on the Panthers," he said. "I think Arizona is better on both sides of the ball. I'm going to play the Cardinals, and hopefully get 3½."
Palmer will be better this weekend, Boyles predicted, and Arizona will use a vertical passing attack to exploit a matchup advantage.
Scott Kellen, one of the nation's top NFL handicappers, said he's "still torn" between the two sides and has situational data to support the Cardinals and Panthers.
"On one hand, I see Palmer as a sitting duck, standing there waiting to get crushed by the Carolina pass rush, especially knowing the Cardinals like to run deep patterns that take time to develop," Kellen said. "But Carolina's one weakness is its secondary, and I'm not sure the Panthers have enough quality people in the secondary to cover all of Arizona's receivers. I do like this Carolina team and what it has done this year."
The Cardinals are 7-1 on the road this season, including 5-1 when traveling two or more time zones. Carolina jumped on Seattle 31-0 last week before the Seahawks woke up, but with Sunday's game kicking off in the afternoon, the advantage for the East Coast team is essentially negated.
Kellen (SixthSenseSports.com) cited this trend: Underdogs in the playoffs off a noncovering game (a loss or push against the spread) are 48-24-3 when playing a team coming off a spread win. That includes 8-1 in this round when playing against the home team.
The flip side is the Panthers are 21-2 in their past 23 games, and Cam Newton is a confident quarterback who continues to make big plays and beat the so-called sharps who bet against him almost every week.
Matthew Holt, a vice president for CG Technology sports books, said, "The biggest sharp bet we took so far was on Arizona. We take six-figure bets routinely, but this one was slightly less than six figures."
A majority of the biggest bets will show up over the weekend, but there is no mystery surrounding the public's preference for the Patriots in Sunday's early game. The dollars wagered so far favor New England by around a 5-to-1 ratio, pushing the line to 3½ Thursday at a few Las Vegas books.
"I think the public will be on both favorites, and the sharps will be on both 'dogs," William Hill sports book director Nick Bogdanovich said.
Kellen said he will "probably consider" the Broncos getting more than a field goal, a bet based on line value. Still, it's tough to envision Manning matching points with Brady and beating coach Bill Belichick's defense with nothing but short throws.
"I favor the public side," Boyles said. "I think New England is the right side."
Arizona-Carolina shapes up as a strong two-way action game. The forecast for New England-Denver is for a one-sided betting storm in favor of the Patriots.
"It's the perception of Brady and Belichick in the postseason," Esposito said. "Manning isn't the same quarterback. All he has to do is kind of manage the game. If it's a high-scoring game, it's going to be hard for Manning to win.
"I'm kind of on the fence on both games. It's not going to stun me if Denver wins. In Super Bowl 50, you're going to have either Manning or Brady in it, which has got to be good for the league, TV ratings and our industry."
After sitting on the fence all week, I'm jumping on Brady's side. I'll play the Patriots at minus-3 or minus-170 on the money line. Considering the limitations of Manning, under the total of 44½ seems to make sense, too.
Losers and nerds get nervous and tentative, and Palmer was able to win last week while learning that valuable lesson. At 36, the postseason monkey is finally off his back. I'll side with the Cardinals, who will be more aggressive in the road underdog role.
— Las Vegas Review-Journal sports betting columnist Matt Youmans can be reached at myoumans@reviewjournal.com or 702-387-2907. He co-hosts "The Las Vegas Sportsline" weekdays at 2 p.m. on ESPN Radio (1100 AM). Follow him on Twitter: @mattyoumans247.