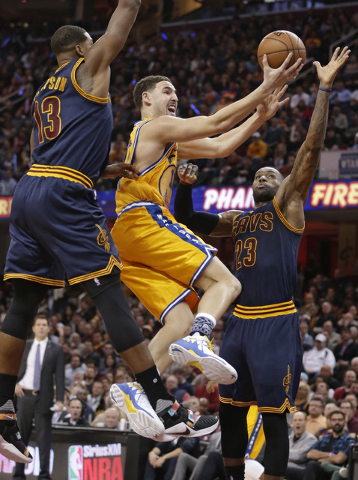 Decades of heartbreak are shadowing LeBron James. Hanging over his head is the burden of Cleveland's agony of defeat, its prolonged era of depression, and finally pouring champagne on the city's championship drought is his mission.
So, winning this NBA Finals is his destiny. Believe it or not?
"A lot of pressure is on LeBron to get that title home to Cleveland," said Nick Bogdanovich, William Hill sports book director. "Maybe too much."
The betting public tends to care more about sentimental storylines than the oddsmakers who crunch the cold numbers and set the lines. Most numbers indicate the Golden State Warriors will come out on top for the second consecutive year.
The Warriors are 2-1 series favorites and 5½- to 6-point favorites over the Cavaliers in Game 1 of a showdown that tips off Thursday in Oakland, California. This was the anticipated matchup since Golden State took the title in six games last June.
The Cavaliers were crippled a year ago, when James shouldered the burden for a team that was outgunned and outmanned. Point guard Kyrie Irving and forward Kevin Love, the team's second and third scoring options, watched from the bench with injuries. It was typical of Cleveland's bad luck.
"Cleveland will have no excuses this go-around," Bogdanovich said. "I'm torn. I could see either team winning. It should be entertaining. Hopefully, the series will go deep and it's a good betting series."
It should deliver soaring TV ratings and a strong wagering handle. The odds say it probably will end painfully for the people of Cleveland who believe this is their year. ESPN recently unveiled a "30 for 30" documentary titled "Believeland." It chronicled the suffering for the city since the 1964 Browns were the last team to win a championship, in the pre-Super Bowl era of the NFL.
Las Vegas handicapper Doug Fitz, who grew up in Cleveland and attended that title game more than 50 years ago, has skepticism running through his blood.
"In my heart, I don't believe we can beat this team," said Fitz (Systemplays.com). "The Warriors are just too explosive."
It's understandable why Stephen Curry and Klay Thompson strike fear into the hearts of the Cavaliers and their fans. Curry and Thompson form the NBA's deadliest shooting duo. Curry is the two-time Most Valuable Player, and Thompson is the reason the Warriors are still breathing.
Sometimes lost in the hype, because he's the quiet, serious type, is Golden State's No. 2 guard. When the Warriors appeared ready to be buried in Game 6 of the Western Conference finals Saturday in Oklahoma City, Thompson made 11 3-pointers and scored 41 points to resuscitate their season.
"Thompson saved their ass," SportsXradio.com handicapper Ken Thomson said. "When he's in that zone, he's as good as anybody. Sometimes, you can play good defense, but it's just a better shot. There is no doubt Curry is the best shooter off the dribble, in terms of range and a quick release, we've seen.
"Golden State got their scare against the Thunder. I just don't see Cleveland winning it. I would like to see it, but I think the Cavs are running into the wrong buzzsaw."
Both teams will be running and firing 3s. The notion that a jump-shooting team is incapable of winning a title is history, with the Warriors changing the way the game is played. The total is 210, and the proposition for combined made 3s in Game 1 opened as high as 26½ at the Westgate sports book. It would take guts to bet under those numbers.
"It's bombs away," Bogdanovich said.
The Cavaliers' biggest problem in an open-court game will be their weak perimeter defense. Irving and Love are indifferent about defending, and this is not the time to play only one end of the floor. Another advantage for the Warriors will be coaching. Steve Kerr has been here and won it, and we're still not sure if it's Tyronn Lue or James coaching the Cavaliers.
"I think the Warriors have got that feeling they can't be beat," Bogdanovich said. "But the Cavs are peaking at the right time and are rested and rolling."
A year ago, James averaged 35.8 points and 8.8 assists in the finals. It was all riding on him, and the Cavaliers broke down. Now, with Irving, Love, J.R. Smith and Channing Frye bombing away, Cleveland has changed its game and will not be grinding for two-point baskets while the Warriors count in 3s.
Maybe the Warriors are wearing down — it's a 73-win team that has been pushing hard and taking every opponent's best shot since late October — but I thought that last week and learned a lesson.
"I'm not saying the Cavaliers have no chance," Fitz said. "The plus-175 for the series is good value, but that doesn't mean anything if you don't win."
Maybe this is similar to the Super Bowl in February. The Carolina Panthers, after a 15-1 regular season, were popular favorites. Still, Peyton Manning was on the other side, and there was a sense the Denver Broncos would send him out with a win.
So, I'm taking the points with the Cavaliers in Game 1 and, mainly because of a gut feeling, betting on Cleveland to win in six or seven games.
"Right now, we're getting all money on Cleveland for the series," Bogdanovich said, "believe it or not."
This title might not be James' destiny, but there are some believers in Cleveland.
Las Vegas Review-Journal sports betting columnist Matt Youmans can be reached at myoumans@reviewjournal.com or 702-387-2907. He co-hosts "The Las Vegas Sportsline" weekdays at 2 p.m. on ESPN Radio (1100 AM). Follow on Twitter: @mattyoumans247