College thrillers set bar awfully high for NFL
December 1, 2013 - 11:44 pm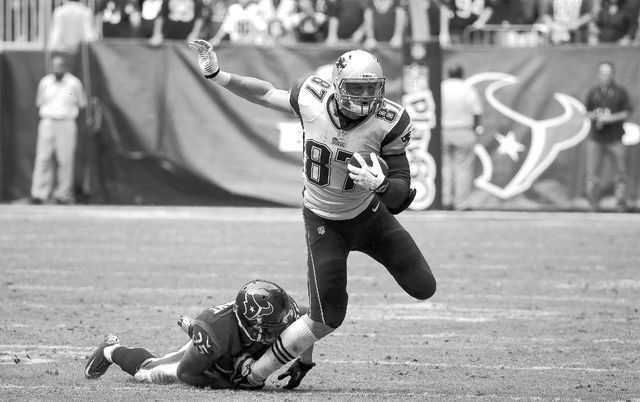 No hole is too grave a situation for Tom Brady. It's almost as if the New England Patriots are digging deficits just to make things interesting, just to give Brady a chance to bring them back from the dead.
Seven days after wiping out the Denver Broncos' 24-point lead, Brady overcame considerably smaller odds and a much weaker opponent by taking down the Houston Texans on the road.
"It's the same old thing," South Point oddsmaker Jimmy Vaccaro said. "Even though the Patriots were flat, you kind of knew they were going to win, even when they were behind."
Twice in the first half, the Patriots trailed by 10 points. Midway through the fourth quarter, they were in a 3-point hole. Big deal. No problem for Brady, who led New England to a 34-31 victory that you kind of knew was coming.
Unfortunately, that was the second-best game the NFL could serve up on the Sunday after Thanksgiving. It was a turkey of a day, especially in comparison to an insane college football Saturday.
The finishes to Ohio State-Michigan and Alabama-Auburn were impossible acts to follow.
"I don't know what to say. I've watched this stuff all my life," Vaccaro said. "The best script writers in the world couldn't write this stuff."
He was speaking of Auburn's highly improbable comeback, not the probable one pulled off by the Atlanta Falcons. When the Bills take a 14-0 lead, whether they are playing in Buffalo or Toronto, you kind of know it's not going to hold up.
When we return to work today, gather in the office break room and look back on the weekend, Auburn's amazing win will be the first topic of conversation. We'll debate what Nick Saban was thinking. And then we'll rip Michigan, not for going for a 2-point conversion, but for the lame play that was called.
Down the list, we'll talk about Peyton Manning beating the Chiefs in Kansas City and Brady beating the Texans, who covered as 7-point underdogs. The fact the Texans finally covered is sort of amazing, even though the Patriots predictably came out flat a week after shocking the Broncos.
New England was a winner for teaser bettors, while Denver, a 6-point favorite, and Carolina, a 7-point favorite, covered straight bets and teasers. Cam Newton carried the Panthers to their eighth straight win, 27-6 over Tampa Bay.
"The teasers raised their ugly head this weekend," Vaccaro said. "The two monster teaser games were the Patriots and Panthers."
Once Brady hit his behemoth tight end, Rob Gronkowski, for a 23-yard touchdown pass late in the first quarter, the Patriots were showing a pulse. Brady passed for 371 yards and two touchdowns.
Manning couldn't beat Brady last week, but he did top him this week while beating the Chiefs for the second time in three weeks. Manning passed for 403 yards and five touchdowns, putting up 28 straight points in a 35-28 victory.
"The public favored Denver, but not by a landslide," said LVH sports book director Jay Kornegay, who took some sharp action on Kansas City. "With the Dolphins and Falcons winning, it made for a good day. Those wins overcame the smaller losers we had throughout the slate."
I was sure "Mike &Molly" would be the worst thing CBS would televise this week, until I watched a few minutes of the Dolphins-Jets game. New York coach Rex Ryan benched rookie quarterback Geno Smith — a couple of weeks too late — in the 23-3 loss to Miami.
Indianapolis, a 3½-point favorite, somehow covered in a 22-14 victory over Tennessee, the so-called sharp side. The Colts kicked five field goals before getting a 4-yard touchdown run by Donald Brown with 1:56 to go. The Titans went down when Ryan Fitzpatrick predictably threw an interception.
Who knew a dynasty was brewing in Jacksonville? After starting 0-8, the Jaguars have won three of four. Cleveland was a 7-point favorite in a 32-28 loss, and it's obvious the Browns can't handle the burden of being favored.
The Bears and Vikings traded missed field goals before Minnesota, a 1½-point favorite, made one in overtime to win, 23-20.
The Eagles gave up most of a 24-7 lead, yet seemed likely to cover until a questionable defensive holding penalty allowed them to run out the clock and hold off Arizona 24-21. Philadelphia was a 3-point favorite most of the week, and the line closed 3½.
On the California coast, San Francisco covered and San Diego coughed up another winnable game.
"This is the dullest game of the card since Thursday morning," Vaccaro said as he watched the New York Giants eke out a 24-17 win against the Redskins in Washington, where officials screwed up the ending.
The Bills screwed up, too, blowing their lead and losing to the lifeless Falcons 34-31 in overtime. But nobody will be talking about that today.
Auburn, Saban and Ohio State-Michigan made the NFL day dull by comparison.
Las Vegas Review-Journal sports betting columnist Matt Youmans can be reached at myoumans@reviewjournal.com or 702-387-2907. He co-hosts "The Las Vegas Sportsline" weekdays at 2 p.m. on ESPN Radio (1100 AM). Follow him on Twitter: @mattyoumans247.