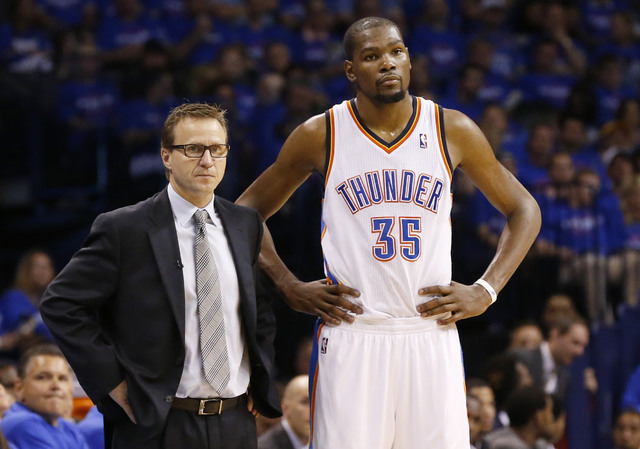 Sooner or later, something needs to change. The Oklahoma City Thunder are going out with a whimper again, and Kevin Durant deserves better.
Durant is the best player in the NBA who has not won a championship, which qualifies as a backhanded compliment. He has a monkey on his back, but at least he looks good wearing it.
At some point, Durant will win a championship, just as LeBron James was destined to win one at some point. James needed to change teams. Durant also needs a change of some sort.
Some say he needs to split with his star sidekick, point guard Russell Westbrook. I say that's crazy talk. It takes at least two stars to win a title, and the Durant-Westbrook duo can be dynamic. Thunder coach Scott Brooks, on the other hand, is too dull.
"I can't see the Thunder ever winning a title with Brooks," said Jeff Sherman, NBA oddsmaker at the LVH sports book. "I think the Thunder is the most talented team in the league, but if they want to get to their potential, they have to get a competent coach in there."
Gregg Popovich, the standard by which other coaches are measured, dwarfs Brooks in every way. Popovich has the San Antonio Spurs, up 2-0 in the Western Conference finals, headed for another NBA Finals.
The Spurs beat the Thunder by 17 points in the series opener. Brooks countered with his adjustments, and the Spurs beat the Thunder by 35 points in Game 2. Mel Brooks might have done a better coaching job.
Sherman said wiseguy money poured in on Oklahoma City as a 5½-point underdog Wednesday, but that money proved to be sharp as a spoon. Popovich's strategical advantage makes San Antonio the sharp side more often than not.
"I think the Thunder is in big trouble," said The Gold Sheet handicapper Bruce Marshall, who is betting against Oklahoma City as a 2-point favorite in Sunday's Game 3. "The Spurs will be going home up 3-1, if it's not a sweep."
Shot-making is the biggest factor in a basketball team's success or lack of it, and when Durant and Westbrook are making shots, the Thunder can be as dangerous as lightning. In the Game 2 fiasco, Durant (6 of 16) and Westbrook (7 of 24) combined to miss 27 shots and make 1 of 9 3-pointers. That's not all on the coach.
But Brooks' system is part of the problem. Oklahoma City runs a playground offense, with Westbrook either dribble driving or jacking up jumpers and Durant making plays for himself while often posting up smaller defenders 20 feet from the basket.
Brooks has two of the most skilled offensive players in the league to work with, but what he draws up is mostly gibberish. His lineup rotations, and inconsistent use of guard Reggie Jackson, are puzzling. Westbrook needs stronger guidance than he gets from Brooks.
"It was just bad shot after bad shot, and Westbrook was taking terrible shots," Sportsmemo.com handicapper Erin Rynning said, rehashing the Game 2 mess. "You can't do that against the Spurs. If they get swept here, it will be interesting to see what's going to happen. Who's to blame? How do you get rid of a talent like Westbrook? You still need a point guard. All you need is a decent coach in there."
Brooks has an impressive resume, and firing a coach with his track record is not easily justifiable. But it's easier than breaking up Durant and Westbrook, which will not happen.
Durant, this season's Most Valuable Player and a winner of four scoring titles, is finishing his seventh year in the league. At 25 years old, he has time on his side. Brooks' time is expiring.
"People are restless, but nobody with a clue is restless, nobody in the organization is restless," said Berry Tramel, The Oklahoman columnist who covers the Thunder. "My guess will be Brooks will be back, but he probably ought to win a title in the next year or two if he wants to keep coaching, because at some point you've got to try something new.
"They are more committed to Westbrook than to Brooks, no doubt about it. Despite Westbrook's occasional going nuts on the court, taking bad shots and all that, they think the world of him. They are all-in on Westbrook."
Oklahoma City has a built-in excuse in the West finals. Serge Ibaka, its shot-blocking big man, is out with a calf injury, and his absence hurts on both ends of the floor.
"It's a done deal now," said Sherman, who in December picked the Thunder to win the title. "At this stage in the NBA playoffs, beating any team four of five times is the tallest order."
Brooks is short on answers, long on excuses and running out of time.
Durant deserves better, and the Thunder need a coaching change to get over the top.
Meanwhile, the road to the championship goes through Miami, but I'm still all-in with Popovich and the Spurs to win.
Las Vegas Review-Journal sports betting columnist Matt Youmans can be reached at myoumans@reviewjournal.com or 702-387-2907. He co-hosts "The Las Vegas Sportsline" weekdays at 2 p.m. on ESPN Radio (1100 AM). Follow him on Twitter: @mattyoumans247.