Dustin Johnson chokes away another chance at British Open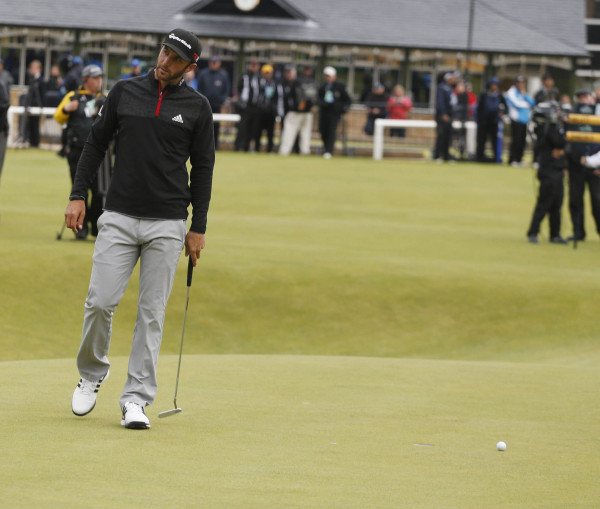 Instead of waiting for the final hole, or even the final round, Dustin Johnson prematurely choked and coughed up another chance to win his first major championship. On moving day, he went the wrong way.
Seventeen players, including 22-year-old amatuer Paul Dunne, passed Johnson, who embarrassed himself by again showing an inability to handle the pressure of being the favorite. He needs a caddie who can read yardage, gauge the wind and perform the Heimlich Maneuver.
Johnson turned into a British Open bust on a wild Sunday at St. Andrews, where little guys were overpowering the Old Course while the big, strong second-round leader went weak in the knees. But let'€™s postpone the negativity. This is a highly entertaining tournament, with Dunne, Jason Day and Louis Oosthuizen sharing the 54-hole lead.
"If the kid Dunne pulls this off, they would make a movie out of it," said Brian Blessing, handicapper and Las Vegas radio host.
If Jordan Spieth pulls this off, he will make history. One stroke back, Spieth can be the first player in 62 years to win the Masters, U.S. Open and British Open in the same season. He'€™s taking a legitimate swing at the Grand Slam.
"Spieth has got that no-fear factor in his game," Westgate Las Vegas golf oddsmaker Jeff Sherman said. "But this thing is so wide open. I can'€™t remember the last time going into the final day of a major it has been this bunched together."
Spieth, by far the most popular player with the bettors, was the 2-1 favorite when Sherman posted adjusted odds Sunday afternoon. Oosthuizen was at 3-1 odds, with Day at 7-2.
Dunne, from Ireland and a college golfer at Alabama-Birmingham, might be a better story than Spieth. Dunne was posted at 1,500-1 odds at some European books, which list every player in the field, before the tournament. The odds were better on a Loch Ness monster sighting.
As he quietly moved into contention, Dunne appeared on the Westgate'€™s adjusted odds board at 300-1 after each of the first two rounds.
"We didn'€™t get any tickets on him at all," Sherman said.
Dunne'€™s odds were adjusted to 20-1 after the third round '€" when he shot a 66 to tie for the lead at 12 under par –€" and he suddenly received a flood of support. When he takes the big stage Monday, the magnitude of the moment figures to be too much for him.
Being the front-runner was too much pressure for Johnson. A month after he blew the U.S. Open on a Sunday, he repeated history. Only this time, because high winds suspended Saturday'€™s third round, his choke job came early.
"I guess he thought because it was Sunday it was the fourth round," Sherman said.
The weather in Scotland was so mild Sunday that players were mastering the course with ridiculous ease. Johnson forgot to attend the party. He was surprisingly conservative and erratic off the tee and was a disaster with the putter.
Birdie putts were falling for every player but Johnson, who finally made his first birdie on the 15th hole. Instead of rallying like a champion, he bogeyed the next three holes to finish with a 75, dropping him five shots back into an eight-way tie for 18th. He went from star of the show to irrelevant on the TV coverage. He was a big disappointment, but not the worst of the week.
At least he blew away Tiger Woods, who missed the cut and tied for 147th.
On the positive side, there is Adam Scott. The former UNLV standout surged up the leaderboard into a tie for the sixth, three shots off the lead. Scott is the fourth choice on the adjusted odds board at 15-1.
Padraig Harrington (20-1) is two shots back and relevant again. Justin Rose (20-1), Sergio Garcia (25-1) and Zach Johnson (30-1) are with Scott in a nine-way tie for sixth. Garcia still is chasing his first major win. Harrington (150-1) and Zach Johnson (80-1) went into the tournament as long shots.
The beauty of the British Open is the leaderboard is usually as random and unpredictable as the weather, and there is no better example than this one. Fourteen players are within three shots of the lead.
"It would look like Oosthuizen, Day or Spieth," Blessing said, when asked to pick a winner.
Spieth, who was at 10-1 odds after the second round, seems the most logical bet to win. Unlike Johnson, he's impervious to pressure. He stays cool while others choke. He knows how to win on Sundays, and he's in position to do it on a Monday.
"I don'€™t think he will," Sherman said. "There are so many guys up there. It just takes one guy to shoot one of his best rounds ever and he could walk away with the trophy. I'€™ve always liked Day. I hope he can break through."
The drama will unfold early in the morning. Day and Spieth are set to start at 6:20 a.m. on the West Coast, followed 10 minutes later by Dunne and Oosthuizen. The live betting markets will be working overtime.
Dustin Johnson will be playing without pressure after choking a round ahead of schedule.
Las Vegas Review-Journal sports betting columnist Matt Youmans can be reached at myoumans@reviewjournal.com or 702-387-2907. He co-hosts "The Las Vegas Sportsline" weekdays at 2 p.m. on ESPN Radio (1100 AM). Follow @mattyoumans247 on Twitter.