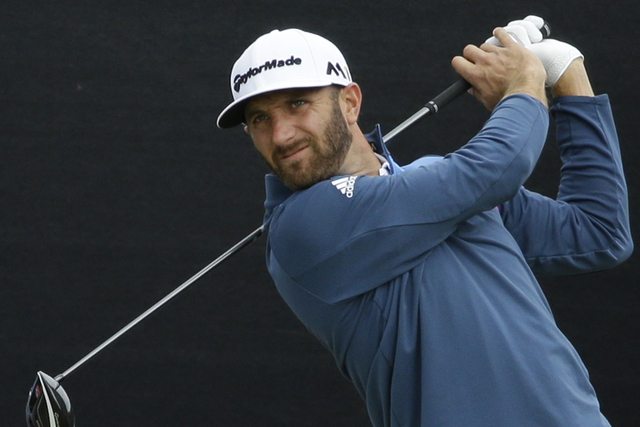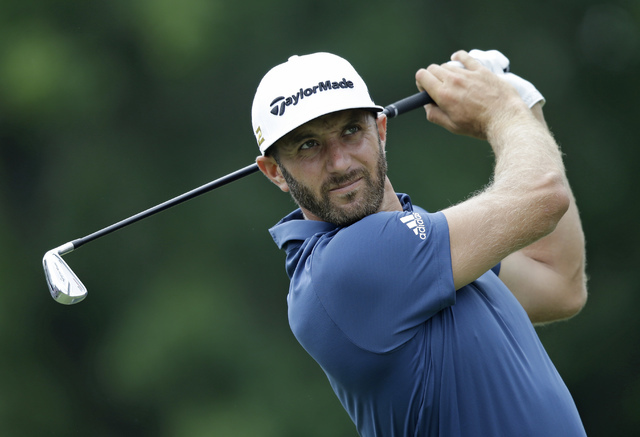 This summer is bringing back memories of a time when golf was dominated by a hard partier and womanizer, a guy who crushed the ball off the tee and beat down the competition with his superior strength. A guy whose family photo seemed so perfect before it was uncovered as phony.
Dustin Johnson is not the next Tiger Woods, but he's playing the role for now.
In June, Johnson won the U.S. Open — his first major title in his 29th attempt — and showed it was no fluke two weeks later by overtaking Jason Day to win the WGC-Bridgestone Invitational at Akron, Ohio.
After years of near misses and repeated failures to fulfill his potential, Johnson is finally arriving at age 32.
"Dustin Johnson is clearly the hot guy right now, and I think he's going to win more, but I don't think he's going to dominate," handicapper Wes Reynolds said.
Day arrives at Royal Troon Golf Club in Scotland as the favorite in this week's British Open. But the separation on the odds board is razor thin. Day is at 8-1 odds, with Johnson at 9-1. Rory McIlroy and Jordan Spieth are each at 10-1. A month ago, Day, McIlroy and Spieth comprised golf's "Big Three." Johnson has made it a foursome.
"It's one of the more wide-open majors," Westgate golf oddsmaker Jeff Sherman said. "You can make a case for guys as far down as 100-1 or 150-1."
It's easier to make a case for Johnson now that he knows he can win a major. Before his U.S. Open breakthrough, Johnson frustrated betting backers and golf analysts by disappearing from the leaderboard with mental meltdowns on the weekends. He was a tantalizing talent. He was Tiger without the killer instinct to be a closer.
Johnson has the ability to shrink the Royal Troon links course with his length off the tee, and his wedge play has become almost as impressive. But the putter will be the key to winning this week, and Day and Spieth are better with the flat stick.
"I don't think there's a clear favorite," said Reynolds (@WesReynolds1 on Twitter.) "Of the top four, I think I like Spieth the best."
McIlroy, from Northern Ireland, should have a slight home-course advantage. Quiet since winning the British Open and PGA Championship in 2014 — when Jack Nicklaus boldly predicted he could win 15 to 20 majors in his career — McIlroy is hungry to make a comeback and the statement that comes with winning a major. Of the four favorites, I like McIlroy the best at Troon, especially at double-digit odds.
When the rain and wind whip in to make conditions tough on the seaside course, McIlroy should feel comfortable in the elements. The links layout, pot bunkers and unpredictable weather usually turn the British Open into a wide-open chase.
"The European golfers are more used to this style of play," Sherman said. "I like Sergio Garcia, but I never trust him to win."
Garcia, 36, assumes the label Johnson had stuck to him and no one wants: The best player never to win a major. The Spaniard has four runner-up finishes (two in the British) and tied for fifth in last month's U.S. Open.
"I'm probably going to end up taking Sergio again," Reynolds said, "and he'll end up tied for third."
Garcia should be a solid bet in head-to-head matchups, and the proposition on his finish position (22½) looks like a strong play. Expect to see Garcia in the top 10.
Adam Scott, a former UNLV standout, has the makeup of a contender, too. Scott (20-1) finished in the top 10 in each of the past four British Opens.
"Scott looks really good. He's got a real strong British history," Sherman said. "There's nothing wrong with taking a shot on Scott and Garcia in the 20-1 range."
In 2004, the last time the event was staged at Royal Troon, Todd Hamilton pulled off one of the all-time stunners by winning at odds as high as 500-1. Last year, I hit Zach Johnson at 80-1 in this major. The British Open is an opportunity to hunt for long shots.
Graeme McDowell, who was in the hunt in last week's Scottish Open, is a play for me at 80-1. Sherman is targeting Martin Kaymer (40-1) and Francesco Molinari (80-1). Reynolds has circled Kaymer, Patrick Reed (50-1) and Ernie Els (100-1).
"You want to find those 30-1 type guys," said Reynolds, who cashed with Johnson last month in the U.S. Open.
Johnson will be a major story this week. He's engaged to Paulina Gretzky and seems to have settled down after some wild times off the course. We want to see if this is for real, and we want to see if he can dominate.
It almost feels like Tiger is back.
Las Vegas Review-Journal sports betting columnist Matt Youmans can be reached at myoumans@reviewjournal.com or 702-387-2907. He co-hosts "The Las Vegas Sportsline" weekdays at 2 p.m. on ESPN Radio (1100 AM). Follow on Twitter: @mattyoumans247