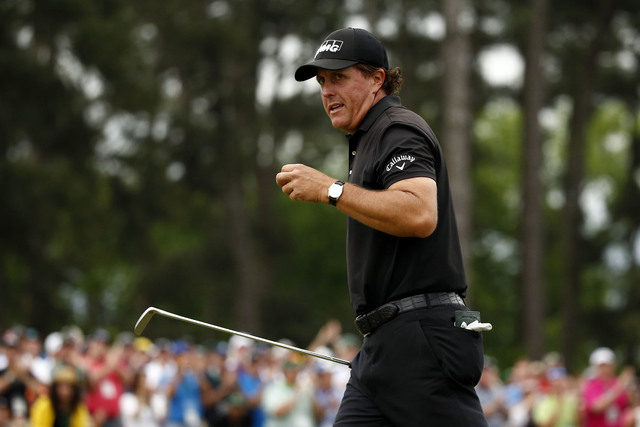 A wager on a golf major typically means four days of lead changes and nail-biting suspense. It's rarely a leisurely Sunday stroll to the window. The exception was Jordan Spieth, who ignored a tradition unlike any other.
The 21-year-old blew away the Masters field in rocking-chair style, and for those new to golf betting, just know the money is not going to be this easy very often.
Spieth was not the favorite, but he was the public's most popular pick, so his win will be as well received as a tax-return check from the Internal Revenue Service.
"I'm sure a lot of people are pleased. Those who backed him got a pretty easy win," Westgate Las Vegas golf oddsmaker Jeff Sherman said. "If you had a ticket on Spieth, I'm sure it was a joy to watch."
Spieth closed at 10-1 odds, after opening as high as 20-1. The kid stole the show from start to finish, but the year's first major was entertaining for other reasons, too. The old-timers, specifically Phil Mickelson and Tiger Woods, are not fading away just yet.
Mickelson, 44, made a charge and showed the thrill is not gone. Woods, 39 and aging fast, actually completed four rounds and showed he still can be a threat. Golf and golf wagering get a Viagra-like boost when Mickelson is pumping up crowds and Woods is in the hunt, even if he's just on the fringe of contending.
The new generation, led by Spieth and Rory McIlroy, is exciting, but it's even better when the old favorites are still competing.
"Over 200 tickets" were written on Spieth at the Westgate, Sherman said, yet more money was bet on Woods, making him the sports book's largest liability by a long shot.
"Spieth had the most tickets written on him, and we still did real well with him winning," Sherman said. "It goes to show how much we handle on a Masters. The most money we took on anyone was Tiger. As long as Tiger didn't win, everything was fine."
Woods opened at 50-1 odds, closed at 15-1 and never appeared as if he might win. But after two months off, following a pitiful start to the year, he did surpass expectations by shooting 69-68 in the middle two rounds and finishing at 5-under par. He also cashed two propositions for those who were betting on positive results.
Will Woods finish in the top 20? The favorite was "No" at minus-265, and he finished tied for 17th. Will Woods make the cut? The favorite was "Yes" at minus-150, and he made it with relative ease.
Another prop — basically the equivalent of betting on a safety in the Super Bowl — was hanging in the balance Sunday. Will Woods withdraw after starting? The favorite opened "No" at minus-800, and despite heavy action on "Yes" side, Sherman was confident enough to up the "No" price to minus-1,400.
On the ninth hole, Woods jammed his right wrist on an iron shot that struck a tree root. He was in pain, and this is a player who has a history of injuries and quitting.
"If things were going bad and that was Friday, he would have walked off," Sherman said. "He would have gotten ripped apart if he quit."
Instead, he toughed it out to the end and was praised for it. In a pompous statement, CBS announcer Jim Nantz chided the "so-called experts" who predicted Woods never would win again, saying "we can put that discussion to rest."
Is that right? Those so-called experts are not dead wrong yet, because while most of us believe Woods will win again sometime, he's got a long way to go to win another major. While his short game is sharper and his driving distance is returning, Woods did not hit a fairway Sunday until the 13th hole — and he finished 13 strokes behind the winner.
"I saw improvement in his game, no doubt," Sherman said, "but his fourth round didn't give me any indication he's going to win."
Woods sprayed shots and four-letter words all over an Augusta National course that served up too many eagles and birdies and surrendered low scores to too many players.
Spieth made history, shooting 18-under par as the first wire-to-wire winner of the Masters since 1976. He was briefly challenged by Justin Rose in the final round, but he holed every pressure putt needed to hold off the charge. Rose and Mickelson tied for second, four shots back, and McIlroy finished fourth.
It was a memorable, if not suspenseful, Sunday at the Masters. In 2012, Bubba Watson won in a playoff. In 2013, Adam Scott won in a playoff. In 2014, Watson caught Spieth from behind on a dramatic back nine. This time, there was no catching Spieth.
"Spieth is going to be there neck and neck with McIlroy," Sherman said. "Those guys look like the two best out there."
But Mickelson and Woods are still in the discussion, and that's a good thing, too.
Las Vegas Review-Journal sports betting columnist Matt Youmans can be reached at myoumans@reviewjournal.com or 702-387-2907. He co-hosts "The Las Vegas Sportsline" weekdays at 2 p.m. on ESPN Radio (1100 AM). Follow him on Twitter: @mattyoumans247.