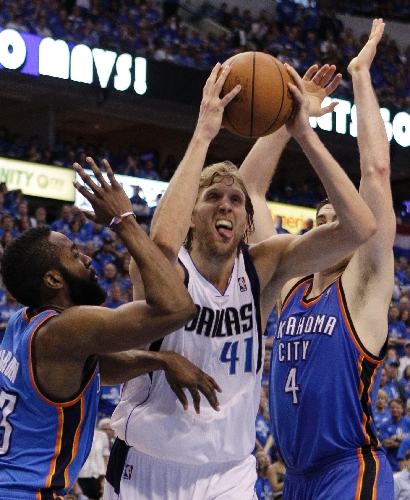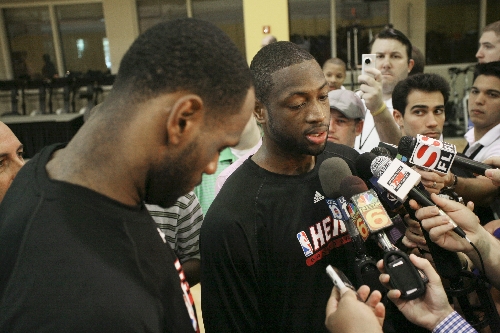 Never has Dirk Nowitzki done anything outrageous to make himself a public enemy, and his Dallas Mavericks seem to inspire indifference more than love or hate.
The public's relationship with LeBron James is quite different. He's about fireworks and hype and comparisons to the greatest players ever. But he's never won a title, and never realistically been close to one until now. Do you finally believe the hype?
But when betting these NBA Finals, forget about the drama and Hollywood story lines, and for those who hate the Miami Heat, set aside feelings for James and his egotistical sideshow. "The Heat players seem to be reveling in the idea of being despised by the public," said Jim Kruger, a handicapper from VegasSportsAuthority.com.
The public does respect the Heat, however, and that's why Miami is a minus-180 favorite over Dallas in a best-of-7 series beginning Tuesday.
Underestimating an underdog, especially one that embarrassed the Los Angeles Lakers, is not a wise idea. Several sharp bettors are seeing value in taking a plus-price with the Mavericks.
Others are convinced the Heat, buoyed by a much better defense and homecourt advantage in the 2-3-2 format, should be favored by 2-1 odds or more.
"Nobody expected the Mavericks to get this far," said Jimmy Vaccaro, director of operations for Lucky's sports books. "There were more people than not who said the Mavericks would not get past Portland in the first round."
Nowitzki has been sensational in the playoffs, and it's easier to root for him than for James, but my objective opinion is Miami will seal the title in one of its last two home games.
"I am choosing the Heat bandwagon over the Nowitzki one. I believe the Heat will win in six," Kruger said. "If one of Miami's Big Three has a bad game, two other premier players can pick up the slack. Dallas does not have that luxury if Dirk has a bad game."
Shawn Marion can defend and Tyson Chandler protects the rim, but Dallas has too many defensive liabilities that will be exposed in a long series against James, Dwyane Wade and, occasionally, Chris Bosh.
"The first question that comes to mind is who is going to guard James? The options are limited with Marion being the only Mavs player that physically matches up," Kruger said. "I expect Dirk to guard Bosh. Dallas needs Chandler at the rim, and he is not quick enough to defend against Bosh's mid-range jumper. This will be more taxing on Nowitzki.
"In my opinion, the Mavericks' hopes to win the title rely on the ability to keep the Heat out of the paint. Wade is not a highly productive outside shooter, but he is sensational driving to the hoop. James does more damage driving to the rim and subsequently getting to the line or passing off for an open basket due to the defense swarming around him."
On the flip side, who can defend Nowitzki? It seems no one player is capable. But this could be how James defines the series. His fourth-quarter harassment of Derrick Rose shut down the Chicago Bulls' one-dimensional offense to help the Heat steal the last two games of the Eastern Conference finals.
"Bosh and Udonis Haslem will guard Dirk most of the time," Kruger said, "but expect to see LeBron taking Dirk on defensively, probably late in the game."
The Mavericks can lean on a deeper bench, and they have a veteran point guard in Jason Kidd to keep the team calm amid chaos. Kidd and Jason Terry will be as important offensively as Chandler and Marion will be defensively.
Dallas has defeated Miami 10 straight times since falling to the Wade-led Heat in a 2006 Finals remembered most for oddball officiating.There are countless ways to analyze the matchups in the rematch, but this shapes up as a long series, and the Heat being at home should win a long series.
"I hope it goes seven games because we need every day that we can get to create some action," Vaccaro said.
Miami is a 4½-point favorite and the total is 187½ for Game 1. The Las Vegas Hilton, Lucky's and basically every sports book around has posted an extensive menu of propositions on this series, the last major betting event before summer vacation arrives.
Last summer was all about James and "The Decision" and the cold shoulder he gave Cleveland to party with the Heat on South Beach. Miami started 9-8, James bumped into coach Erik Spoelstra during a game and the wheels threatened to come off the bandwagon.
But just when we thought James' act couldn't possibly get any dumber, he goes and does something like this and totally redeems himself. He hasn't won it yet, but I won't bet against him now.
n BOTTOM LINES — A couple of diehard hockey bettors — and I only know of a few — are saying the Boston Bruins are live 'dogs in the Stanley Cup Finals. Vancouver is a minus-220 favorite in a series that begins Wednesday. …
After a year off, the Vegas Insider football handicapping seminar is returning Aug. 27-28 at Red Rock Resort.
Contact sports betting columnist Matt Youmans at myoumans@reviewjournal.com or 702-387-2907. He co-hosts the "Las Vegas Sportsline" weeknights at midnight on KDWN-AM (720) and thelasvegassportsline.com.
Heat players get break from contact in practice
MIAMI — Heat star Dwyane Wade and reserves Udonis Haslem, Mike Miller and James Jones were held out of contact portions of Sunday's practice.
Heat coach Erik Spoelstra says they all will practice fully today. Miami hosts Game 1 of the NBA Finals against Dallas on Tuesday night.
Spoelstra says the moves were given to ensure that everyone is "healthy going into this."
Wade's health was a discussion topic during the Eastern Conference finals, when he was receiving treatment on his left shoulder.
The 2006 NBA finals Most Valuable Player downplayed a question about injuries on Sunday, and the team expects him to be fully ready for Game 1.
THE ASSOCIATED PRESS