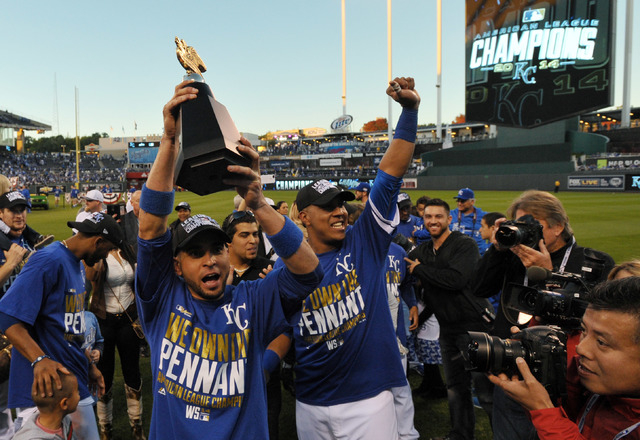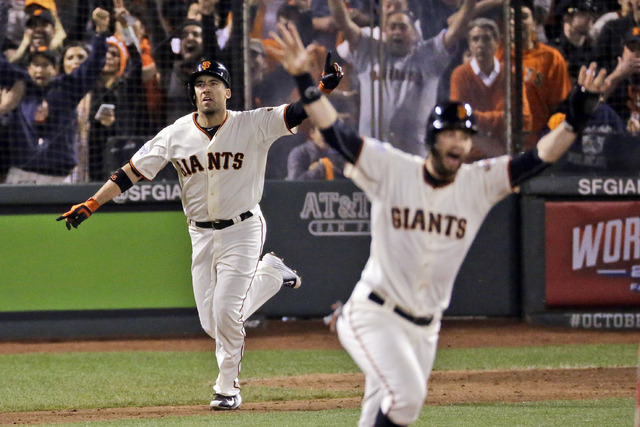 It's a World Series missing star power, but not without an ace. Madison Bumgarner, a country strong left-hander, is the San Francisco Giants' best shot at spoiling a Cinderella story.
The matchup of "MadBum" and the blue-collar Kansas City Royals defied odds. It also probably ruined October for TV executives who need big ratings, yet who cares?
Every once in a while, it's good for baseball if a small-market team hits the big stage, and the Royals are an easy team to like. Bumgarner is the type of stud pitcher you want to bet. This can be a classic.
"It's refreshing to see a team make it like Kansas City," said Ed Salmons, Westgate Las Vegas sports book manager, "so I think people are going to watch it."
How long will we stay tuned? Bumgarner has the answer.
As of Monday, the World Series was an afterthought at the sports books, where the loudest talk was about the NFL and barely a whisper was heard about the Giants and Royals. That should change today.
Bookmakers' opinions differ on whether the betting public will get wrapped up in this drama. Star power attracts wagering action, and so far there's not much action.
"Nobody is betting this thing," South Point oddsmaker Jimmy Vaccaro said.
The Yankees and Derek Jeter are a memory. Boston, last year's champion, missed the postseason. Detroit was sent packing, which is good for Justin Verlander because he can vacation with Kate Upton. Baltimore took the business end of a broom, and so did Mike Trout and the Los Angeles Angels.
Clayton Kershaw, the best pitcher in baseball, was rocked as the Dodgers got knocked out by the Cardinals, who have since departed, too. Bryce Harper blasted a towering home run before the Nationals bowed out.
So here's what remains: Two wild-card teams that failed to win 90 regular-season games.
"Because the Royals have become that Cinderella story, and we have a West Coast team, I think it bodes well for wagering," Sunset Station sports book director Chuck Esposito said. "The Royals are getting a following."
Kansas City, which has ripped off eight straight wins, deserves a following. In the eighth inning of a wild-card game, the Royals trailed 7-3 against the Oakland A's hired ace, Jon Lester. Their run to the American League crown was improbable, to say the least.
"The public really fell in love with both of these teams," Salmons said, "so I think the (wagering) handle is going to be good."
Bumgarner will need to be at his best, and he usually is on the road. He threw a shutout to win the wild-card game at Pittsburgh. In 20 road starts this season, Bumgarner is 13-4 with a 1.96 ERA.
Micah Roberts, an analyst for "The Linemakers" on SportingNews.com and a former bookmaker, picked the Giants in five games and said, "Bumgarner in Game 1 is the key to the entire series. He didn't allow a run in his past two road starts at St. Louis and Pittsburgh."
The Royals rely on young players who are becoming stars, guys like third baseman Mike Moustakas, first baseman Eric Hosmer and left fielder Alex Gordon. It's a team that wins with defense, speed on the bases and timely hitting — a style labeled small-ball.
It's tough to picture the bumbling Ned Yost as a World Series-winning manager, but his team carried him this far, so it certainly can happen. Yost's ace is a shutdown bullpen, not James Shields.
The recent trend is for the Giants to win World Series in even years (2010 and 2012), so they have that going for them, which is nice. Even better, Bruce Bochy is a razor-sharp manager, and catcher Buster Posey is a veteran winner.
"It's an intriguing series because you have two teams that play similar styles," Esposito said. "The Giants have been there, and from a confidence standpoint, they know what it takes to win it."
The series price is a pick-em across Las Vegas, with both sides at minus-110. At the Westgate, Salmons said, the ticket count is even but the Giants have attracted slightly more money.
"I lean the Kansas City way because of how they steal bases and their bullpen," Salmons said. "But that being said, the Royals have been off for a while, and you never know how they will play in the spotlight of the World Series."
A five-day layoff might interrupt the Royals' roll. But their bigger problem is Bumgarner, who will get my money to win Game 1.
Still, I lean to the blue-collar Royals and their bullpen to close it out in seven games.
Las Vegas Review-Journal sports betting columnist Matt Youmans can be reached at myoumans@reviewjournal.com or 702-387-2907. He co-hosts "The Las Vegas Sportsline" weekdays at 2 p.m. on ESPN Radio (1100 AM). Follow him on Twitter: @mattyoumans247.