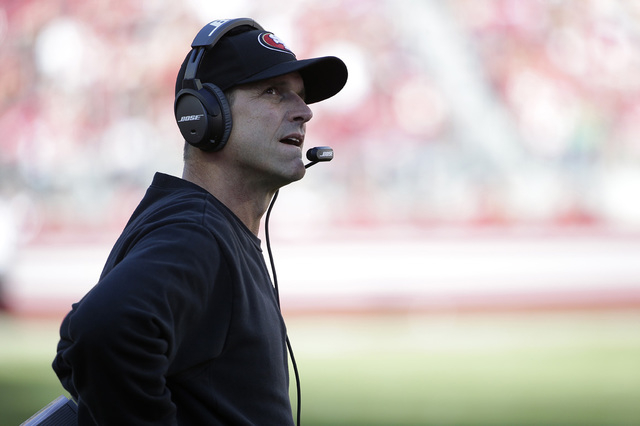 What was built by Jim Harbaugh seemingly overnight is now crumbling almost as quickly. By all appearances, the San Francisco 49ers are falling apart, and Harbaugh is on the way out.
It's more of a certainty that Harbaugh is on the way out after this season, his fourth as coach in San Francisco.
Everything about his act, which was popular for three years, is wearing thin. His cold stare and gruff personality, on display in Bill Belichick-like meetings with the media, were amusing and cool. Winning big and reaching NFC title games three years in a row made him a sort of maniacal genius.
But when the 49ers started losing, the popularity of his cold stare and gruff personality fizzled. There are believable reports of a rift between Harbaugh and others in team management, and reports of players being unhappy with Harbaugh and no longer buying what he's selling with that serious face.
This is what happens when a team falls apart. But the 49ers (4-4) remain one of the NFL's most talented teams, and that gives them a chance to pull things back together in the next month.
Still, their road to recovery begins in a dark place. When teams go into New Orleans, there is no light at the end of the Superdome tunnel. Two weeks ago, Aaron Rodgers led the Green Bay Packers there and left with a 21-point beating.
Saints coach Sean Payton is 20-0 straight up and on an 18-1-1 spread run at home. Drew Brees has won 11 consecutive home games while posting a 119.8 passer rating during that streak.
Brees and the Saints (4-4) are finally finding a groove, with tight end Jimmy Graham back to full force and Mark Ingram igniting a ground attack to set up Brees' big-play passing artistry. To make things more challenging for San Francisco, linebacker Patrick Willis is unlikely to play because of a toe injury. Willis is the heart of the defense, and his absence would make Graham tougher to cover.
The 49ers had the Saints on the ropes in New Orleans last season before losing 23-20 in a result tainted by poor officiating. But San Francisco was a much better team at that time, a team with a stronger defense and a team getting better quarterback play from Colin Kaepernick.
In a 13-10 loss to St. Louis last week, Kaepernick was sacked eight times. In a 42-17 loss at Denver two weeks ago, Kaepernick was sacked six times. The 49ers' best shot in this game is to cut Kaepernick loose and allow him to make plays out of the pocket and on the run.
I'll back the Saints as 5-point favorites, following the Payton trend. But this play will test the contrarian theory that in the NFL, when a favorite is popular with the public, look the other way, even if what you see is an ugly underdog that appears to be falling apart.
Four more opinions for Week 10 (home team in CAPS):
■ LIONS (-2½) over Dolphins: Miami is a hot team, winning and covering three in a row, and Ryan Tannehill is a hot quarterback. But Tannehill will have his hands full against Detroit's tough defensive front. I don't like laying points with the Lions, but they are off a bye and getting wideout Calvin Johnson back on the field.
■ BILLS (+1½) over Chiefs: Since veteran Kyle Orton took over at quarterback, the Bills are 3-1, losing only to New England. Kansas City quarterback Alex Smith is playing well, but he's not Tom Brady. The Chiefs have covered seven straight games, yet this could be where their run on the road dead-ends.
■ JETS (+4) over Steelers: No quarterback, not even Brady, is riding a hotter streak than Ben Roethlisberger, who has 12 touchdown passes in the past two games. However, the Pittsburgh defense is short-handed and without injured safety Troy Polamalu. If the Jets have a big effort in them, this is the spot to show it. Sharp money is flooding in on the 'dog.
■ PACKERS (-7) over Bears: Green Bay has dominated Chicago and quarterback Jay Cutler, who is 1-10 in the one-sided rivalry. The Bears, off a bye and playing better on the road, should hang in this one for a while. Still, the Packers are 7-1 ATS in the past eight meetings, and Rodgers-Cutler is a mismatch.
Last week: 4-1 against the spread
Season: 23-20-2
Las Vegas Review-Journal sports betting columnist Matt Youmans can be reached at myoumans@reviewjournal.com or 702-387-2907. He co-hosts "The Las Vegas Sportsline" weekdays at 2 p.m. on ESPN Radio (1100 AM). Follow him on Twitter: @mattyoumans247.