Flattening UNLV first step for QB Wilson, Wisconsin
August 29, 2011 - 1:00 am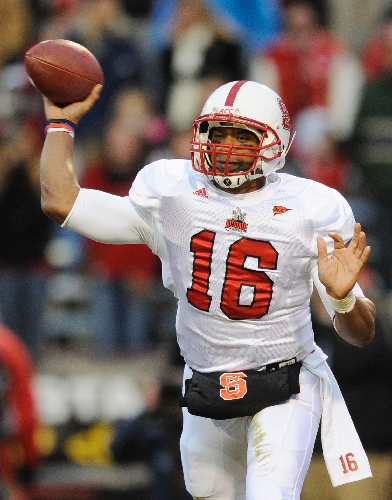 In essence, Russell Wilson was a free agent in search of the best deal he could get. With the way some players are being paid in college football, an impact quarterback could have cashed in big time.
But we'll assume Wilson chose Wisconsin because it was the best fit and not the highest bidder.
Auburn also was in the hunt for Wilson, and the Tigers reportedly offer fat contracts to quarterbacks.
Wilson's addition to the Badgers not only means bad news for UNLV in Thursday's season opener, it makes Wisconsin a serious threat to win the Big Ten and contend for the national title.
"I really think the team to watch is Wisconsin," handicapper Bruce Marshall said. "It's mostly to do with Wilson, who I think will hit the ground running. Wisconsin might get to the BCS title game as an unbeaten team."
Marshall spoke Saturday at the VegasInsider.com football handicapping seminar at Red Rock Resort, where several experts formed panel discussions on the college and NFL seasons and sports betting in general.
The Big Ten clearly is not the strongest league, but it is an intriguing topic with Nebraska joining as the 12th team, Ohio State in turmoil, Joe Paterno possibly coaching his final year at Penn State, Brady Hoke taking over at Michigan and Wilson changing the outlook for Wisconsin.
The Badgers are 35½-point favorites over the Rebels at Camp Randall Stadium in Madison, Wis., with ESPN televising the bloodbath. Expect the line to inflate by kickoff, and UNLV's biggest fans will be sports book directors needing an ugly 'dog to cover.
Wilson, a three-year starter who passed for 8,545 yards at North Carolina State, was allowed to transfer and play immediately after already earning an undergraduate degree.
The Rebels can only hope Wilson stumbles in his Wisconsin debut. He replaces Scott Tolzien, who led the Badgers to an 11-2 record and the Rose Bowl last season. Tolzien attempted only 266 passes as a game manager in a ground-oriented offense.
As a Wolfpack junior, Wilson completed 308 of 527 passes with 28 touchdowns, so with his throwing ability, look for Wisconsin to put the air back in the football.
"Wilson is a massive upgrade for Wisconsin at the quarterback position," Marshall said. "He should be good right from the start."
That's when the panel discussion turned into a debate, with handicapper Ted Sevransky offering a different view.
"Wisconsin has got to be the monster of all overvalued teams right now. I do not believe Wilson is an upgrade over Tolzien," Sevransky said. "I don't know if I can get there with UNLV, but we'll find plenty of opportunities to bet against the Badgers this year."
Sevransky said he is also seeking point-spread value by looking for spots to bet against Stanford, which returns the nation's top quarterback in Andrew Luck. But the Cardinal lost an important piece when Jim Harbaugh took the best deal he could get to coach in the NFL.
"I'm not going to say Harbaugh was solely responsible for the success at Stanford, but he was mostly responsible for it," handicapper Andy Iskoe said. "Harbaugh had a lot to do with the development of Luck, and I think his loss is going to be significant."
As Stanford and Oregon battle it out in the Pac-12 North, Southern California is the pick by most to win the South, even if Vegas Insider handicappers James Manos and Brian Edwards are not crazy about the Trojans' coach.
Manos: "I'm not a big Lane Kiffin fan."
Edwards: "Is there such a thing as a Lane Kiffin fan?"
Manos: "Probably not."
But Edwards is high on Florida to surpass its regular-season win total of 7½. The Gators have a senior quarterback (John Brantley), new coach (Will Muschamp), former NFL offensive coordinator (Charlie Weis) and a manageable schedule.
"Brantley was made the scapegoat last year, and that was really unfair," Edwards said. "I would encourage gamblers to give Brantley another chance. I think he's going to have a good bounce-back year."
And, finally, the handicappers handed out their best bets for this week (Home team in CAPS):
Chip Chirimbes, Northwestern (+3) over BOSTON COLLEGE; Edwards, Florida Atlantic-Florida (over 46½); Iskoe, HAWAII (-7) over Colorado; Manos, Bowling Green (+8) over IDAHO; Marshall, Army (+10) over NORTHERN ILLINOIS; Sevransky, MISSOURI (-17) over Miami (Ohio).
No handicapper was willing to jump out on a limb with UNLV.
Contact sports betting columnist Matt Youmans at myoumans@reviewjournal.com or 702-387-2907. He co-hosts the "Las Vegas Sportsline" weeknights at midnight on KDWN-AM (720) and thelasvegassportsline.com.