Forget rankings and savor LSU, Alabama showdown
November 6, 2015 - 12:13 am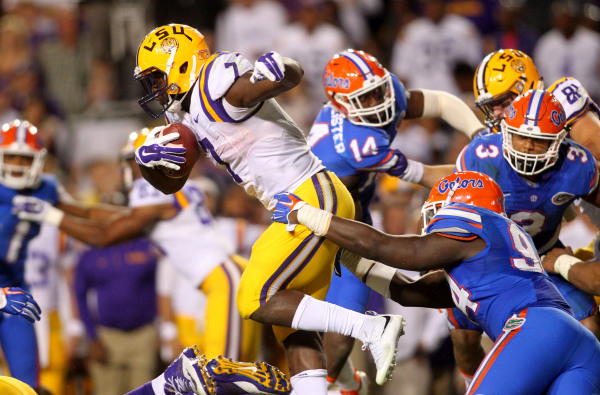 Debates are great for college football, like them or not. It will be two months before the heated debates over who's No. 1 are decided. One thing that is certain now is Leonard Fournette's status as the nation's top running back.
The Louisiana State sophomore is ready to be an NFL star today. He's so good, he might be able to turn around the Cleveland Browns.
But Sundays will have to wait. Fournette's immediate plan is to run over Alabama on Saturday, and that's a super-sized challenge. The Crimson Tide defense will be on a manhunt, with 11 guys and maybe even "Dog the Bounty Hunter" chasing No. 7 in purple and gold.
There are plenty of people who hate the Southeastern Conference and the respect its elite teams receive, but you have to love the showdown between Fournette and Nick Saban that's about to happen in Tuscaloosa.
"I think the perception is most people probably think LSU is a little better because of Fournette," MGM Resorts sports book director Jay Rood said.
But Alabama is the favorite, because Alabama always deserves to be the favorite on its home field. When oddsmakers and clueless bettors made the Crimson Tide underdogs at Georgia a month ago, the overrated Bulldogs and coach Mark Richt felt Saban's wrath in a 28-point rout.
Alabama has one loss, and another will put Saban's team down for the count in the hotly debated College Football Playoff hunt. When the first set of rankings were dramatically revealed this week, the Tide rolled in at No. 4, triggering outrage among the con-SEC crowd.
The haters need to chill out. Most of the mess will get cleaned up in the next five weeks, and there are not four teams out there that would be favored over Alabama on a neutral field. LSU is a 6½-point road underdog. Maybe the line is showing Saban too much respect, but we'll find out soon enough.
"I made Alabama a 4-point favorite," VegasInsider.com handicapper Brian Edwards said. "I really think it's a tossup game in terms of who wins outright, and I think LSU has got a good chance to win."
Rood said he took a bet Thursday for a little north of $100,000 on the Tide, forcing him to move the line to 7.
"Sharp action has been coming in on Alabama, but it's mostly just that one bet," Rood said.
The Tigers are considered a one-man team, and that man will be taking on gangs of Tide tacklers. Saban will front-load his defense to attack Fournette, who leads the nation with 1,352 rushing yards. He's the front-runner to win the Heisman Trophy as of today, although those ballots change as often as the top four teams in the playoff rankings.
As odd as it sounds, Fournette might not be the most important player in the game. LSU quarterback Brandon Harris could hold the key to an upset. Harris has shown sharp improvement, passing for 200 or more yards in each of the Tigers' past three games. Early in the season, he showed next to nothing. But he has not thrown an interception in 128 attempts this season.
Neither team airs it out in Big 12 or Pac-12 style. Alabama's Jacob Coker has tossed seven interceptions, which is why Saban prefers to run and play tough run defense.
"I still don't think a lot of Alabama's offense," Edwards said. "Fournette is a monster. He's kind of a little Earl Campbell or Eric Dickerson, because of the way he runs over and stiff-arms defenders, so that would be my comparison.
"I was not impressed with Harris, but in the last three games, he's throwing some passes right on the money, and he has the ability to escape pressure. Saban is going to be all-in with eight men in the box to stop Fournette, but you've got to respect Harris and the play-action a little bit. LSU has some speed receivers."
Alabama is 0-5 against the spread at home this season, lucky to survive against Arkansas and Tennessee in October. A mid-September loss to Mississippi means every week is another potential elimination game for the Tide.
The Tigers are No. 2 in the playoff rankings, with their high-profile win coming at home against Florida.
"The best team in college football, in my opinion … I'm not sure," Golden Nugget sports book director Tony Miller said. "It's not Ohio State. It's going to be a crazy few weeks."
The Buckeyes are No. 3. Notre Dame is the first team out at No. 5. The Irish have lost once, on the road in a crazy game against top-ranked Clemson.
Baylor, Michigan State, Stanford and Texas Christian have arguments for inclusion in the top four, but all have warts and big games remaining. It's chaos now, and the committee will be criticized for looking biased and clumsy no matter what happens.
The debates can make this part of the season great. But with another loss, Alabama should be out, and that's not up for debate.
* CLOSING NUMBERS — Florida over Georgia was an easy call, but it was my only right move last week. I went 1-3-1 to drop to 27-19-2 for the season. Here are seven underdog plays for Saturday (home team in CAPS):
Duke (+8) over NORTH CAROLINA; INDIANA (+7) over Iowa; Cincinnati (+8½) over HOUSTON; OKLAHOMA STATE (+5) over Tcu; Florida State (+11½) over CLEMSON; Lsu (+6½) over ALABAMA; PITTSBURGH (+8½) over Notre Dame.
Las Vegas Review-Journal sports betting columnist Matt Youmans can be reached at myoumans@reviewjournal.com or 702-387-2907. He co-hosts "The Las Vegas Sportsline" weekdays at 2 p.m. on ESPN Radio (1100 AM). Follow him on Twitter: @mattyoumans247