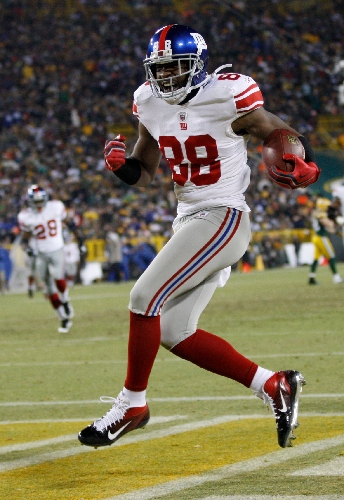 One of the most memorable quotes of the NFL season came from New York Giants coach Tom Coughlin. It was not something he said during a news conference, rather a sarcastic line he shouted during a raucous locker-room celebration.
"You're 9-point underdogs," he said, "and there's no way you can win."
Coughlin was complimenting his team — and taking a shot at critics and oddsmakers — after the Giants upset the Patriots 24-20 on Nov. 6 at New England. Coaches do pay attention to point spreads, especially when they can play up the underdog role as a motivational angle.
The Giants and Patriots are getting together for a Super Bowl sequel, and just like in 2008, plenty of bettors believe the Giants can win. But the underdog is not getting 12 points, as was the case four years ago, or even the 9-point head start from the November game.
On Sunday night, when Las Vegas and offshore books put up the Super Bowl opening line, New England was favored by 3, 3½ and 4. The two highest numbers disappeared faster than inhibitions at a porn convention.
"The early money was on the Giants, but that was more from professional handicappers," MGM Resorts sports book director Jay Rood said. "It looked like it was trending that way, so we went ahead and moved it. I think everyone has got a little Giants liability on this game."
Rood opened the line at 3½ and moved to 3 after about 45 minutes. By Tuesday morning, he moved it again to 2½ (minus-125) on the Patriots. After the initial flurry of action, the wagering trickles in on the side until the last two-day rush leading up to the Feb. 5 game in Indianapolis. The betting public is enamored with the Giants, so there is speculation the line could close Patriots minus-2.
At that price, the favorite looks more attractive, and respected sports gambler Lem Banker of Las Vegas told The Associated Press this week he's laying the points with Tom Brady.
"At 3½ and 3, it was more Giants money. We had a ton of professional money come in at 3½," Rood said. "But the public money is easily going to outweigh the pro money on this game. I really think we're going to get good two-way action on this. I don't see a tidal wave of action coming either way."
Rood said he took a significant wager on the Patriots minus-3½ right after opening the line, so he's not terribly exposed by going to 2½. Oddsmakers obviously are trying to avoid getting middled, but they also don't want to refund wagers by sitting on 3 if New England wins by 3.
"The financial impact is too important for this game to push, so that's why I wanted to go off that solid number," Rood said. "I would like to see it on a half-point so there are no pushes. A push would be almost as bad as a loss."
The Giants are getting a majority of the money-line play at around plus-120, but Rood said, "It's not overwhelming."
It's not as sensational to report the truth, but Internet stories circulating about Las Vegas books getting crushed on futures payouts if the Giants win are not entirely accurate. Odds on the Giants to win the Super Bowl did go as high as 80-1 and 100-1 at a few spots, yet MGM Resorts, which has 10 books on the Strip, never went higher than 40-1.
"Everybody keeps talking about how the books are buried on the Giants, but we're OK," Rood said.
If the Giants win, Rood said MGM Resorts will pay out about $1.5 million but still holds 18 to 20 percent on its futures book. The payout on the Patriots is about $1 million, with a hold of about 28 percent.
MGM Resorts posted generic Super Bowl proposition bets Monday and Tuesday, including what Rood called the "instant gratification" prop that offers odds on the first player to score a touchdown.
Giants wide receiver Hakeem Nicks drew the first significant bet at 10-1. Nicks had 18 receptions and four touchdowns in three playoff games, while teammate Victor Cruz (7-1) had 17 receptions but none for touchdowns.
I stopped by the LVH sports book after its approximately 350 props hit the board at 5 p.m. Thursday and picked two to bet right away, one being the sucker bet that the game will go to overtime at plus-800. It never has happened, but this could be the year.
Also, I bet Giants quarterback Eli Manning at plus-2½ rushing yards against Brady. In the November matchup, Manning carried three times for 11 yards, and Brady ran once for 5 yards. I don't see Brady doing any running against the Giants' dominant defensive line.
Other props were posted involving Kobe Bryant, LeBron James, Wayne Rooney, John Shurna and Lee Westwood, but we need more time to analyze those, and the numbers surely are pretty solid.
The Giants and Patriots played a scoreless first half in November, so I bet the total under 55½. As for the side, I tend to agree with Rood, who said, "I kind of favor the Patriots."
Coughlin can play up the underdog theme again, but this time far more people are on the Giants' side.
Contact sports betting columnist Matt Youmans at myoumans@reviewjournal.com or 702-387-2907. He co-hosts the "Las Vegas Sportsline" weeknights at midnight on KDWN-AM (720) and thelasvegassportsline.com.
TOUCHDOWN PROP BET
Player to score the first touchdown in the Super Bowl, according to odds posted at MGM Resorts:
New York Giants: Ahmad Bradshaw 4-1, Brandon Jacobs 11-2, Victor Cruz 7-1, Mario Manningham 7-1, Hakeem Nicks 10-1, Jake Ballard 15-1, Devin Thomas 18-1, Henry Hynoski 20-1, Eli Manning 22-1.
New England Patriots: BenJarvus Green-Ellis 4-1, Rob Gronkowski 9-2, Wes Welker 5-1, Aaron Hernandez 7-1, Deion Branch 12-1, Tom Brady 17-1, Julian Edelman 20-1, Danny Woodhead 22-1, Chad Ochocinco 25-1.
Field (all others): 3-1
No TD scored: 200-1