Golden State Warriors look golden again with Kevin Durant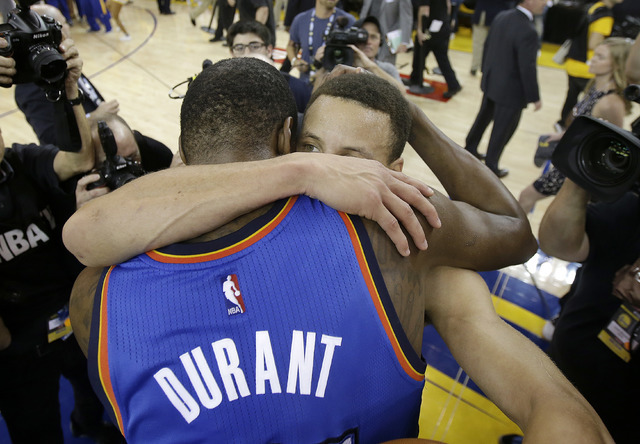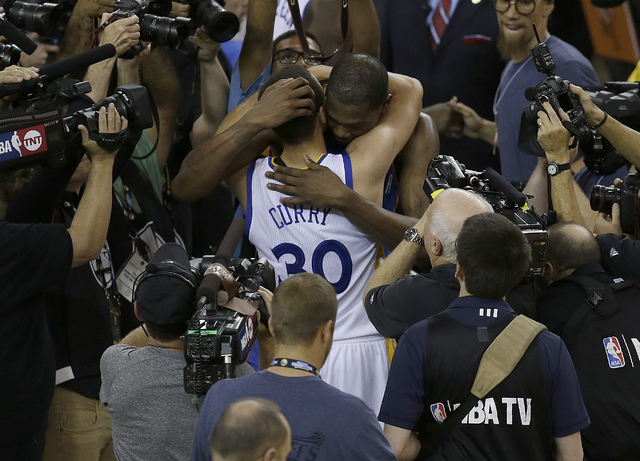 After announcing the decision, he was called a cheater and a traitor while fans burned his old jersey. That's how idiots reacted to Kevin Durant ditching Oklahoma City for the promise of the Golden State Warriors.
He was a free agent, which means he was free to make that choice in his life. He was not obligated to spend the rest of his career with the Thunder. And, unlike the LeBron James decision in 2010, Durant did not make a circus of it all. He wrote a letter, and it was done with class.
"I don't blame Durant for doing it," Sportsmemo.com handicapper Erin Rynning said.
Not everyone is going to like Durant for doing it, but there's no reason to blame him for leaving Oklahoma City, where he grew into a four-time NBA scoring champion. It was not his hometown. He spent nine years in the same organization with zero titles to show for it.
Why not take his talents to the Bay Area to play with Stephen Curry, Draymond Green, Andre Iguodala, Klay Thompson and Patrick McCaw?
"It looks like one of the best teams I've ever seen put together," Westgate sports book manager Jeff Sherman said. "To have the options like the Warriors do, it's going to be insane."
McCaw, a second-round draft pick from UNLV, must love Durant for doing it. He left the rebuilding Rebels for a front-row seat on what should be an NBA championship team. The Warriors were made 2-3 title favorites immediately after Durant's decision Monday.
There is something not to like about it: The 2016-17 regular season will be essentially meaningless as we wait for Cleveland and Golden State to meet in the NBA Finals for the third year in a row.
"I think Adam Silver is the greatest commissioner of all time," William Hill sports book director Nick Bogdanovich said. "But I'm not a big NBA fan. Now guys are getting together and creating their own teams, and maybe five teams out of 30 can win it. It bores me to tears for 82 games. When the playoffs come around, it gets my attention."
Realistically, only three teams can win it. James and the Cavaliers are the second choice at 5-2 odds, followed by San Antonio at 7-1. Boston and the Los Angeles Clippers round out the league's top five at 20-1 each. The Thunder dropped from 8-1 to 30-1.
Silver often talks about the benefits of legal sports betting, so it's ironic that only point spreads and wagering interests will keep most fans tuned into the regular season.
"The Warriors are going to be favored by 20 points in a number of games next season," Rynning said. "It's obviously tough to bet any futures. You're basically betting on injuries. Injuries could happen to Golden State and Cleveland, but that could happen to the other teams, as well.
"I don't think it's good for the NBA the way it's going. The owners are not going to stand for this. It is pretty much determined, with the exception of injuries, it's going to be Golden State and Cleveland. The competitive balance is shot."
All kinds of crazy Monopoly money was tossed around in free agency with only one move really mattering.
"There was really nothing seismic that happened other than the Durant decision," Sherman said. "With all the other teams, the odds moved based on the Durant shift."
Sherman said it's the first time since the late 1990s, when Michael Jordan led the six-time champion Chicago Bulls, that there is an odds-on favorite in the NBA at this stage of the summer. It's tough to bet the Warriors at minus-150, and it makes the Cavaliers the value wager to repeat at plus-250.
The Bulls wisely kept Jimmy Butler, but suspiciously added Rajon Rondo and Dwyane Wade to their backcourt. The New York Knicks got Derrick Rose and Joakim Noah from Chicago. Atlanta added hometown hero Dwight Howard, who will sell tickets. Boston added a quality free agent in forward Al Horford. An injury to James aside, Cleveland should coast through the Eastern Conference again.
The Spurs upgraded by signing veteran forward Pau Gasol, but that's not enough to catch the Warriors in the West. Oklahoma City must consider trading point guard Russell Westbrook, who can become a free agent next summer, to one of the Los Angeles teams.
"If the Warriors stay healthy, they are definitely that much better. It's pretty sick," Rynning said. "I would say they are going to need another big body in the playoffs, but I guess it doesn't matter much if they are scoring 130 points a game.
"I have not been impressed with anything the Clippers have done, and the Spurs are not on that level. I don't really like anything the Bulls have done. With the Knicks, that seems like a nightmare waiting to happen. The Celtics are sort of intriguing, but they need to add another player."
The Westgate and William Hill books posted the Warriors' regular-season win total, which ranges from 66½ to 67½. A proposition on Golden State winning 74 or more regular-season games is priced at "No" minus-700. Durant is a minus-175 favorite (Curry is plus-155) to lead the team in scoring.
It's doubtful the Warriors, who fizzled in the NBA Finals after winning 73 games, will push so hard to set records in the regular season. It's all about the playoffs, but don't blame Durant for that.
BOTTOM LINES — NBA Summer League lines will be posted again at several Las Vegas books. The Westgate's limits are $1,000 for sides and $500 for totals. The action tips off Friday at Cox Pavilion and the Thomas & Mack Center, and people will be betting on some unpredictable games, believe it or not.
Las Vegas Review-Journal sports betting columnist Matt Youmans can be reached at myoumans@reviewjournal.com or 702-387-2907. He co-hosts "The Las Vegas Sportsline" weekdays at 2 p.m. on ESPN Radio (1100 AM). Follow on Twitter: @mattyoumans247