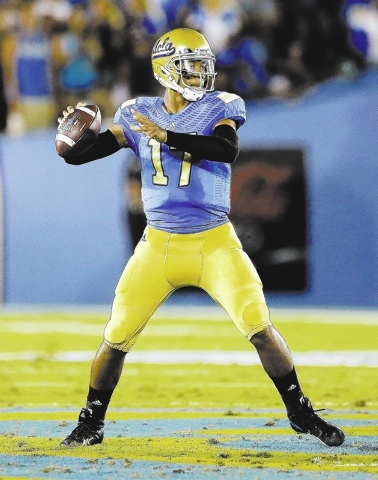 Preseason hype is often a lot of hot air. But anything that has been said or written to pump up UCLA and its sophomore quarterback, Brett Hundley, was not an error.
In the heat and humidity Saturday night in Pasadena, Calif., Hundley trotted onto the Rose Bowl field looking bigger than last year. He's listed at 6 feet 3 inches and 222 pounds, yet appeared to be 235 with more muscle. He eventually showed he's better, too.
Not every team is bigger, faster and stronger than the previous season. Don't always believe the hype. The Bruins will be an exception, if my first impression from the sideline is correct.
The opening weekend of the college football season revealed the good, the bad, the ugly and several upsets. It also brought out the bettors in impressive numbers.
Jimmy Vaccaro, watching from his new spot behind the counter at the South Point sports book, said, "The crowd is incredible. I've been around quite a while, and it's amazing to see the growth of college football. I was astounded by the handle with no pro games to follow on a Sunday. It tells you what's ahead."
The NFL returns this week, and Vaccaro is predicting a record football handle for the weekend of Sept. 14, when boxing fans flock to Las Vegas for the Floyd Mayweather Jr.-Saul "Canelo" Alvarez fight.
For the past few days, college football proved a worthy main event. There were enough quality matchups to offset the usual early-season mismatches, and the Los Angeles Dodgers finally were pushed out of the spotlight.
"Nobody cares about baseball right now. It's an afterthought," Vaccaro said. "It's just a good feeling to see how many people showed up to bet college football."
Hundley's performance was another positive. He completed 22 of 33 passes for 274 yards and two touchdowns, and also ran for a 37-yard score as 21st-ranked UCLA pounded UNR, 58-20. The Bruins, who rolled up 647 total yards against a physically inferior defense, have a bye week before a much tougher test at Nebraska.
UCLA, which lost its final three games last season to finish 9-5, has a team on rise. Hundley is about to catch the eyes of NFL scouts, and he probably could start for the Oakland Raiders right now.
It's too soon to write off the Wolf Pack, who trailed 17-13 at the half but failed to cover as 21-point underdogs. UNR still has hope, especially because the Mountain West has so many hopeless or mediocre teams.
Alabama, Clemson, Louisiana State, Northwestern and Washington made good impressions. All five of those teams won and covered, leading to what Vaccaro said was a "small loser for the day" for the books.
Northwestern closed as 6½-point favorite in a 44-30 victory at California that was closer than the score. The public piled on the Wildcats, with approximately 75 percent of the tickets on the favorite.
"It was 100 percent of the tickets on Northwestern at the South Point," Vaccaro said. "That was the biggest decision of the day."
Washington closed as a 4-point favorite in a 38-6 blowout of Boise State, the worst loss in Chris Petersen's eight years as coach.
"For so many years on this side of the counter, you were usually rooting against Boise State," Vaccaro said. "It was absolutely just the opposite."
The Broncos were bad, but they will get better. Colorado State, New Mexico, Purdue and Ohio were bad and could get worse, so adjust those power ratings. The Boilermakers were hyped as an improved team and showed nothing in a 42-7 loss at Cincinnati.
In the ugly category, there was Connecticut, Kansas State, Oregon State, South Florida and San Diego State — all were upset as favorites of two touchdowns or more. The Aztecs, laying 14 points, were embarrassed 40-19 by Eastern Illinois.
Wynn sports book director John Avello opened college lines for Week 2 at 3 p.m. Sunday, and bettors jumped on Ohio State and Michigan.
The Buckeyes opened as 24-point favorites over San Diego State, and the line moved to 28½. The Wolverines opened pick'em against Notre Dame, and the line moved to minus-3.
Michigan is my pick, but my handicapping was horrendous. I won one bet (on Wyoming, a 31-point 'dog in a 37-34 loss at Nebraska) and lost eight. That's as bad as it gets. It's only the opening week, but the email and Twitter critics are in midseason form.
So here's hoping my first weekend is not an ugly sign of what's ahead.
Las Vegas Review-Journal sports betting columnist Matt Youmans can be reached at myoumans@reviewjournal.com or 702-387-2907. He co-hosts "The Las Vegas Sportsline" weekdays at 2 p.m. on ESPN Radio (1100 AM). Follow him on Twitter: @mattyoumans247.