Improved Cardinals armed to cover, but playoffs unlikely
December 27, 2013 - 10:46 pm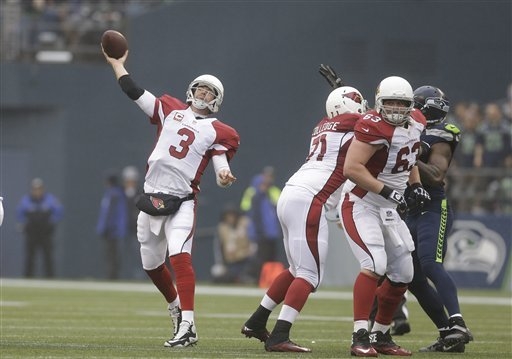 It's not easy to change a person with a losing attitude, and the same goes for turning around a terrible team. With that thought in mind, what coach Bruce Arians is doing in Arizona is just short of amazing.
It's short of amazing only because the Cardinals, despite their impeccable credentials of late, probably are not going to be a playoff team.
To his credit, Arians is not crying and whining when it appears things might not go his way. "That's just the way it is. It's just bad luck," he said this week.
The Cardinals, 10-5 and winners of seven of their past eight games, will be perched on the sidelines for the NFL postseason unless their luck takes a surprisingly quick turn for the better.
Arizona could become the first team since the 2008 New England Patriots to finish 11-5 and miss the playoffs. That's the only time it has happened since the league went to a 12-team postseason format in 1990.
To avoid that unlucky distinction, the Cardinals need to beat San Francisco on Sunday while praying that New Orleans, a 12½-point favorite, loses to Tampa Bay. The Saints, of course, almost never lose at the Superdome.
But the Seahawks had not lost in Seattle since 2011, and the Cardinals crushed that streak with a 17-10 upset in Week 16. Even more impressive is the fact they did it on a day when Carson Palmer threw four interceptions.
Arians worked some magic as the interim coach in Indianapolis last season, and he's done more good work with Palmer. Still, the team's transformation is mostly about a new attitude and an improved defense.
Arizona ranks sixth in the league in total defense and No. 1 against the run. The Cardinals held the Seahawks to 192 yards while loading up to stop running back Marshawn Lynch and forcing Russell Wilson to beat them through the air, and Wilson failed to pass the test. It won't be a surprise if the Cardinals do something similar to the 49ers and quarterback Colin Kaepernick, who used his strong arm and legs to lead the way to the Super Bowl last season but now rarely runs and makes fewer big plays.
In the loaded NFC West, San Francisco and Seattle have clinched playoff berths. To be the third team in, Arizona needs a win and an assist, and help from the Buccaneers is almost as unlikely as a summer snowstorm in Phoenix.
But I'll side with the Cardinals, who topped their regular-season win total of 5½ in mid-November, to do their part as 1-point home underdogs against the vulnerable 49ers.
Four more plays for Week 17 (home team in CAPS):
■ FALCONS (+6½) over Panthers: Off a poor offensive showing, Carolina will be without its top receiver, Steve Smith, and running back Jonathan Stewart. The Panthers can clinch the NFC South title and a first-round bye with a win, but that's not a formality. Atlanta has not quit despite its 4-11 record. The Falcons showed a lot of fight in Monday's loss at San Francisco.
■ BEARS (+3) over Packers: The knee-jerk reaction is to go with Green Bay now that quarterback Aaron Rodgers has returned. That might be the right idea, and there are plenty of reasons to be discouraged about the Bears. But this line moved from 7 to 7½ points on the Rodgers news, so there appears to be a public overreaction. Rodgers has not played in nearly two months, running back Eddie Lacy has a bum ankle, and the Packers' most valuable defender, linebacker Clay Matthews, is out.
■ COWBOYS (+7) over Eagles: Two weeks ago, Dallas was set up to be a 3-point favorite in this spot. Tony Romo's absence might not be crippling to the Cowboys, because he stunk in Week 17 elimination games the past two years. The Cowboys will circle the wagons around veteran backup Kyle Orton and lean on running back DeMarco Murray. The biggest concern is the weak Dallas defense, which might not be able to contain Philadelphia quarterback Nick Foles (25 touchdown passes, two interceptions) and LeSean McCoy, the league's rushing leader with 1,476 yards.
■ Chiefs (+9½) over CHARGERS: Kansas City coach Andy Reid plans to rest starters, so this is a risky bet. But it's a big number for San Diego to cover, and the Chiefs won't fall down and play dead. It's a rather meaningless game for the Chargers (8-7) if Miami or Baltimore win earlier in the day.
Last week: 3-2 against the spread
Season: 42-34-4
Las Vegas Review-Journal sports betting columnist Matt Youmans can be reached at myoumans@reviewjournal.com or 702-387-2907. He co-hosts "The Las Vegas Sportsline" weekdays at 2 p.m. on ESPN Radio (1100 AM). Follow him on Twitter: @mattyoumans247.