Iowa still hasn't convinced bookmakers entering Big Ten title game
December 3, 2015 - 2:42 pm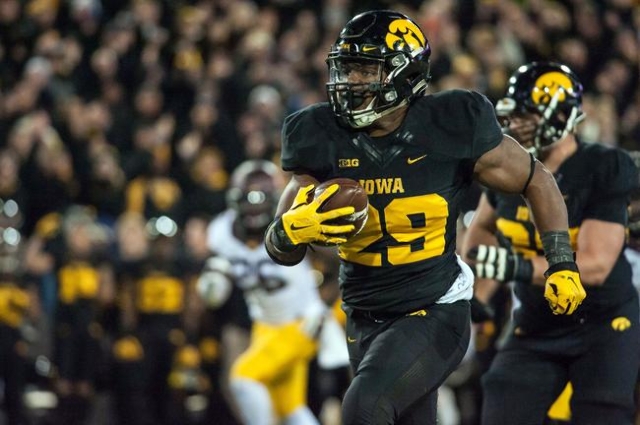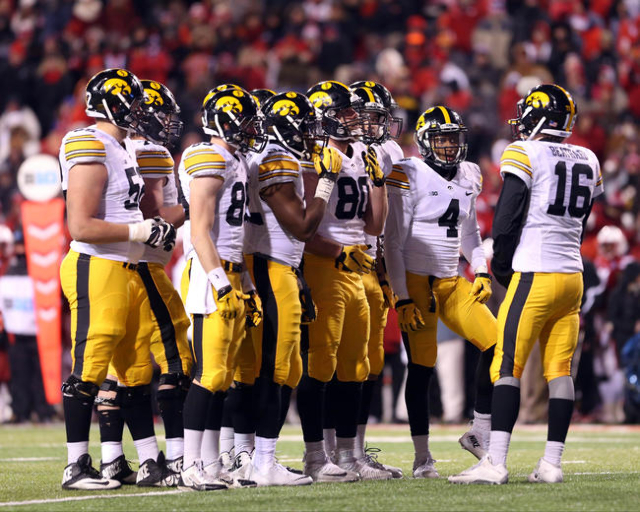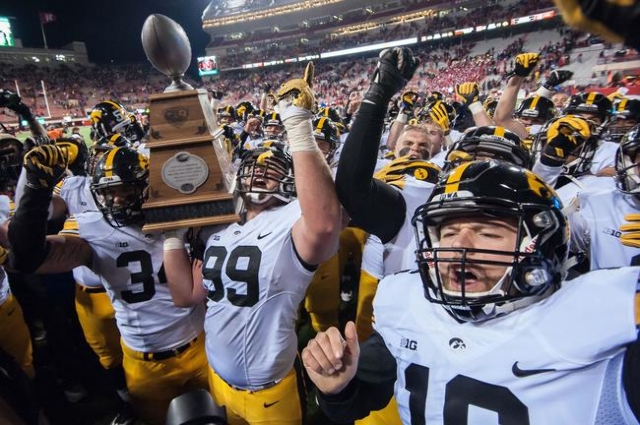 Not so long ago, Kirk Ferentz had seemingly worn out his welcome at Iowa. A run of mediocrity put the dean of Big Ten football coaches on the hot seat. And now, he's probably the most popular guy in the state.
A year after finishing 7-6, and three years after going 4-8, Ferentz has the Hawkeyes at 12-0 and in the conference championship game. It might be an inspirational story if anyone outside of the state believed in it.
So, what this means is the College Football Playoff has an Iowa problem, just as the Republican party has a Donald Trump problem. While each side surges in the polls, absolutely no one is convinced the Hawkeyes or Trump can win the whole thing.
"I've thought Iowa is phony all year," VegasInsider.com handicapper Brian Edwards said. "Two weeks ago, I had the Hawkeyes 14th in my power rankings. This week, I moved them up to ninth."
The playoff committee ranked Iowa No. 4 this week, and there's no reason to be outraged or puzzled by that. It's a fair ranking, believe it or not. The debates will get settled on the field Saturday in Indianapolis, where Iowa faces No. 5 Michigan State (11-1) in the Big Ten title game.
"I hate to use the word phony, so I'm certainly not going to use that," said John Avello, Wynn Las Vegas sports book director. "Nothing is real impressive. I don't know how good Iowa is, but deep down inside I don't think it's a top-four team. But I'm not sure Michigan State is that good, either."
After opening the season 6-0 straight up and 0-6 against the spread, the Spartans stunned Michigan with a miracle, lost a 39-38 thriller at Nebraska, used two backup quarterbacks to upset Ohio State on the road and pummelled Penn State by 39. It has been a strange trip.
Still, it's a lot easier to believe in Michigan State, a team with a dominant defensive line and an accomplished senior quarterback. Connor Cook is 33-4 as the Spartans' starter, including 22-2 against Big Ten opponents, and he'll play in the NFL.
The average fan might not even know the name of Iowa's quarterback or be able to name another player on the team. C.J. Beathard is the quarterback, and he's solid, throwing only three interceptions in 303 attempts. The Hawkeyes' road victories over Wisconsin, Northwestern, Indiana and Nebraska are solid, too, but who's really impressed?
"I'm starting to come around on Iowa a little bit," Edwards said. "Do I make Ohio State, Stanford, North Carolina and Notre Dame favored over Iowa on a neutral field? Damn right. But the committee should be different. I base it on who should be favored on a neutral field."
Edwards' point is on target. Oddsmakers are setting lines based on anticipated wagering action, and the betting line is often misleading in terms of forecasting winners. One great example was Ohio State of a year ago. The Buckeyes were 4-point underdogs in the Big Ten title game and embarrassed Wisconsin 59-0.
If oddsmakers formed the committee, Ohio State probably would have been excluded from the four-team playoff. But the Buckeyes slipped in, and as underdogs they posted convincing victories over Alabama and Oregon in performances that dispelled public perception and power ratings.
It's possible the Hawkeyes, 3½-point underdogs to the Spartans, can stage something similar a year later. I bought a seat on the Ohio State betting bandwagon in all three games at the end of last season, but this Iowa team is a much tougher sell.
"I think Michigan State wins by a touchdown and maybe more," said Edwards (BrianEdwardsSports.com). "The Spartans are playing lights-out right now."
Of the four major conference championship games Saturday, the Big Ten matchup in prime time will attract the largest wagering handle.
"That's the game I'm most interested in, and I think that's where a lot of the interest will fall," said Avello, who took a bet north of $100,000 on the Hawkeyes. "It feels like to me the wiseguys are going to be on Iowa. The general public may go the other way."
The Big Ten winner will get a playoff spot, most likely alongside No. 2 Alabama and No. 3 Oklahoma. The Sooners appear safe and can use some vacation time as the Big 12 benefits this time from having no championship game. The Crimson Tide are laying 18 points to Florida in the Southeastern Conference title game.
Derrick Henry carried 46 times for 271 yards in Alabama's 29-13 victory over Auburn last week. Here's a quick bad-beat story: Henry's one touchdown came on a 25-yard run on fourth-and-1 with 26 seconds left, and that's how the Tide covered the 15-point line.
"I like the matchup of Florida's defense against Alabama's offense," Edwards said. "But in my mind, the Gators really don't have a shot to win unless they get special teams or defensive touchdowns and play turnover-free football. I think Florida's defense will keep them in the game."
If one team should be on upset alert, it's No. 1 Clemson in the Atlantic Coast Conference title game. The Tigers are 5½-point favorites over North Carolina, which has won 11 in a row. Most people like to root for playoff chaos, and that's what a Clemson loss would create.
"If Michigan State wins, that's better for Ohio State," Avello said. "One thing the committee has to look at is, do you want two Big Ten teams in there?"
Iowa, unlike the entertaining and polarizing Trump, would not be good for media hype and TV ratings. But I'll give Cook and the Spartans, who have much more big-game experience, a good shot to knock out the Hawkeyes.
* CLOSING NUMBERS — CG Technology is offering potential playoff matchups, with Alabama favored in four scenarios – (-2) over Oklahoma, (-4) over Clemson, (-9) over Michigan State and (-14½) over Iowa. Avello said he will open some lines on bowl games by Sunday and all by Monday morning.
At 40-36-2 for the season, here are my six plays for Saturday:
KANSAS STATE (+6) over West Virginia; Temple (+6) over Houston; Southern California (+4½) over Stanford; Florida (+18) over Alabama; North Carolina (+5) over Clemson; Michigan State (-3½) over Iowa.
Las Vegas Review-Journal sports betting columnist Matt Youmans can be reached at myoumans@reviewjournal.com or 702-387-2907. He co-hosts "The Las Vegas Sportsline" weekdays at 2 p.m. on ESPN Radio (1100 AM). Follow him on Twitter: @mattyoumans247