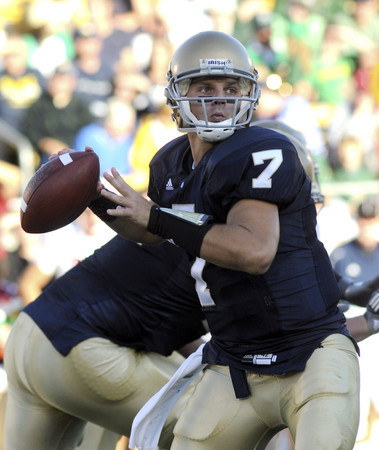 Three years ago, a self-styled genius and a cocky California kid hooked up and hatched a plan to conquer college football. Charlie Weis, the wiseguy coach, and Jimmy Clausen, the punk quarterback, told everyone they were destined for greatness.
In April 2006, Clausen staged a news conference, arriving in a Hummer stretch limousine, to announce he would play at Notre Dame. He said he would lead the Irish to multiple national championships.
That was about the time Weis declared he never would get outcoached at the college level because he was a brilliant Xs-and-Os strategist.
Weis was winning and looking pretty good, for a while. He sported a slimmer physique, the result of gastric bypass surgery, to improve his image. He had an incredible brain but wanted the body to match. He became Jared from Subway, then gained back the weight and now looks more like Santa Claus.
But nobody cares if a coach is fat, as long as that fat coach wins big.
What happened in their first two seasons together — going 3-9 in 2007 and 7-6 last year — was nowhere near what Weis and Clausen had in mind. Now Weis is a little less arrogant and Clausen is being described as humble.
With his job in obvious jeopardy, Weis said this week: "I'm not worried about hot seats, cold seats, anything."
He might finally be getting off the toilet seat, if Las Vegas Sports Consultants oddsmaker Ken White is right.
"Notre Dame is ready to jump to 10 or 11 wins," White said. "One thing Weis has done is recruit. Clausen is vastly improved and I think he's in line to have a huge year."
OK, stop the pot shots. No longer is Weis the butt of every joke.
White said the Irish are "loaded with talent" on the offensive side, and there's no arguing. An experienced line returns to protect Clausen, who will throw to three of the nation's top targets — wide receivers Michael Floyd and Golden Tate and tight end Kyle Rudolph.
Notre Dame's schedule also appeals to Weis and White. The Irish should win six of their seven home games, they travel to Michigan, Purdue, Pittsburgh and Stanford, and get lowly Washington State at a neutral site at San Antonio.
It's likely Notre Dame will be favored in 11 of 12 games. The exception will be Oct. 17 against Southern California. But the Trojans are starting a freshman quarterback, so an upset is possible.
The regular-season win total for the Irish is 9 at most sports books. Betting the over is plus-110, and White makes a strong case when he says bet on 10 or 11. It should be a winning wager.
But who else is skeptical? Just last year Notre Dame lost at home to a pathetic Syracuse team. The previous year, the Irish fell to Air Force and Navy and turned down an invitation to play the Coast Guard.
I'll say Notre Dame takes advantage of its schedule and goes 9-3, but struggles to beat UNR in Saturday's opener. Expect multitalented quarterback Colin Kaepernick and the Wolf Pack running attack to seriously test the Irish defense.
White has more predictions. He said top-ranked Florida will lose a game, and USC will be dealt "at least two" losses.
He likes Illinois and Florida State as improved sleeper teams. In the Mountain West Conference, he sees Utah winning fewer than nine games while San Diego State and UNLV ascend.
"The Rebels are going bowling this year," White said, and he does not mean coach Mike Sanford is taking the team to Red Rock Lanes on an off day.
The posted win total for UNLV, 5-7 last year, is 51/2, and betting the over is minus-150. Junior quarterback Omar Clayton is one of many reasons for cautious optimism.
"Everything starts with the quarterback, and I think Clayton is going to have a great year. He's an accurate passer and he's mobile, and he has the best receivers in the conference," White said. "I think they are a six- to seven-win team. Sanford should win six games with this team."
• CLOSING NUMBERS — Each week I'll pick six college games and hope to hand out more than a few winners (home team in CAPS):
Unr (+15) over NOTRE DAME; Georgia (+51/2) over OKLAHOMA STATE; Illinois (-61/2) over Missouri; WAKE FOREST (-2) over Baylor; Central Michigan (+14) over ARIZONA; Brigham Young-Oklahoma (under 68).
Matt Youmans' betting column is published Friday. He can be reached at myoumans@reviewjournal.com or 702-387-2907.