It's risky business to underestimate Ohio State's Urban Meyer
September 15, 2016 - 11:59 pm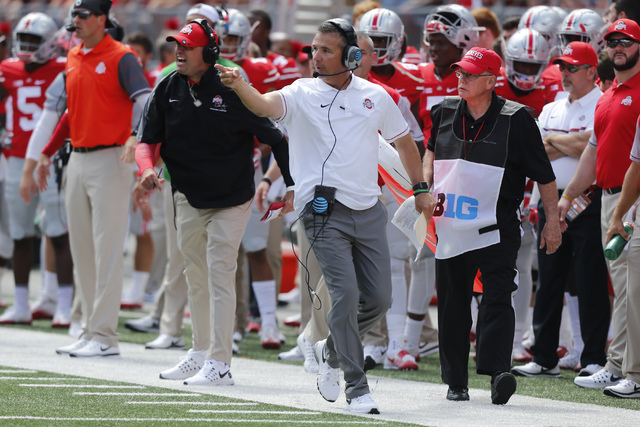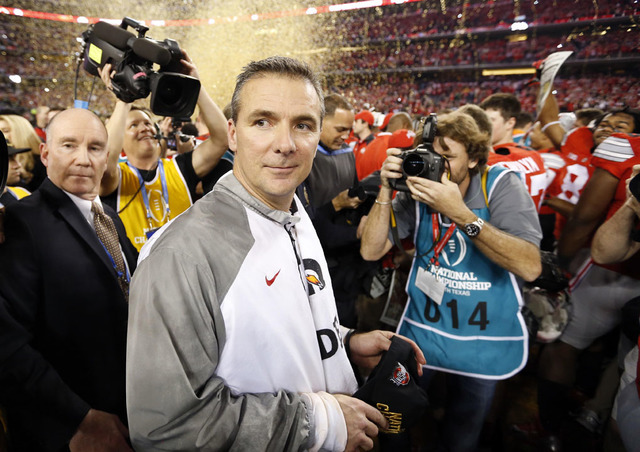 A rebuilding year at Ohio State? Such a thing no longer exists, not with Urban Meyer overseeing what has become the second-strongest program in college football. Meyer is too wildly driven to win to endure even a rebuilding month.
But in May, when South Point sports book director Chris Andrews opened lines on several of the season's top games, he figured Meyer would need a little time to build this Buckeyes team.
"Obviously, I was way wrong," Andrews said.
At the same time, Andrews figured Bob Stoops would have Oklahoma rolling right from the start, and he made the Sooners 9-point home favorites over the Buckeyes.
"I really had Oklahoma No. 2 or No. 3 in the country, behind Alabama and ahead of or even with Clemson," he said.
Andrews is a sharp oddsmaker, but it's impossible to be perfect when posting lines in the middle of the summer. It's mid-September, and the current line shows Ohio State as a 1½- to 2-point favorite at Oklahoma on Saturday. An 11-point line move so early in the season is as startling as a buzzing alarm clock at 6 a.m.
But the Sooners slept through their opener and were upset at Houston. Meanwhile, the Buckeyes rolled over Bowling Green 77-10 and Tulsa 48-3.
Obviously, Ohio State is relatively untested, and it will be no joke playing in Norman, Oklahoma, but Andrews is no longer underestimating Urban.
"If Nick Saban is not the best coach, Meyer is," said Andrews, who utilizes his own grading system for teams. "Right now, Ohio State is grading as high as anybody, including Alabama. Meyer seems like he has them playing up to their potential right away."
Lately, Stoops has been paid a lot to stand around and look lame, which means he's turning into college football's version of Matt Lauer. One smiles and lobs softball questions. The other needs to win a tough game to revitalize his image, and this is Stoops' big shot.
The Sooners are finished as playoff contenders with another flop. Maybe in the loss to Houston, Stoops learned something. He has a veteran quarterback, Baker Mayfield, who is capable of outplaying the Buckeyes' gifted J.T. Barrett.
Five of the top 20 picks in this year's NFL Draft were from Ohio State — including defensive end Joey Bosa (No. 3 to San Diego) and running back Ezekiel Elliott (No. 4 to Dallas) — so Andrews' line made some sense in May. It's obvious Meyer, 52-4 in his fifth season with the Buckeyes, is an elite coach.
We are about to find out if Stoops has slipped that much. On his home field, with a veteran team ranked No. 3 in the preseason, he has no excuses.
NFL action is the undisputed king in terms of wagering handle, and the SuperContest at the Westgate reinforces the popularity of betting pro football. The contest drew a record 1,854 entries at $1,500 apiece.
Still, college betting is gaining traction. A new college-only handicapping contest at William Hill sports book drew 162 entries at $500 each. Bookmakers reported strong handles on the first two weeks of the college season, and the third weekend is stacked with high-profile showdowns beyond Ohio State-Oklahoma.
Alabama is a 10½-point favorite at Mississippi, with Saban in rare double-revenge mode against the Rebels. Notre Dame is a 7½-point home favorite in a renewed rivalry with Michigan State.
UCLA-Brigham Young is not as hyped nationally, but it's no less intriguing to some of us out West. The Cougars, who split down-to-the-wire decisions against Arizona and Utah, have a great college quarterback in 26-year-old Taysom Hill. The Bruins' passer, sophomore Josh Rosen, is a top NFL prospect.
"I have reservations about UCLA," said Bruce Marshall, a handicapper for The Gold Sheet. "Rosen is good, but I'm not all that convinced he's great yet. He does not handle pressure well, and he makes some dumb throws."
The Bruins appear a little soft. The Cougars blitzed and rattled Rosen last year. Stay up late to see that one.
Wake up early for Florida State-Louisville. Some of us smell an upset, albeit a minor one. The Cardinals, behind coach Bobby Petrino and dual-threat quarterback Lamar Jackson, are 2-point home 'dogs.
"I kind of like Louisville. Every wiseguy I've talked to likes Louisville," Andrews said. "In the book, all the square action is on Florida State. Of course, we've lost games like that in the past."
The total in the Texas-California game is 81. Last week, Arizona State and Texas Tech combined for 123 points, and Georgia, a 54-point favorite, escaped what could have been the biggest upset in college football history by beating Nicholls State by two.
CLOSING NUMBERS
After a 3-2 week, my college record is 6-3-1. Here are seven plays for Saturday (home team in CAPS):
LOUISVILLE (+2) over Florida State; Unlv (+13) over CENTRAL MICHIGAN; NORTHERN ILLINOIS (+10½) over San Diego State; BYU (+3) over Ucla; Michigan State (+8) over NOTRE DAME; OKLAHOMA (+2) over Ohio State; Hawaii-ARIZONA (Over 63).
Las Vegas Review-Journal sports betting columnist Matt Youmans can be reached at myoumans@reviewjournal.com or 702-387-2907. He co-hosts "The Las Vegas Sportsline" weekdays at 2 p.m. on ESPN Radio (1100 AM). Follow on Twitter: @mattyoumans247