Jordan Spieth is his own tough act to follow at PGA Championship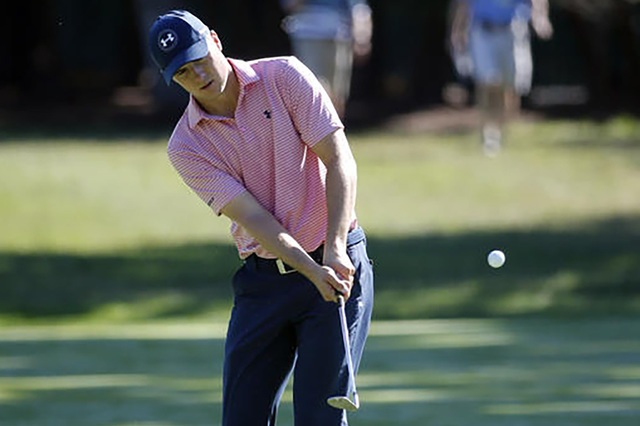 A year ago, Jordan Spieth burst onto the scene with the force of a wildfire, hard to contain and the hottest player on the planet. At 22, he nearly swept golf's four majors.
As a first impression, Spieth produced what might turn out to be a career year. He won the Masters and U.S. Open, tied for fourth at the British Open and finished second at the PGA Championship. It was the kind of year he might never top, and doing too much so soon has become his problem.
Spieth turns 23 on Wednesday, the day before he tees off in this season's fourth major, the PGA at Baltusrol Golf Club in Springfield, New Jersey. He has cooled off considerably, and his act — complaining about unreasonable expectations and constantly whining after poor shots — is already getting old.
Of course, at his age, he deserves a break. Most of us throw clubs and let four-letter words fly on the golf course occasionally. Spieth is struggling under the media microscope, so the perception of his season is worse than reality.
"Spieth was doing a lot of traveling all over the world, going to China and Europe and all over, and getting appearance fees, and I think that took a toll on him," Westgate golf oddsmaker Jeff Sherman said. "It's tough to replicate what he did last year. It was almost a perfect season. Anything he did this year would come up short of that."
His major results in 2016 — second in the Masters, 37th in the U.S. Open and 30th in the British Open — would be considered solid for most players. It's all a matter of perspective. It's not always easy being a superstar.
But the betting public still believes in Spieth, the fourth choice on the Westgate odds board at 12-1. Sherman said Spieth is the only one of the big four favorites — Dustin Johnson (8-1), Rory McIlroy (9-1) and Jason Day (10-1) — his book faces liability on this week.
"People like to bet Spieth in every major," Sherman said.
Not many people are fired up about betting this major, however. Because of the Olympics in Rio de Janeiro in August, the PGA was pushed up two weeks, and Sherman said it has attracted "very light" wagering.
"Unless you follow the golf schedule, I don't think casual fans are expecting a major this week," he said. "Our handle is going to be way down compared to a normal PGA."
Interest in Phil Mickelson is up. Sherman took a $2,000 bet on Mickelson at 20-1 odds Monday. Mickelson, off an inspiring runner-up finish to Henrik Stenson in the British two weeks ago, won the PGA at Baltusrol in 2005.
"The long hitters will have somewhat of an advantage on this course," Sherman said. "Think of it in terms of a U.S. Open when handicapping it."
Johnson was added to golf's "Big Three" after winning his first major at the U.S. Open in June, and he leads the PGA Tour in average driving distance, ahead of McIlroy (13th), Day (14th) and Spieth (44th).
"Of the four favorites, I like DJ and Rory," said golf handicapper Wes Reynolds (@WesReynolds1 on Twitter). "DJ is in the best form. McIlroy is at his best on long courses that are soft. Day is not in the best of form. Spieth is still a little off."
Mickelson and Stenson, each at 15-1 odds and tied for fifth on the odds board, are receiving strong support for the PGA, Sherman said. Six days after losing his duel with Stenson in Scotland, Mickelson showed up at Baltusrol to begin preparing.
Day, whose only major win came at last year's PGA, ranks first on the PGA Tour in strokes gained putting. But strokes gained tee-to-green is the statistic that should matter most this week, and Johnson (second) and McIlroy (third) follow former UNLV standout Adam Scott in that category.
Scott flopped in the British — tying for 43rd, 25 strokes behind Stenson — but analytics indicate he should fare better at Baltusrol. His odds offer some value at 30-1.
Reynolds is eyeing Sergio Garcia (25-1) and Branden Grace (40-1), talented second-tier players still in search of a major championship. Garcia has tortured himself and his bettors with 22 top-10 finishes in majors, including a tie for fifth in the British.
Clip this Reynolds quote and recite it before every major: "Sergio is playing good golf, and I think will play very well here, but I don't know if he'll win."
This has been a season of first-time major winners with Danny Willett (Masters), Johnson and Stenson claiming the first three.
Sherman's long shots to finally break through are Garcia, Matt Kuchar (40-1) and Patrick Reed (40-1).
Picking a winner in a golf tournament is almost a needle-in-a-haystack hunt, but cashing one goes a long way. I'm betting on McIlroy, Scott and Zach Johnson, a two-time major winner who's in good form and at the right price (50-1).
Never count out Spieth, but it seems it's just not his year.
Las Vegas Review-Journal sports betting columnist Matt Youmans can be reached at myoumans@reviewjournal.com or 702-387-2907. He co-hosts "The Las Vegas Sportsline" weekdays at 2 p.m. on ESPN Radio (1100 AM). Follow on Twitter: @mattyoumans247