Kevin Durant turns from dog to bully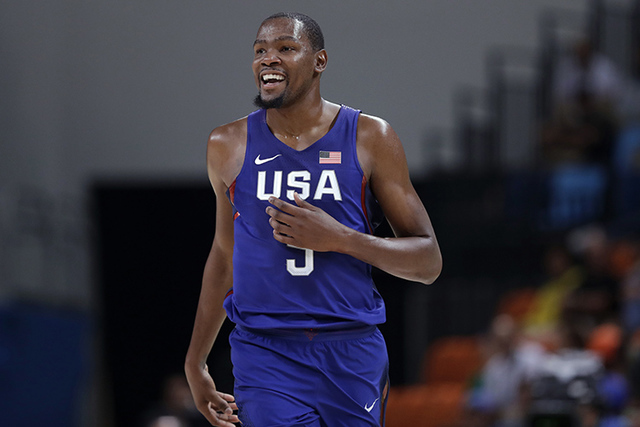 Once upon a time, Kevin Durant was an underdog from Oklahoma City. He led a team that seemingly had little shot to win a championship, and he came up a little short. But who has time for an against-the-odds tale of inspiration?
It's time to crush the competition and take no prisoners.
The underdog role is not for everyone, especially Durant, who recently joined two of the world's most dominant basketball forces. He signed on to form the NBA's new superteam with the Golden State Warriors and is leading the United States into a ridiculously unfair fight at the Olympics in Rio de Janeiro.
The American pros are essentially guaranteed to win gold in a tournament that is nothing more than a charade and a one-nation title parade.
"This is just a formality," Westgate sports book manager Jeff Sherman said. "I think the Americans' last five players would be better than any other team's starting five."
China certainly had no chance against Team USA, which opened the Olympics on Saturday by cruising to a 119-62 victory and covering the spread as a 50-point favorite.
"I don't see any way possible they lose," William Hill sports book director Nick Bogdanovich said.
STAYING ON LUXURY SHIP
If a mystery virus sickens most of the roster, maybe it's possible the U.S. could lose. But with the team docked near Copacabana Beach on a luxury 514-foot cruise ship named the Silver Cloud, the players should be comfortable enough to survive the elements in good health.
Durant scored 25 points against a dwarfed Chinese team that was destined to get embarrassed. Carmelo Anthony, rarely a big winner in NBA competition, said the 57-point romp sent a "statement to the rest of the world."
Team USA is coached by Mike Krzyzewski, who rarely plays a game when the deck is not stacked in his favor. Coach K has assembled a powerhouse Duke team that will be ranked No. 1 and resemble the Warriors of college basketball next season.
A year ago, when Olympics wagering was reinstated at Nevada sports books, the U.S. opened as around a minus-350 favorite to win gold in men's basketball. That line was a severe error in judgment by oddsmakers.
Team USA is now favored by odds of 1-20 at the Westgate and 1-9 at William Hill books, which offer the field at plus-600. Only a fool would bet the field. The U.S. opened as a 50½-point favorite over Venezuela in Monday's game.
Even without LeBron James, Stephen Curry, Kawhi Leonard, Russell Westbrook and other notable NBA superstars, the Americans will rock and roll every opponent.
NOBODY CAN BEAT THEM
"Nobody is going to knock off the U.S.," said handicapper Wes Reynolds (@WesReynolds1 on Twitter). "But looking through some of the rosters, I think a lot of the other games will be competitive. You will get good games. I kind of like Australia as a sleeper. It's a team that spreads the floor and has a lot of guys who can shoot."
Australia has players with NBA experience — Andrew Bogut, Matthew Dellavedova, Patty Mills and Cameron Bairstow — but it would need a miracle to topple the Americans, and this is not the time to believe in miracles. Spain, Argentina, Brazil, Croatia and France also put respectable teams on the floor, and games involving those teams could attract sharp betting action.
There is a little something for everyone in the Olympics, and some of the events are intriguing.
Will Vashti Cunningham of Las Vegas win the women's high jump at 3-1 odds?
Will a boa constrictor grab ahold of a golfer on a Rio course where large snakes and other wildlife roam?
The most intriguing aspect to the lopsided men's basketball tournament is whether Team USA can consistently handle huge point spreads.
"We might see a line in the upper 50s," Sherman said. "The smallest spread I can imagine might be like 16."
Durant has turned from a 'dog to a bully, but he had the right to make that choice. I don't dislike him for it. And there's no reason to knock Krzyzewski, who is doing his job by making American basketball on an international level great again.
"If I was an NBA player, after an 82-game season and the playoffs, the last thing I would want to do is play more basketball in the summer," Bogdanovich said. "To win gold in basketball, to me it's not the greatest accomplishment in the world. But Durant and Coach K and those guys, they take it seriously and they want to win."
In betting circles, we always say good teams win and great teams cover.
Las Vegas Review-Journal sports betting columnist Matt Youmans can be reached at myoumans@reviewjournal.com or 702-387-2907. He co-hosts "The Las Vegas Sportsline" weekdays at 2 p.m. on ESPN Radio (1100 AM). Follow on Twitter: @mattyoumans247