Kris Bryant, Chicago Cubs have bookmakers cornered
October 6, 2016 - 10:51 pm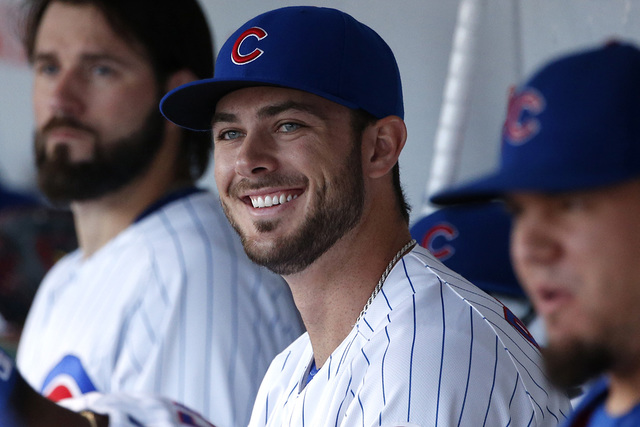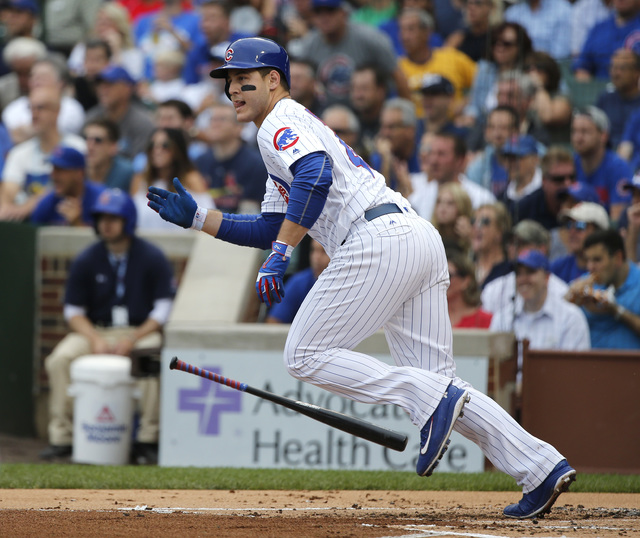 At this point in October, Kris Bryant is probably not daydreaming about personal achievements. For Bryant and the Chicago Cubs, this year has been all about winning the World Series.
And if it does not happen now, next year will be all about the same thing.
But the rest of us can take a minute now to appreciate what is happening to a pair of Las Vegas baseball products. Bryant, a 2010 graduate of Bonanza High School, is close to being named National League Most Valuable Player, a year after his friend Bryce Harper won the same award.
"That's kind of crazy, isn't it?" Wynn sports book director John Avello said. "Bryant is probably going to win MVP. He's a pretty good favorite to win it."
Harper, from Las Vegas High and College of Southern Nevada, was the No. 1 overall pick in the 2010 major league draft. Three years later, Bryant was the No. 2 pick. Those are two great reasons for locals to be intrigued by this year's playoffs.
Bryant could cross paths with Harper and the Washington Nationals later this month, and if it happens, Bryant will be the hometown favorite in terms of fan sentiment and wagering.
Nothing personal against Harper, but who's really rooting for the Cubs to fail? Maybe a few bookmakers.
"I'm in bad shape on the Cubs," said Avello, buried in futures tickets on the Cubs since the spring. "People bet them at 10-1 odds, and they are still betting them at 2-1. When a team is a short price or a favorite going in, it's usually OK for the book. But that's not the case for me with the Cubs."
Avello posted a two-way proposition on the Cubs to win the World Series, with "No" priced at minus-240 and "Yes" at plus-200. He said "some wiseguys" are betting "No," and considering the Cubs have not cashed since 1908, that seems to be a wise wager. But they are the favorites, and all of their puzzle pieces seem to fit perfectly this year.
"Of all the teams left, I think the Cubs probably have the most complete team in all facets," Avello said. "But there are a lot of factors that play into why the best team doesn't always win championships."
The Cubs need Jake Arrieta, their ace of a year ago, to find his lost command and confidence. Arrieta slumped down the stretch and allowed 10 hits and seven earned runs in his last regular-season start.
"In the playoffs, you may see a different Arrieta," said Avello, who opened the Cubs as minus-260 series favorites over the San Francisco Giants.
The Cubs also need to overcome the Giants' big-game experience and potentially dominant starting pitching. Madison Bumgarner, the best postseason pitcher on the planet, is more than capable of winning twice in a five-game series that opens Friday night at Wrigley Field.
I'm not betting either side of the series price, but I plan to bet on Bumgarner in Game 3 if the price is right. Betting against "MadBum" is as smart as sitting in an outhouse in a hurricane.
Bryant put up MVP numbers this season, batting .292 with 39 home runs and 102 RBIs while displaying sharp defensive skills at third base and in the outfield. The Cubs need the same type of power from him in October.
MLB WIN TOTALS
Some regular-season win totals went to the wire, and betting Atlanta under 66½ or 67 turned into a bad beat when the Braves won eight of their final 10 games to finish 68-93.
Cincinnati (69) lost its final game to wind up 68-94. Miami (80) finished 79-82, losing its last two games after a game was canceled because of the death of pitcher Jose Fernandez.
The Cleveland Indians (86½) were overachievers at 94-67, and the Cubs (93) also soared over their total by going 103-58.
CLOSING NUMBERS
I won three blowouts and had to sweat out four close calls to go 7-1 in college football last week. At 17-11-1 for the season, here are five plays for Saturday's ugly card (home team in CAPS):
Maryland (-1) over PENN STATE; KANSAS STATE (-7½) over Texas Tech; Notre Dame (+2) over NORTH CAROLINA STATE; WYOMING (+10½) over Air Force; Tennessee (+6½) over TEXAS A&M.
Las Vegas Review-Journal sports betting columnist Matt Youmans can be reached at myoumans@reviewjournal.com or 702-387-2907. He co-hosts "The Las Vegas Sportsline" weekdays at 2 p.m. on ESPN Radio (1100 AM). Follow on Twitter: @mattyoumans247