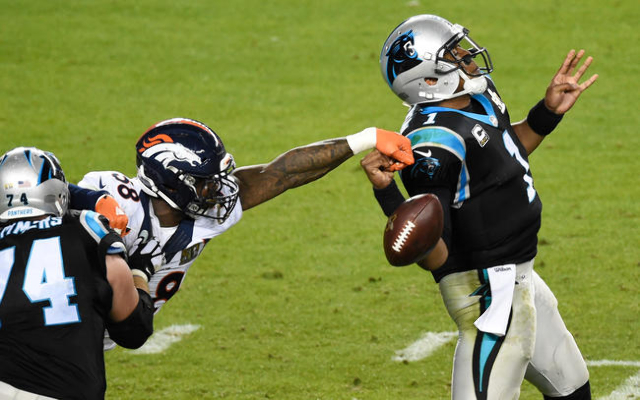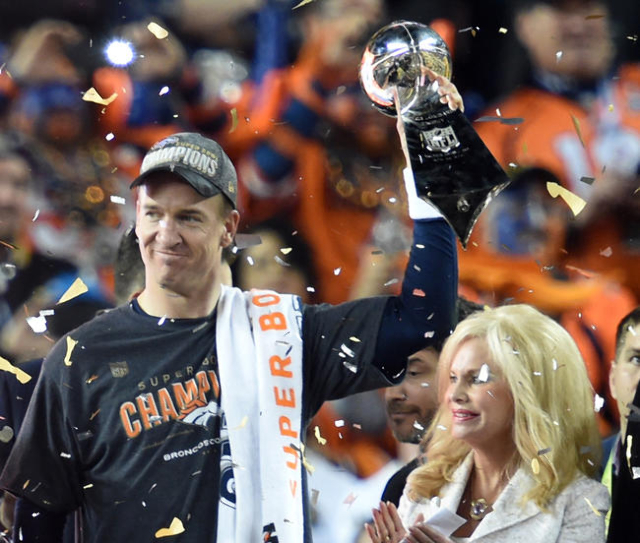 In the end, and there is no doubt this should be the end of the road for Peyton Manning, one of the NFL's all-time greatest quarterbacks rode shotgun. Manning was simply an old-timer who went along for the ride.
For the most part, Super Bowl 50 was a four-hour Sunday bore — a combination of tough defense, turnovers and no touchdown passes by Manning. His signature moment was 2-point conversion pass late in the fourth quarter that essentially sealed the Denver Broncos' 24-10 victory over the Carolina Panthers.
"The Broncos kind of won a little bit in spite of Manning," Sunset Station sports book director Chuck Esposito said.
A majority of late-arriving bettors — sharps and squares alike — deserve credit for sniffing this out. The Panthers, showered with early wagering support, were uncovered as fraudulent favorites.
Cam Newton's dance party was cancelled. The Carolina quarterback's body language spelled trouble from the start, and he limped to the finish line after getting sacked six times. In a postgame interview, he sulked and served as the prime example of a sore loser.
"Nothing went right for the Panthers. They were a mess," said Nick Bogdanovich, William Hill sports book director. "Cam was not playing with a lot of confidence, and it's hard to when Von Miller is in your face all night."
It was Miller's time, no doubt. The Denver linebacker collected 2½ sacks and forced two fumbles on his way to being voted Most Valuable Player. Manning was never under MVP consideration. But there was nothing wrong with Manning being a game manager while the league's No. 1 defense stole the show.
The popular narrative for the first 10 days prior to the game was Newton's flashy smile and the Panthers' swagger. The early betting action reflected the public's fascination with a 17-1 team that rolled through the playoffs and appeared to be on the rise.
In an unexpected development, the wagering tide turned Wednesday, when sharp money came in waves on the Broncos, and public money followed. Public or sharp, it all proved to be smart money.
"There was a lot of Broncos money late," Wynn Las Vegas book director John Avello said.
Avello said the biggest bet he took was for $500,000 on Denver. Jason Simbal, vice president of CG Technology books, said the biggest bet he took was for $600,000 on the Broncos. Suddenly, 90 percent of the money was no longer on Carolina.
"I was surprised because we actually ended up being about 50/50 on the money," said Simbal, who calculated the numbers and came up with 51.2 percent of the point-spread action on the Panthers, who closed as 5-point favorites.
"We spent two weeks scrutinizing minor moves in the line, but it never mattered. All that mattered was the plus-175 price on Denver on the money line and that the score stayed well under the total of 43½. The end result was positive for bookmakers, but not ideal."
"Carolina winning but not covering was our best scenario," Bogdanovich said, "but this was the second-best scenario."
Bogdanovich said William Hill books took a money-line bet on the Panthers for more than $600,000. MGM Resorts book director Jay Rood said the biggest bet he took showed up Jan. 25 for an amount "just shy" of $1 million on the Panthers. In hindsight, that was dumb and dumber money.
It was an ugly game, but for those who bet the Broncos, who cares? Manning played second fiddle to Denver's defense, but who cares? A win does not always need to be a masterpiece painted by the quarterback.
"The Broncos have won games like that all year, but I'm surprised that play was good enough to win a championship," Westgate book director Jay Kornegay said. "Denver and under was one of our best scenarios."
The Denver defense put Newton under intense pressure all night, and the cocky quarterback did not handle adversity well during or after the game. Miller twice stripped Newton for fumbles that led to touchdowns.
"I was really surprised Denver's defense dominated that much," said Esposito, who did pick the Broncos to win because of their defense. "Cam couldn't do anything. I thought the Panthers might make a game out of it, but they really never did."
Newton was the favorite to win MVP. The William Hill oddsmakers opened Miller at 40-1 odds, and he closed at 12-1 after drawing 350 tickets.
"It was a great prop," Bogdanovich said. "The people chose the right guy."
There were a handful of mildly interesting proposition decisions. The highlight was probably Manning's 2-point conversion pass to Bennie Fowler with 3:08 remaining in the game.
"The crowd definitely erupted when Manning threw that pass," Esposito said of a prop that cashed at plus-300.
Otherwise, Manning, who passed for 141 yards and threw one interception, did little to entertain the crowds. He did not announce his retirement after the game, but that should be coming soon. Two years ago, the Broncos were embarrassed in a Super Bowl loss that produced a record wagering handle in Nevada. This game might produce another wagering record, but the money on Denver was on the right side all the way.
After a super bore, and in spite of him or not, what matters is Manning will be remembered for leaving as a winner.
— Las Vegas Review-Journal sports betting columnist Matt Youmans can be reached at myoumans@reviewjournal.com or 702-387-2907. He co-hosts "The Las Vegas Sportsline" weekdays at 2 p.m. on ESPN Radio (1100 AM). Follow him on Twitter: @mattyoumans247.