LeBron's brilliance can't hide Cavs' shortcomings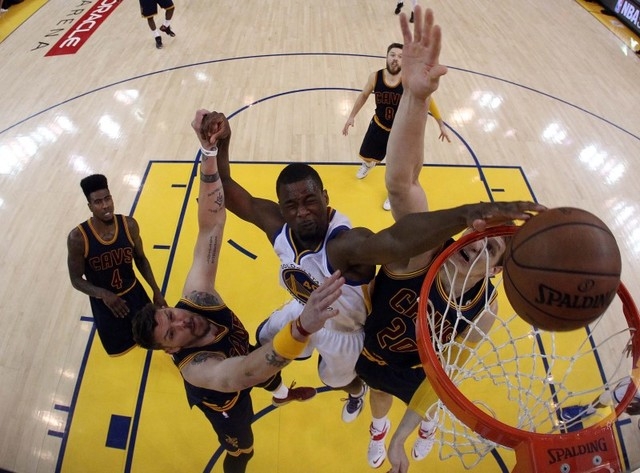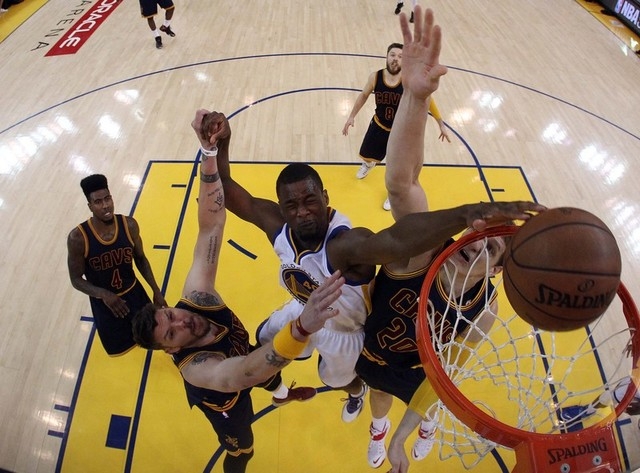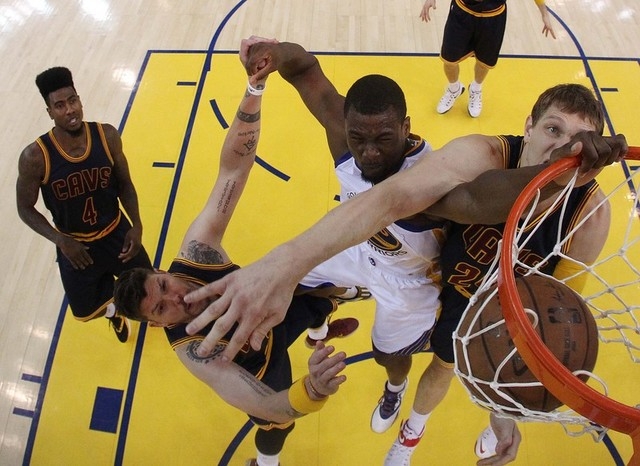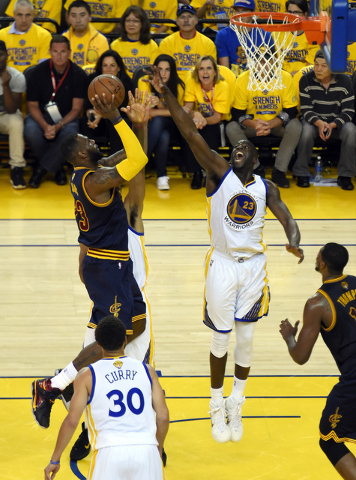 Remember when a parade was being planned in Cleveland? Stephen Curry just rained on it, dropping one 3-pointer after another in the type of surreal shooting display that only seems possible in a video game.
But this is reality setting in on the Cavaliers, who are down two stars and close to getting knocked out after back-to-back double-digit losses in the NBA Finals. This is why they were underdogs in a long series.
In a long series, the better team almost always prevails. LeBron James is no doubt the best player in the series, and his brilliance will be something to remember. But the longer this goes, the more his surrounding cast gets exposed and fatigue takes a toll.
"You look at this, and it's a minor miracle that Cleveland won two games," said Jeff Sherman, oddsmaker at the Westgate Las Vegas sports book. "It's unreal what LeBron is able to do."
Curry was equally unreal Sunday night, sinking seven 3-pointers and scoring 37 points to lift Golden State to a 104-91 victory and a 3-2 series lead. Cleveland needs more than a minor miracle now. A worn-down James must win two straight games with odds stacked against him.
In the middle of last week, with the Cavaliers up 2-1, the Warriors were minus-120 favorites to win the championship. The Westgate's adjusted series price on Golden State is up to minus-1,200, which means oddsmakers are going ahead with parade plans in Oakland.
The betting public's belief in LeBron before the Finals was warranted. He won two games and lost one in overtime. LeBron alone was almost enough to win the series, and I'm still not writing him off.
In Game 5, James finished with 40 points, 14 rebounds and 11 assists, surpassing his inflated proposition totals for points (35½) and combined rebounds and assists (19½).
"I don't remember making numbers this high on a player in years," Sherman said. "The LeBron detractors have got no reason to say anything negative about this guy ever again."
James put the Cavaliers in position to win down the stretch in each game, but they ran out of gas a few blocks from home in the past two games.
When he hit a 3 from 30 feet with 7:47 remaining Sunday, Cleveland led 80-79. Fifteen seconds later, Curry countered with a 3. Klay Thompson, who has barely made a splash in the series, hit a 3 to extend the Warriors' lead to 85-80 at the 6:47 mark.
Even with Andre Iguodala misfiring on nine consecutive free throws, Golden State was able to put the game away, cover the 9½-point line and beat the public. The score landed on the closing total of 195.
"We took nothing but Cleveland money every which way," Sherman said.
Someone out there was throwing sharp money on the Warriors, who opened as 8½-point favorites and closed higher as Las Vegas books followed the market. It can be argued the underdog was the right side and the point-spread result was wrong, but the Cavaliers have had trouble closing in all five games because of fatigue and too few scoring options.
Matthew Dellavedova, the gritty replacement for injured point guard Kyrie Irving, is resembling Rusty Griswold and appearing ready for a vacation. J.R. Smith and Iman Shumpert are looking like New York Knicks castoffs again.
David Blatt is clearly the second-best coach in the series. Instead of playing to Cleveland's strength advantage inside with Tristan Thompson and Timofey Mozgov, Blatt tried to play small ball with Golden State. He left Mozgov, who scored 28 points in Game 4 and defended the rim effectively in the first four games, to rot on the bench Sunday while James manned the center spot at times.
"I don't see how the Cavs going small gives them much of a chance," Sportsmemo.com handicapper Erin Rynning said. "It's like bringing a knife to a gunfight."
Golden State has too many guns, and Cleveland has only one. Blatt needs to go back to Mozgov and Thompson, play big and slow and put James in control of the offense. If not, the series will be over by Tuesday night.
Curry woke up just in time to put the Warriors one win away.
"I don't see this thing returning to Golden State," Sherman said. "The handle has been really good. There's a lot of interest. These games have been as much as you could ask for."
We could ask for competent officiating, but this being the NBA, that's unrealistic.
Hopefully, there will be a lot of interest in a Game 7. The Warriors are 4½-point favorites in Game 6 in Cleveland. I predicted this series would go the distance, and I'm sticking by it.
Las Vegas Review-Journal sports betting columnist Matt Youmans can be reached at myoumans@reviewjournal.com or 702-387-2907. He co-hosts "The Las Vegas Sportsline" weekdays at 2 p.m. on ESPN Radio (1100 AM). Follow him on Twitter: @mattyoumans247.