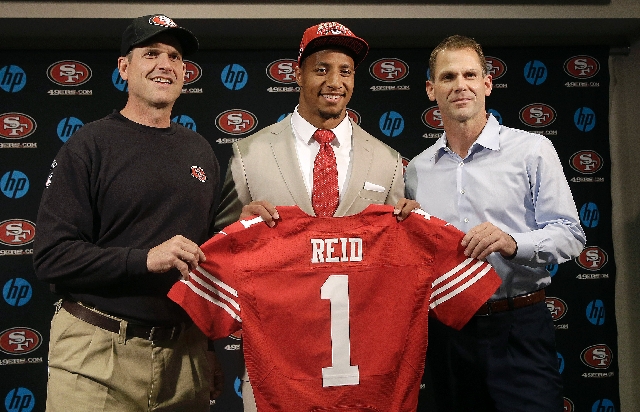 Maybe the NFL Draft is a dog and pony show, not to mention a showcase for the cartoon character known as Mel Kiper Jr., ESPN's hair-raising talent evaluator.
Maybe it's a waste of time to analyze the 254 picks made over seven rounds and three days. After all, who really knows for certain which teams drafted wisely and which players will be complete busts? Nobody knows, not even Kiper, who dedicates the entire year to studying the draft.
I watched the entire dog and pony show, and while the experience might not help my football handicapping a lot, it can't hurt. But, like broccoli, it's not for everyone.
I hate broccoli but love the draft. Yet when it was done Saturday afternoon, none of the Week 1 lines posted April 19 at the LVH sports book moved a point.
"I'm not a draft specialist at all," said handicapper Steve Fezzik of Pregame.com. "My opinion on the draft is it's irrelevant and it doesn't impact anything."
Fezzik, a two-time winner of the LVH SuperContest, can handicap the NFL without witnessing how each team's depth chart was constructed. He was out shopping during rounds four through seven, and Jimmy Vaccaro was watching Turner Classic Movies.
"I didn't tune in because it has no impact," said Vaccaro, public relations director for William Hill sports books. "It's great that it's on because it generates so much interest. But the commentators say, 'We'll see how good this draft is in five years.' It's always the same thing."
We already know last year's draft was good. The top two picks, Andrew Luck and Robert Griffin III, were quarterbacks who led their teams to the playoffs. Another QB picked in the third round, Russell Wilson, won a playoff game. Those three players impacted regular-season win totals in a big way.
This draft lacked sex appeal in terms of major impact players. The top seven picks were offensive or defensive linemen. Only one quarterback and no running back went in the first round.
It might take five years to evaluate this draft, but here's how I see the best and worst of it:
The Best
■ SAN FRANCISCO — Jim Harbaugh's eyes are dark and crazy, but the 49ers coach has an eye for talent. He filled a major need by getting Louisiana State safety Eric Reid in the first round.
Florida State defensive end Cornellius "Tank" Carradine was a solid second-round choice. South Carolina's Marcus Lattimore fell to the fourth round because of a knee injury. Lattimore might not play this season, but I'll bet he turns out to be the best running back in the draft. Three spots ahead of Lattimore, the 49ers grabbed Louisiana Tech wide receiver Quinton Patton, who will help this season.
Harbaugh made the most of his 11 picks by filling immediate needs and planning for the future. Two years ago, he took quarterback Colin Kaepernick from UNR in the second round. I predicted Kaepernick was a steal, and Harbaugh knew it and groomed him.
San Francisco, at 6-1 odds to win the Super Bowl, was the league's most talented team before the draft and just got significantly better. Harbaugh is 24-7-1 in his first two years, and he's winning in the offseason, too.
■ BALTIMORE — The Ravens rebuilt their defense in the first three rounds with safety Matt Elam from Florida, linebacker Arthur Brown from Kansas State and defensive tackle Brandon Williams from Missouri Southern. Williams is a 335-pounder who can walk on his hands, which sounds impressive, even if it's not a football skill.
■ GREEN BAY — Aaron Rodgers is arguably the league's best quarterback, but he needed a running back, so the Packers drafted two good ones — Alabama's Eddie Lacy and UCLA's Johnathan Franklin — after taking UCLA defensive end Datone Jones in the first round.
■ PITTSBURGH — The Steelers always seem to draft wisely, and they did again by getting Georgia linebacker Jarvis Jones and Michigan State running back Le'Veon Bell in the first two rounds. They also filled another need by snaring a pair of promising wide receivers.
■ SAN DIEGO — Manti Te'o, the overhyped linebacker from Notre Dame, could be a bust. He also could be a Pro Bowler. He was a worthy second-round risk. The Chargers got Alabama's D.J. Fluker, an anchor for the offensive line, in the first round, and California wide receiver Keenan Allen in the third.
■ ST. LOUIS — Rams coach Jeff Fisher is building a team capable of competing in the rugged NFC West. He helped quarterback Sam Bradford by drafting West Virginia wide receivers Tavon Austin and Stedman Bailey, and Alabama center Barrett Jones. Fisher toughened up his defense by adding Georgia linebacker Alec Ogletree and Southern California safety T.J. McDonald.
QB coin flips
I can't rate these quarterback picks as the best, but they were not the worst simply due to value — West Virginia's Geno Smith went to the New York Jets in the second round and USC's Matt Barkley went to Philadelphia at the top of the fourth round. At different times, both were considered potential top-10 picks, and both have the ability to be quality starters.
The Worst
■ MINNESOTA — The Vikings traded four picks to New England to move into the first round and get Cordarrelle Patterson, a wide receiver from Tennessee. Patterson is a raw player likely to contribute most as a kick returner this season, and there were several better, NFL-ready receivers available. It was a boom-or-bust deal, and bust is the favorite.
■ DALLAS — It was not Cowboys owner Jerry Jones' worst draft, but he could have done much better. His first-round pick, Wisconsin center Travis Frederick, drew a third-round grade from most analysts.
■ BUFFALO — A few of the Bills' picks were solid. But their first-rounder, EJ Manuel from Florida State, looks shaky. Kiper ranked Manuel the sixth-best quarterback in the draft, Fezzik called the pick "dumb," and nobody seemed to think it was the smartest move.
Maybe Manuel is the next Kaepernick, but don't bet on it.
Contact Las Vegas Review-Journal sports betting columnist Matt Youmans at myoumans@reviewjournal.com or 702-387-2907. He co-hosts "The Las Vegas Sportsline" weekdays at 2 p.m. on ESPN Radio (1100 AM, 98.9 FM). Follow him on Twitter: @mattyoumans247.