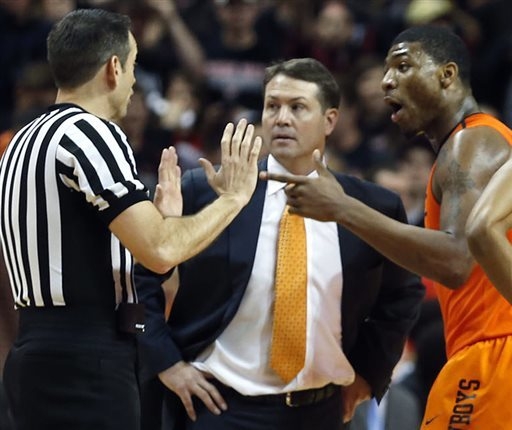 Even before he shoved a loud-mouthed, obnoxious fan, Marcus Smart made a bigger mistake. He returned to Oklahoma State when he would have been a top-five pick, and possibly the No. 1 pick, in last summer's NBA Draft.
The unfortunate truth is that Smart's tale is a cautionary one for future pro prospects. The lesson: Don't stay in school if there's a shot of hitting the lottery or going anywhere in the first round of the draft.
Smart's decision has turned from shocking last year to saddening now. He came back to campus for all of the right reasons, only to see everything go wrong.
At the end of November, the Cowboys were 7-0 and ranked No. 5 in the nation. Two-and-a-half months later, Smart is serving a three-game suspension, and the odds are turning against his team reaching the NCAA Tournament field of 68.
"Suddenly in danger is Oklahoma State, fading fast and getting too close for comfort to the cut line," said Bruce Marshall, a handicapper for The Gold Sheet. "Could the Cowboys play their way out of the dance?"
Oklahoma State (16-8) has dropped five straight games, four with Smart on the floor. On Saturday, in the final seconds of a 65-61 loss at Texas Tech, Smart sprinted back to defend a fast break and careened into the crowd. A fan who has become famous for disrespecting players with obscene words and gestures called Smart a "piece of crap" and maybe more.
The fan deserved to be punched in the mouth. Smart shoved him in the chest, a dumb move by a star sophomore point guard who was frustrated and reacted without considering the consequences.
Smart deserved a suspension, but my opinion is one game was fair and two should have been the maximum. He got a three-game penalty from the Big 12 Conference, and the Cowboys, crippled in his absence, were crushed 87-68 at Texas on Tuesday.
Buying a ticket does not give a fan the freedom to act like a moron, but too many do because while they talk trash, either the player turns the other cheek or pays a high price.
"Smart is a hothead, but my real problem was with having him still on the floor at the end of the game when excited Tech fans rushed the floor, creating the potential for a melee had Smart taken a swing at someone, as he almost did," Marshall said.
"It was the height of irresponsibility from the refs and (coach) Travis Ford for not hustling Smart into the clubhouse before the game ended. Rule one, two and three is to never go into the crowd to start a fight; no matter how much security, an angry crowd cannot be controlled. Big crowds can be scary dangerous."
Marshall (Goldsheet.com) called out a handful of ESPN analysts for their "gutless response" by refusing to condemn Smart's actions until they knew what was said by the fan.
"These guys cannot put basketball history into any sort of context in such situations," Marshall said. "The worrying parallel to all crowd-involved situations is a 1972 Ohio State-Minnesota game, and the small-scale riot that happened on the floor. We were lucky something as bad didn't happen in Lubbock because Smart, for some reason, was still on the floor at the end of the game."
Smart screwed up. But the fan needs to be punished, too, and if he's allowed to continue attending games, he should never sit near the floor.
Michigan State coach Tom Izzo, who contends players are facing more fan criticism than ever through social media outlets such as Twitter, defended Smart as a high-character kid. Everyone who knows Smart says the same. The character of the fan is highly questionable.
In the wake of it all, Oklahoma State, once a legitimate Final Four contender, becomes a tricky team to handicap as it prepares to host Oklahoma on Saturday. The Cowboys already were missing two key players, and without Smart they have no guard capable of running the point.
When the teams met Jan. 27 in Norman, Okla., the Sooners rolled 88-76 as 4-point underdogs.
Three years after deserting UNLV, coach Lon Kruger has Oklahoma (18-7) in position to be a No. 5 or 6 seed in the NCAA Tournament.
The Sooners, off a bad home loss to Texas Tech on Wednesday, project as 1-point favorites at Oklahoma State. The game should open in the pick-'em range, and it's difficult to recommend a bet on the Cowboys, who have failed to cover their past six games, even in an emotional must-win situation.
"Smart is a huge loss," SportsXRadio.com handicapper Ken Thomson said. "I don't know if they can pull a rabbit out of their hat."
With Smart, Oklahoma State would be around a 5-point favorite. To draw an NFL betting comparison, he's about as valuable to his team and as significant to the line as quarterback Aaron Rodgers was to the Green Bay Packers late in the season.
There will be plenty of wagering options on the board Saturday, and Oklahoma-Oklahoma State is more intriguing than it is playable.
Smart is set to return against Texas Tech on Feb. 22, when it would be wise to expect the Cowboys to come out fighting in a big-time revenge spot.
Las Vegas Review-Journal sports betting columnist Matt Youmans can be reached at myoumans@reviewjournal.com or 702-387-2907. He co-hosts "The Las Vegas Sportsline" weekdays at 2 p.m. on ESPN Radio (1100 AM). Follow him on Twitter: @mattyoumans247.