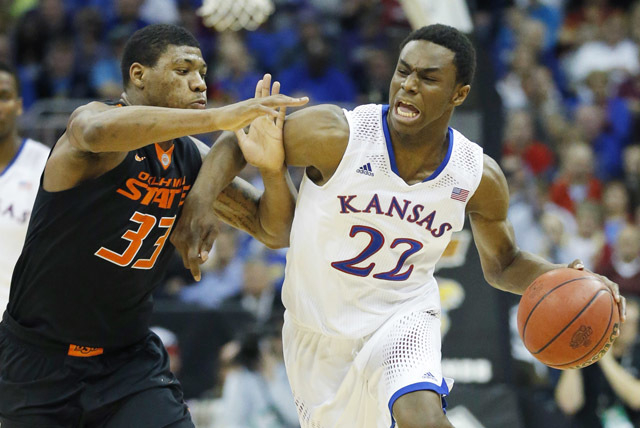 Believe it or not, it's not all about underdog stories in March. Sometimes, it's about a survival of the favorites, such as Kansas, which escaped early elimination by following freshman leader Andrew Wiggins.
As the clock ticked toward zeros, Wiggins fired a 3-pointer that bricked off the backboard, and the Jayhawks went into overtime Thursday in a Big 12 Conference tournament quarterfinal in Kansas City, Mo.
The end to regulation set up a heartbreaking ending for 'dog bettors watching from crowded Las Vegas sports books. Kansas, a 3-point favorite and a public favorite, covered in a 77-70 victory. Wiggins scored 30 and impressed even more NBA scouts.
As cool as conference tournament week is, it's just two guys sitting in a bar drinking in comparison to next week's NCAA Tournament party. That's when all hell breaks loose, and once you've experienced it, you're too impressed not to keep coming back.
"Once you come here for the tournament," handicapper Bruce Marshall said, "there's no other place to watch it."
When it's time for the biggest games in March, it's best to be watching from Las Vegas.
It's a college basketball betting Mardi Gras on the Strip, and it's better to be here than in Kansas City, Indianapolis or boring spots such as Oklahoma City, Omaha, Neb., and Salt Lake City.
Finally, the message is getting through to the mainstream media. ESPN seems to be paying more attention to the interest in sports betting, especially in relation to the NFL.
But ESPN was beat to the punch on this one. FOX Sports 1 is setting up a stage in the LVH sports book this weekend and broadcasting shows and/or segments from the sports book beginning Sunday night and for the first four days of the NCAA Tournament.
Viewers will get a look at bettors' unbridled enthusiasm when a game goes to the wire or a 3-point shot at the buzzer decides a point-spread result, when a favorite such as Kansas survives or an underdog like Butler or Florida Gulf Coast springs an upset.
For far too long, conservative stiffs have been casting a crazy eye on sports bettors, so the presence of FOX Sports 1 is significant progress.
"This is a major step," LVH sports book director Jay Kornegay said. "We've got one of the major sports networks coming in here and doing a show out of a Las Vegas sports book."
It's a step forward, Kornegay said, because national media outlets "somewhat frown upon sports betting" and are reluctant to cast it in a positive glow. But it's not an organized crime activity in Nevada, where the industry is tightly monitored.
"We have a highly regulated industry here, and the one thing that we want to sell is the integrity of the games," Kornegay said. "That's the product."
If you want scandals, check out Wall Street, politics, the neighborhood homeowner association, the Catholic church or Penn State.
For the most part, the books out here in the desert are squeaky clean by comparison.
If sports wagering gets legalized in New Jersey, that could be another step in pushing the acceptance and popularity of a regulated business that's also a good source of entertainment.
"That is a breakthrough," Marshall, who has handicapped games for The Gold Sheet since 1981, said of FOX Sports 1 sending analysts and setting up cameras in a sports book.
"They normally treat us as pariahs here in Las Vegas. But FOX is pushing the envelope a lot more than the others. This is going to be a lot more mainstream. It's not going to be as taboo anymore."
It probably will result in a ratings spike, just as conferences are seeing an attendance spike by bringing tournaments to Las Vegas. The Mountain West is at the Thomas &Mack Center, the Pac-12 is at the MGM Grand Garden Arena, and two other leagues play at Orleans Arena.
There were two blowouts Thursday in four Mountain West games as New Mexico and San Diego State covered big spreads. UNLV, an 8-point favorite, barely escaped a wild Wyoming comeback in a 71-67 win.
At the MGM Grand Garden Arena, there was little suspense as Arizona and UCLA advanced with ease.
Across the country in the Big Ten tournament, Purdue was a 10-point underdog in a 63-61 loss to Ohio State, which survived a missed 3-pointer at buzzer. Northwestern, a 13½-point 'dog, upset Iowa 67-62.
"In a lot of the conference tournaments," Kornegay said, "you're going to see a lot of upsets."
Kansas survived a close call. But you also see a lot of lopsided games. Louisville embarrassed Rutgers 92-31. Doug McDermott scored 35 points as Creighton crushed DePaul.
The theory is this NCAA Tournament might be the most wide-open event ever, highlighted by buzzer-beating shots and upsets, and FOX was wise to send cameras here to catch the action from our point-spread perspective.
Las Vegas Review-Journal sports betting columnist Matt Youmans can be reached at myoumans@reviewjournal.com or 702-387-2907. He co-hosts "The Las Vegas Sportsline" weekdays at 2 p.m. on ESPN Radio (1100 AM). Follow him on Twitter: @mattyoumans247.