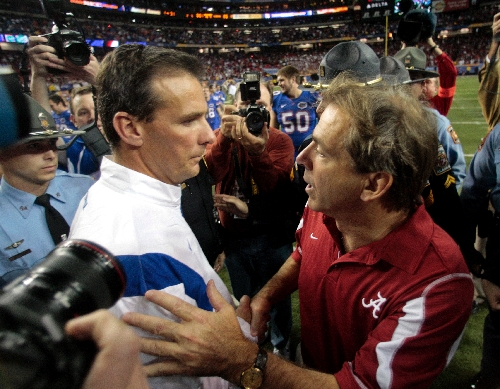 When a cobra and a mongoose square off, the result is a fascinating fight. The college football equivalent has become Urban Meyer and Nick Saban on opposite sidelines.
It's not a fight for life on a YouTube video, but when Florida and Alabama get together, all hell breaks loose in the Southeastern Conference. The winner has a good shot of walking away with a national championship.
Saban has turned the top-ranked Crimson Tide into such a force, most people are deathly afraid to bet against him.
The Gators, 30-2 the past three seasons, were almost double-digit underdogs this week. And Meyer is an underdog coach of any sort only slightly more often than I wear pink pants, which is never.
"I was surprised it opened up at 9 or 9½, and I said, 'That line is going to come down,' " Northcoast Sports handicapper Phil Steele said.
But the line has come down just a little. Alabama is an 8-point favorite over Florida in Tuscaloosa on Saturday.
"I think this one goes down to the wire, and I give Florida a shot to win the game," Steele said. "Meyer is very rarely an underdog, so this is an advantage for him."
Meyer has coached the Gators in 71 games since 2005 and is 3-0 as an underdog. He's 8-2 straight up and 8-1-1 against the spread versus top-five opponents.
Steele (philsteele.com) used Florida as the "Underdog Play of the Week" in his newsletter, calling for the Crimson Tide to win, 24-23.
With his best friend, Tim Tebow, gone to serve as a gimmick backup in the NFL, Meyer is breaking in a new quarterback. The transition to junior John Brantley was rough in the beginning.
Brantley, who has completed 64 percent of his passes for 700 yards and six touchdowns with one interception, is appearing more comfortable. Steele said freshman Trey Burton, who scored six touchdowns last week in the Gators' 48-14 demolition of Kentucky, makes the offense more of a threat against a somewhat vulnerable Alabama defense.
"Florida's offense really struggled the first three weeks, but it has finally clicked," Steele said.
Crimson Tide quarterback Greg McElroy is far more experienced in big games than Brantley. McElroy also has two great runners behind him in Mark Ingram and Trent Richardson. The ability of the Gators to stem the Tide running attack will go a long way in determining the outcome, and Steele said a motivated Florida defense should meet the challenge.
Steele also said the revenge factor — Alabama handed down a 32-13 whipping in the SEC title game — and schedule help the underdog.
"Alabama is going through a tough three-game stretch," Steele said. The Tide needed a second-half comeback to beat Arkansas 24-20 on the road a week ago, and next week Alabama travels to South Carolina.
We're just lucky we get to witness this cobra-mongoose battle between Meyer and Saban. Saban once swore he was not leaving the Miami Dolphins for Alabama. Meyer retired and then quickly came out of retirement early this year.
Southern California's Lane Kiffin is a former SEC and NFL coach, and his act got tired a long time ago. But Steele prefers the Trojans as 10-point home favorites over Washington.
"USC has not looked good all year. But the bottom line is, when you wake up in the morning and look at the record it's 4-0," Steele said. "The talent and the potential are there. USC is starting to play better and is playing with more confidence each week."
The Huskies have lost 13 consecutive road games, and quarterback Jake Locker has had a disastrous start to the season.
"Until they show me they can win on the road, you've got to go against them in this spot," Steele said.
■ CLOSING NUMBERS — Some weeks I fear and loathe the schedule, some weeks I'm lukewarm to it, and some weeks I like it. Last week was a lukewarm one, and I went 3-4 to go 12-11-1 for the season.
Not that it guarantees success, but this week's lineup is one to like. Here are 10 plays for Saturday (home team in CAPS):
Michigan (-10) over INDIANA; Navy (+10) over AIR FORCE; Notre Dame (-2½) over BOSTON COLLEGE; Ohio State (-17) over ILLINOIS; Georgia (-4) over COLORADO; TOLEDO (-3½) over Wyoming; Florida (+8) over ALABAMA; IOWA (-7) over Penn State; Stanford (+7) over OREGON; HAWAII (-8) over Louisiana Tech.
Contact sports betting columnist Matt Youmans at myoumans@reviewjournal.com or 702-387-2907. He also co-hosts the "Las Vegas Sportsline" weeknights at midnight on KDWN-AM (720) and kdwn.com.