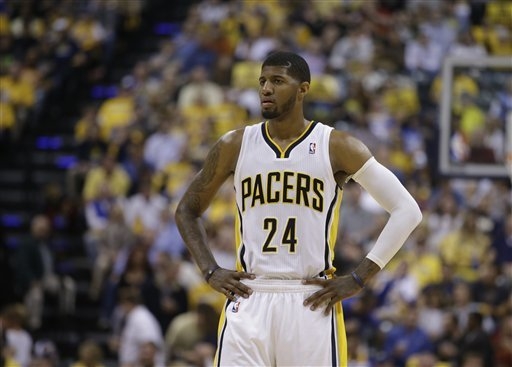 At one point, it was almost a given that Paul George, the NBA's next big star, would lead the Indiana Pacers to the stratosphere. The sharps and squares often are at odds and see things differently, but on this point, almost everyone agreed.
The Pacers were headed for a showdown with LeBron James and the Miami Heat. The Eastern Conference finals matchup was set, and it was put in ink.
And this is why a laser was developed to remove tattoos. It's not a wise idea to put your girlfriend's name on your arm or put NBA predictions in ink. Use a pencil and have an eraser ready.
The wheels wobbled and started to fall off the Pacers in early March, and now in May, they are struggling to get by the eighth-seeded Atlanta Hawks in a first-round playoff series headed for Game 7.
"At one time, I had the Pacers rated as the best team in the NBA," said handicapper Erin Rynning of Sportsmemo.com. "You wait for them to turn it on, and they just don't do it."
George still is a star, but Indiana's sudden fall from grace was impossible to predict. Two weeks ago, Rynning rated the Pacers, Hawks and Charlotte Bobcats as the worst teams in the playoffs, and the Bobcats are gone fishing.
The Pacers finally turned it on Thursday, rallying from five points down with three minutes remaining to beat Atlanta 95-88 and even the series. David West led the late run, and George finished with 24 points.
The sharps went down with the Hawks, who closed as 2-point home favorites, and the public banked on the Pacers in the face of elimination.
"It was mostly action on the Hawks," MGM Resorts sports book director Jay Rood said. "We had a couple of in-house players who played the Hawks on the money line pretty big. The Pacers have not been backed by the public a whole lot, but in this spot they could not stay away."
Rood added that the big bettors who lost with Atlanta got even by zig-zagging on Oklahoma City.
Here's something else not to put in ink: Kevin Durant is "Mr. Unreliable." The Oklahoman newspaper mocked Durant with that headline before Game 6 in Memphis, and Durant erased that sentiment by busting out of a shooting slump with 36 points in a 104-84 victory over Grizzlies.
A playoff series can turn on a dime. Memphis appeared to be in control before spinning out in a crash-and-burn debacle that was punctuated when point guard Mike Conley limped off with a hamstring injury. The Thunder will be heavy favorites to win Game 7 on Saturday.
The Pacers' comeback just put off the inevitable. Rynning said he gives them "less than a 50 percent chance" to get past the Washington Wizards in the conference semifinals, if the Pacers can turn it on again and win Saturday.
"I don't think a lot of either team, and I'll be looking to bet against whoever happens to win this series," Rynning said. "I'll be looking to play against Indiana in Game 7."
At the All-Star break in mid-February, Rynning rated the Pacers as the NBA's most powerful team. Since the break, Indiana is 8-27-1 against the spread, including 4-16 on the road.
The Pacers were 33-7 straight up and 28-12 ATS through their first 40 games, when they were allowing 88.3 points per game. In the 48 games since, Indiana is 26-22 straight up and 12-35-1 ATS while allowing an average of 96 points.
"The biggest thing is defensively they started to slip, and they were barely above average offensively," Rynning said. "Playing in the Eastern Conference, you can get fooled a little bit by how good a team really is. George is an All-Star, and he kind of tired a little bit late in the season. After George, it's not a roster of All-Stars."
Indiana, a minus-600 series favorite entering the series with Atlanta, will be exiting the playoffs soon.
The Wizards are the other surprise in the East, of the pleasant tense. With athletic guards John Wall and Bradley Beal, and plenty of strength in the post, Washington has become the best bet to challenge the king (James) in the conference finals.
Nothing can be written in ink in the West, where the difference between San Antonio, Portland, Oklahoma City and the Los Angeles Clippers is laser thin.
Making bold predictions about the NBA is risky business. You can look like a genius one day and a jerk the next. But it should be safe to write off the Pacers as NBA Finals contenders.
■ BOTTOM LINES — A big betting weekend in Las Vegas is on tap, with the Kentucky Derby on Saturday followed by a Floyd Mayweather fight. Mayweather is a minus-1,100 favorite against Marcos Maidana (plus-650) at the MGM Grand Garden.
"At that price, we'll see 'dog money because people will take a shot rather than lay the price," Rood said. "It should be interesting. I think the kid will come straight at Mayweather."
Taking shots against Mayweather is never advised. He never has lost, making him Mr. Reliable.
Las Vegas Review-Journal sports betting columnist Matt Youmans can be reached at myoumans@reviewjournal.com or 702-387-2907. He co-hosts "The Las Vegas Sportsline" weekdays at 2 p.m. on ESPN Radio (1100 AM). Follow him on Twitter: @mattyoumans247.