NFL betting is crazy, and can be torture
October 13, 2014 - 7:05 am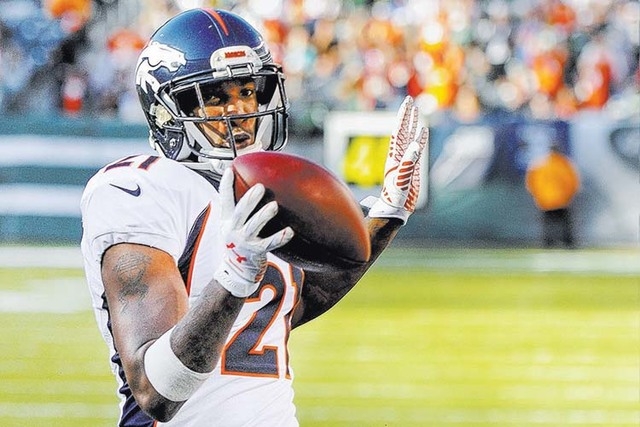 Lightning was about to strike, and bettors on the New York Jets were holding an umbrella. Geno Smith, a bad-luck quarterback, was backed into the end zone and flinging hopeless throws in the final minute.
In sports books everywhere, there was electricity in the air, followed by a roar from crowds of Denver Broncos backers. Smith threw a strike to Broncos cornerback Aqib Talib, who returned the interception 22 yards for a touchdown and a point-spread cover for the favorite.
"What a monster turnaround with that interception," said Jimmy Vaccaro, oddsmaker at the South Point sports book.
Betting on the Jets was just asking for trouble, and bookmakers and underdog players were buried in bad news after the first eight NFL games concluded on another odd Sunday. Denver, Baltimore, Cleveland, Detroit, Green Bay and New England all covered for the public.
"We were in position to get tortured," William Hill sports book director Nick Bogdanovich said.
Of course, there are at least two sides to every good story, and in the second half of the day, Tony Romo and the Oakland Raiders pulled off another monster turnaround.
"The Raiders and Cowboys saved our butt, to say the least," Bogdanovich said.
But before the Dallas Cowboys could dominate the defending Super Bowl champions in Seattle — something I never expected to write — Smith tossed a gift to Broncos bettors in a finish that defined point-spread high jinks.
Denver, laying 8½ points when the line opened and closing as high as a 10-point favorite, led 24-17 when Smith was sacked for an apparent safety with 50 seconds remaining. NFL officials work in mysterious ways, so the ball was spotted at the 1-yard line.
On the next play, Smith threw a pick-six to Talib. Instead of a seven- or nine-point margin of victory, the Broncos won 31-17. To top it off, the score went over the closing total of 47½.
"It was a disaster," Bogdanovich said. "We lost everything there."
The hits kept coming for the books. Aaron Rodgers' 4-yard touchdown pass to Andrew Quarless with three seconds left lifted the Packers to a 27-24 victory at Miami. Green Bay opened as a 3½-point favorite, and the line closed at 1½.
"The squares were all over the Packers, and wiseguys had the 'dog," Bogdanovich said.
And the so-called squares kept cashing. The Browns, 1½-point home favorites, pummelled the Pittsburgh Steelers 31-10. The Ravens, 3½-point road favorites, led 28-0 in the first quarter of a 48-17 thrashing of Tampa Bay.
Tom Brady passed for four touchdowns as the New England Patriots rolled the Buffalo Bills 37-22. The Bills opened as 3-point 'dogs and closed as 1-point favorites, a line move dictated by sharp money.
"The public was all over the Patriots, and the wiseguys had the Bills," Bogdanovich said.
It was a strange morning. Jacksonville, the worst team in the league, covered in a 16-14 loss at Tennessee. Carolina and Cincinnati played to a tie.
The afternoon kicked off logically enough, with the Seahawks jumping to a 10-0 lead over the Cowboys. That was a fluke, however, because Dallas thoroughly dominated from there in a stunning 30-23 victory that made a mockery of Seattle's defense and its home-field advantage.
With five minutes to go, on a third-and-20 play in Dallas territory, Romo dodged pressure, scrambled and fired a 23-yard completion to Terrance Williams, who made a spectacular diving catch. DeMarco Murray followed with runs of 25, 6 and 15 yards for the winning touchdown.
"It's mind-boggling to me," Bogdanovich said. "This newfound running game has sure calmed down Romo's mistakes. Murray rushes for 100 yards every game, and their line is physical. For whatever reason, their defense is playing really well. It was a monster game for the house. It was a clean sweep."
The Seahawks were bet from 8- to 10-point favorites in a game I predicted they would not lose. So, yes, I am embarrassed by that call, and my Denver-Seattle-San Diego three-team teaser also took a fall.
"It's a great thing we won the Seattle teasers because everything else kicked in," Vaccaro said. "We surely needed that one. We would have paid off every teaser in the world."
Philip Rivers rallied the Chargers, 7½-point favorites, to a 31-28 victory over the winless Raiders.
Lightning struck again in Arizona, where the Cardinals won and covered 30-20 when Kirk Cousins was intercepted by Rashad Johnson, who raced 28 yards for a touchdown with 18 seconds to go. Underdog bettors took a brutal beat with a Washington plus-6 ticket.
In a bizarre nightcap, a majority of bettors were riding the red-hot New York Giants, who were blown out and humiliated 27-0 at Philadelphia. That put the day in the win column for the books.
"Gamble at your own risk," Bogdanovich said. "Look at the Denver game, and look at the Arizona game. You're ripping up tickets, and you're gluing tickets back together. It's crazy."
And it can be torture.
Las Vegas Review-Journal sports betting columnist Matt Youmans can be reached at myoumans@reviewjournal.com or 702-387-2907. He co-hosts "The Las Vegas Sportsline" weekdays at 2 p.m. on ESPN Radio (1100 AM). Follow him on Twitter: @mattyoumans247.