NFL favorites drop books for another loss
November 27, 2016 - 10:52 pm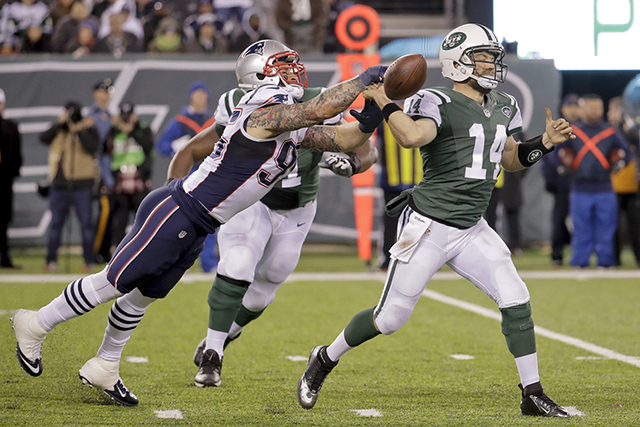 It was late Sunday afternoon — and threatening to become an ugly Sunday for Las Vegas bookmakers — when LeGarrette Blount busted loose on the run and headed for the end zone.
In these type of gambling moments, your heart stops and you begin to sweat bullets.
Blount ran 23 yards before getting pushed out of bounds at the 3-yard line. Because the New York Jets were out of timeouts, Tom Brady went to a knee three straight times to run out the clock and preserve a 22-17 win for the New England Patriots, who were bet from 7½- to 9½-point favorites.
"If the Patriots covered, it's probably the worst Sunday of the year," MGM Resorts sports book director Jay Rood said. "We were able to dodge the bullet."
On a day when NFL favorites won 10 of 12 games, bookmakers needed every underdog cover they could get, and a cover by the Jets was the highest priority. Rood said money on the Patriots rolled in at a 20-1 ratio on parlays and 8-1 ratio on straight bets.
The Jets led 17-13 midway through the fourth quarter before Brady launched his anticipated comeback. Less than two minutes remained when Ryan Fitzpatrick made his anticipated mistake. Fitzpatrick was sacked and fumbled the ball to the Patriots.
"The fumble put a little stress on us," Rood said. "There was a lot of Patriots money. It was a game everybody keyed into even with a gimpy Brady."
Favorites won all eight morning games, and the favorites that failed to cover — Buffalo, Miami and Tennessee — still cashed teasers and money-line parlays.
"We were looking at a total disaster after the morning games," Westgate book director Jay Kornegay said. "We lost every game in the morning, so 0-for-8 is certainly a big hole to get out of in the afternoon.
"We're not getting a lot of upsets right now. The teasers and money-line parlays seem to continue to beat us. You need a couple of upsets every week. Luckily, the Buccaneers came through and upset somebody."
Tampa Bay, a 5½-point home 'dog, upended Seattle 14-5 to help bookmakers cut their losses. Jameis Winston passed for two touchdowns in the first quarter, and it turned out one was enough.
"We avoided a disaster," Kornegay said, "but it's still a losing day."
Rood called the day a "small winner," but he was in the minority as most books suffered losses for the second consecutive Sunday.
San Diego opened as a small 'dog and closed as a 2½-point road favorite in a 21-13 victory over Houston. Sharp money wisely supported Philip Rivers, who passed for three touchdowns, against Brock Osweiler, who threw three interceptions.
Drew Brees' four touchdown passes helped the Saints, 7½-point favorites, torch the Los Angeles Rams 49-21 in New Orleans.
"The Saints were ugly, and the Giants were ugly," Rood said.
Some so-called sharp money again surfaced on the Cleveland Browns, who dropped to 0-12 and found another way to fail to cover. The Browns, 7-point 'dogs, fell 27-13 to the New York Giants, whose two fourth-quarter touchdowns included a 43-yard fumble return by Jason Pierre-Paul.
Bettors piled on Tennessee, which closed as a 6½-point favorite at Chicago. The line opened at 2. The Bears showed signs of life with two fourth-quarter touchdown passes by Matt Barkley. He could have won the game with a third in the final minute, but Josh Bellamy dropped a pass in the end zone, and the Titans escaped 27-21.
San Francisco's upset bid at Miami came up short when Colin Kaepernick was stopped at the 2-yard line as time expired. The Dolphins, favored by 7 to 7½, won 31-24.
Oakland blew a 24-7 halftime lead and fell behind 32-24. With an injured finger, Derek Carr rallied the Raiders to a wild 35-32 win over Carolina.
Few games this season can top the drama of Kansas City-Denver. The Chiefs, getting 3½ points, became the second 'dog of the day to win outright when Cairo Santos hit a 34-yard field goal that ricocheted in off the left upright as time expired.
The Chiefs stunned the Broncos 30-27, and coach Gary Kubiak was the goat after opting for a 62-yard field goal try with 1:08 to go in overtime. Alex Smith's touchdown pass and 2-point conversion pass with 12 second left tied the score at 24 to force OT and put it over the total of 40.
When the game went over the total, a bettor at the Westgate lost a $100 10-team parlay that would have paid off $55,000 at 550-1 odds.
The games are entertaining, but the gambling aspect can be agonizing on both sides of the window.
Las Vegas Review-Journal sports betting columnist Matt Youmans can be reached at myoumans@reviewjournal.com or 702-387-2907. He co-hosts "The Las Vegas Sportsline" weekdays at 2 p.m. on ESPN Radio (1100 AM). Follow on Twitter: @mattyoumans247.