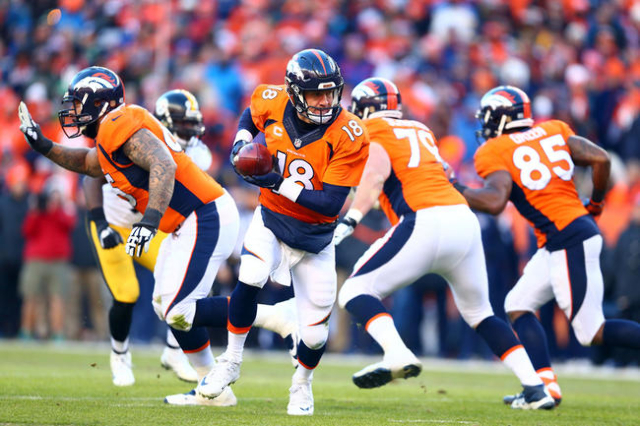 Every good soap opera features twists and turns and marriages and affairs. The NFL is not much different. It's a year-round drama, and for the longest time we have followed the careers of Tom Brady and Peyton Manning and their complicated relationship.
So this had to happen one more time. Even when it appeared Manning was close to retiring, and even as Brady's supporting cast was collapsing, there was a suspicion they would get together one more time.
The second weekend of the playoffs packed some gut punches, including a Hail Mary. But in the end, this is what was expected. All four favorites advanced. It's Denver and New England in the AFC, and Arizona and Carolina in the NFC.
It's good news to report, because it was a winning weekend for the betting public and a lost one for Las Vegas bookmakers.
"We weren't blessed with one upset this weekend, and we know that's going to come back to haunt us," Westgate sports book director Jay Kornegay said. "In the NFL, you're supposed to have some unpredictable results. When you get all four favorites winning in the playoffs, that's a recipe for disaster."
To call the weekend a disaster for the books is too dramatic. The Jeb Bush campaign is a real financial disaster. But it was a "pretty significant loser," Kornegay said, mostly because all eight teams cashed on six- and seven-point teasers.
"If you bet a teaser, no matter who you played, you're a winner," Kornegay said, "and, of course, all the favorite money-line parlays won."
Through the first two rounds of the postseason, favorites are 7-1 straight up. And the one loser, Washington, was the slightest of favorites on wild-card weekend.
"It was a losing weekend, but nothing disastrous," William Hill sports book director Nick Bogdanovich said. "No big deal. Teasers were the main culprit. That's where the public made their money."
The public also made money on the Panthers. While the so-called sharp bettors took points with the Seahawks all week, public bettors were sharper by backing the 15-win home favorite that was laying less than a field goal. The line closed at 2½ after dropping as low as 1½.
"I thought that number was ridiculous," said Bogdanovich, who talked up Carolina last week. "We needed Seattle pretty big."
The Seahawks were down big, 31-0 at halftime, before rallying to lose 31-24 in Sunday's first game. The Panthers sat on their lead, with "Riverboat" Ron Rivera reverting to his conservative coaching style. It was too little, too late for Seattle, so coach Pete Carroll and quarterback Russell Wilson won't get the opportunity to screw up the Super Bowl this year.
In most aspects of life — when getting into a street fight or pursuing women, etc. — it pays to be aggressive. Someone needs to send the memo to Andy Reid and Alex Smith. Kansas City probably was not going to upset New England anyway, but the Chiefs' passive clock management killed any chance they had.
The Patriots were aggressive. Brady fired passes on 11 consecutive plays on the opening possession of Saturday's opening game. The plan of attack worked, and New England won 27-20 as a 5½-point favorite. The Chiefs wasted valuable time at the end of each half, with Reid appearing comatose while staring at his play sheet and Smith huddling up the offense for lengthy meetings that lacked any sense of urgency.
Aaron Rodgers is the opposite. No quarterback is better with the clock ticking down. With five seconds remaining in regulation, Rodgers scrambled and threw a 41-yard Hail Mary that Jeff Janis pulled down for a touchdown as Green Bay forced Arizona to overtime.
The Cardinals, favored by 6½ to 7½ points throughout the week, won 26-20 after a big Carson Palmer-to-Larry Fitzgerald pass play set up the winning score. Rodgers' remarkable heroics delivered a bad-beat punch in the gut to Arizona bettors and a desperately needed Packers cover for bookmakers.
"It was a pretty big swing," Kornegay said.
The Pittsburgh-Denver game changed on a fumble that the Broncos turned into a touchdown drive. C.J. Anderson's 1-yard run, followed by Manning's 2-point conversion pass, put Denver ahead 20-13 with three minutes remaining.
The Broncos, heavily bet as 7-point favorites, took a fluke 10-point lead on a field goal with 53 seconds left. The Steelers — and this was crucial — cut the final margin to 23-16 on Chris Boswell's 47-yard field goal with 19 seconds to go. The sharpest Pittsburgh bettors were getting 7½.
"The late field goal by the Steelers actually saved us quite a bit of money," Kornegay said. "The only way we were going to save the day was with a Steelers outright win. Almost every teaser had the Broncos on it."
The conference championship lines opened with New England as a 3-point road favorite over Denver, and Carolina as a 3-point home favorite over Arizona.
"I think they are going to bet the Patriots and Panthers like crazy, and the books are going to need one of the underdogs to step up and either cover or win the game outright," Kornegay said.
Bogdanovich added, "The Patriots still have to go out to Denver and win, and that's no easy chore. It looks like a pick'em game to me. I think Carolina ends up winning that other game."
Brady is 11-5 in head-to-head duels with Manning. This is probably the final chapter. For a while it appeared this might not happen, but let's do it one more time.
— Las Vegas Review-Journal sports betting columnist Matt Youmans can be reached at myoumans@reviewjournal.com or 702-387-2907. He co-hosts "The Las Vegas Sportsline" weekdays at 2 p.m. on ESPN Radio (1100 AM). Follow him on Twitter: @mattyoumans247.