Odds tell tale: Losing elite QB knocks teams out of playoff contention
November 15, 2013 - 10:18 am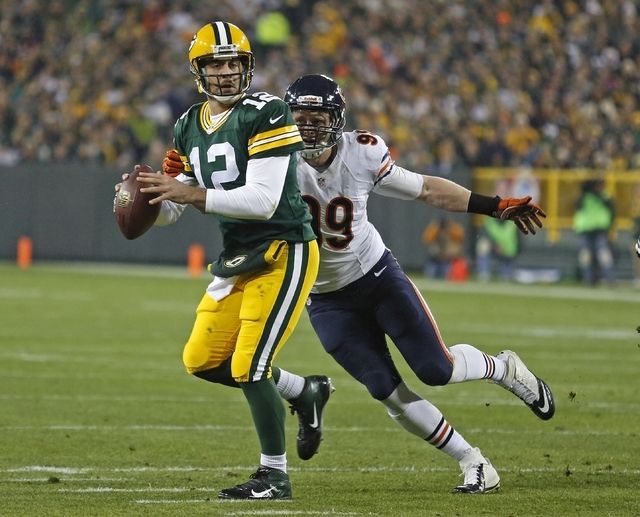 It's easy to envision the Green Bay Packers without Aaron Rodgers at quarterback, if only because we witnessed it five days ago. It was not pretty, and it's almost impossible to picture them as a playoff team unless he returns before December.
Green Bay has dropped two home games since Rodgers was slammed to the ground in the first quarter of a loss to the Chicago Bears on Nov. 4. If it was pro wrestling, Rodgers would have slowly climbed to his feet, hit someone over the head with a chair and come back to win the game.
But injuries in the NFL are not phony and, as far as we know, none of the results are fixed. Rodgers suffered a broken collarbone, and he's targeting Thanksgiving as a potential return.
The Packers were 5-2 and serious NFC contenders before Rodgers went down, and now they are in jeopardy of slipping to .500 as 5-point road underdogs to the New York Giants on Sunday. One play, and an injury to one of the league's most valuable players, can change a lot.
"I downgraded the Packers a whole bunch," South Point oddsmaker Jimmy Vaccaro said. "I wanted to make them higher, like 50-1 to win the Super Bowl, because I don't think they have a chance."
Rodgers' injury triggered all sorts of adjustments at the sports books. Green Bay's odds to win the Super Bowl, at 10-1 on the first weekend of November, moved to 25-1 at South Point and 30-1 at LVH.
"I don't think the value hunters will even take 35-1 with six games to go. It's not worth it," Vaccaro said. "The Packers are in trouble, and I don't think they're going to make the playoffs."
After facing the Giants, Green Bay is looking at a final six-game stretch — Minnesota, at Detroit, Atlanta, at Dallas, Pittsburgh, at Chicago — that is relatively soft. The Lions (6-3) and Bears (5-4) are more than capable of blowing up, so while the Super Bowl is not part of the discussion with the Packers, the division is not quite a done deal.
The odds tell the tale. LVH posted Green Bay as a 1-4 favorite to win the NFC North before the Bears roughed up Rodgers, and the Lions are now 1-2 with the Packers at 3-1.
The question is often raised: Exactly how valuable are the NFL's elite quarterbacks? Rodgers' absence is revealing some answers.
The advance line on Philadelphia-Green Bay for Week 10 was around Packers minus-9 with Rodgers. Without him, the Eagles closed as 1-point favorites and won 27-13.
The line adjustments would be similar for Denver without Peyton Manning, New England without Tom Brady and New Orleans without Drew Brees. The starting point is 7 to 7½ points.
"Cool Hand Luke" was a classic movie, but replace Paul Newman with a cornball actor such as Tony Danza or Matthew McConaughey and it would have been a bust.
So the backup quarterback is a major factor. Green Bay tried to replace Rodgers first with Seneca Wallace and now with Scott Tolzien and Matt Flynn. It's not a stretch to say the Packers, with Tolzien as their starter, could beat the Giants. But Tolzien's act won't play for long, and he's a clown compared to Rodgers.
The Bears, on the other hand, have fared well when Josh McCown has filled in for Jay Cutler. The Dallas Cowboys probably would do OK, and require only a minor line adjustment, if Kyle Orton had to take over for Tony Romo.
Green Bay's regular-season win total closed at 10 (over minus-130) at LVH and some spots showed 10½, a number that Vaccaro said would have been set around 7½ without Rodgers for the season.
"All of the top guys — Brady, Brees, Rodgers and Manning — you take them off the team and those aren't playoff teams," Vaccaro said. "It's a monster jump. There are no other quarterbacks even close to that number."
Vaccaro estimates the elite quarterbacks, and there currently are only four, are worth 4 to 4½ wins. The second-tier passers are worth 1 to 1½ wins.
Most would say Indianapolis' Andrew Luck and Pittsburgh's Ben Roethlisberger rank a shade above the second tier. Cam Newton has become more valuable to Carolina. There are several others worth debating when it comes to the betting value of a quarterback.
Five days ago, the Packers were patsies without Rodgers.
Yet if he returns sometime around Thanksgiving, don't count out Green Bay's shot at the playoffs. The Super Bowl still is a near-hopeless long shot.
■ CLOSING NUMBERS — Everyone gets lucky occasionally. Last week, my college football record in this spot was 2-1 with winners on Virginia Tech and UCLA and a loser with Louisiana State.
I'm sticking with the Bruins as home favorites over Washington today and planning on Brett Hundley being the better quarterback. The line is 2½ at a couple of books in Las Vegas. Here are four plays for Saturday (home team in CAPS):
DUKE (+3½) over Miami; NORTHWESTERN (-2½) over Michigan; Oklahoma State (-3) over TEXAS; San Diego State (-4½) over HAWAII.
Las Vegas Review-Journal sports betting columnist Matt Youmans can be reached at myoumans@reviewjournal.com or 702-387-2907. He co-hosts "The Las Vegas Sportsline" weekdays at 2 p.m. on ESPN Radio (1100 AM). Follow him on Twitter: @mattyoumans247.