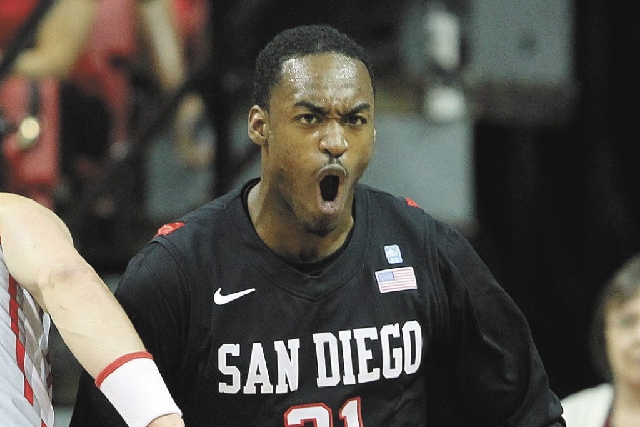 It's tough to predict how far Oklahoma State will go in the NCAA Tournament, but few teams are loaded with better young talent, starting with freshman point guard Marcus Smart. He's a good bet to go early in this summer's NBA Draft.
His next game is Thursday, when the Cowboys play Oregon at San Jose, Calif. Talk about a tough opener, for both sides.
Every year at this time, we scratch our heads while working to file tax returns and trying to figure what the NCAA selection committee was thinking. And Sunday, the committee really stuck it to the Ducks, who drew a No. 12 seed a day after winning the Pacific 12 Conference tournament in Las Vegas.
"I think Oregon is far better than that," said Ken White, a veteran oddsmaker and analyst for DonBest.com. "That's a shame."
It should be one of the best games of the week. Oklahoma State opened as a 3-point favorite, and the line won't be adjusted much the next few days. For that matter, most of the lines on the board today will move as little as I do on a dance floor.
How he comes up with this estimate is a bit of a mystery, but RJ Bell of Pregame.com would make for a good accountant, so it's probably accurate when he says more than $12 billion is expected to be wagered worldwide on the NCAA Tournament. "That's more action combined than on the Super Bowl," he said.
As popular as the NFL is, no betting event is bigger than what we're about to witness this week. From Tuesday through Sunday, there will be 52 college basketball games, not counting the smaller tournaments.
The oddsmakers know all of the 68 teams in the NCAA field better than the selection committee, which sometimes seems clueless. The opening lines obviously can be beat, but they are solid.
"It's not like it used to be because the numbers don't move as much," said Jimmy Vaccaro, director of public relations for William Hill sports books. "The teams 10 or 20 years ago that we had not heard of, we know about Belmont and teams like that now. Nothing really sneaks up on you anymore.
"There was a time you would open Sunday night and by Monday you would see games move 3 or 4 points. But you won't see any drastic changes until game day. Obviously, it's unbelievable action. It's uncontrolled insanity by Thursday when the tourists hit town."
The remainder of March figures to be "uncontrolled insanity" as a wide-open tournament unfolds. Louisville is the favorite at 5-1 odds to win the national championship April 8 at Atlanta, but Rick Pitino is in a Midwest Region with Duke and Michigan State — not to mention Oklahoma State, Oregon and Saint Louis.
The Colorado State-Missouri winner will draw the Cardinals in the next round. Only two teams with a better seed are in the underdog role, and eighth-seeded Colorado State is one. I like the Rams, with their all-senior starting lineup, as 3-point 'dogs.
Minnesota, a No. 11 seed, can't win away from home but is a 3-point favorite over sixth-seeded UCLA. The Bruins are getting points because their freshman point guard, Jordan Adams, broke a foot in the Pac-12 tournament.
I like Gonzaga's chances as the top seed in the West. Once upon a time, the Bulldogs were underdogs going into this tournament, but now they are the biggest favorites on board, laying 22 points to Southern.
"You might find a diamond in the rough," Vaccaro said, "but those are hard to find anymore."
Florida Gulf Coast could be one. The Eagles attracted money after opening as 14½-point underdogs against Georgetown.
Butler won't sneak up on anyone anymore. Instead, look for Creighton, Saint Louis and Virginia Commonwealth to possibly slay some giants.
The Bluejays are led by one of the nation's top scorers, Doug McDermott. The Billikens will take out New Mexico State, which has a true giant with a 7-foot-5-inch center. The Rams look like an obvious bet in their opener, when they unleash havoc on Akron, a 7-point underdog with no point guard.
"Davidson is one of the teams I think has an outside shot of getting to the Final Four," said White, who's also hot on Wichita State, a 5-point underdog to Pittsburgh.
UNLV opened as a 2½-point favorite over California, another game at San Jose. The line moved to 3, despite the Rebels' 13-20 record against the spread. White said he made the line 1½ or 2 with the Golden Bears playing close to home.
Lon Kruger, UNLV's former coach, is back in the tournament with Oklahoma, a 2½-point underdog to San Diego State. That's an intriguing matchup to fans of the Mountain West, which put five teams in the field.
According to Bell, more than 100 million people are expected to participate in NCAA Tournament bracket contests, also known as office pools.
So grab a pen, scratch your head and try to figure out the Oklahoma State-Oregon winner. Remember, the 12-seeds always seem to pull upsets.
Contact sports betting columnist Matt Youmans at myoumans@reviewjournal.com or 702-387-2907. He co-hosts "The Las Vegas Sportsline" weekdays at 2 p.m. on ESPN Radio (1100 AM, 98.9 FM). Follow him on Twitter: @mattyoumans247.