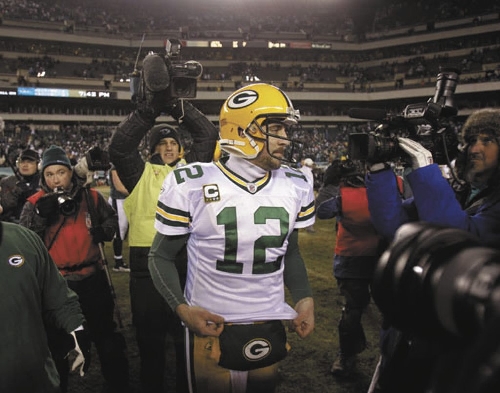 Almost always part of the discussion but rarely mentioned in the top five on the list, Aaron Rodgers is a more legitimate member of the NFL's elite class of quarterbacks than he was a week ago. Winning a playoff game does make a difference.
It seems as if it took forever to happen, but Rodgers has finally led the Green Bay Packers to a postseason victory. In the big picture, it was not that long a wait.
If you consider Earth is 4.5 billion years old, give or take two or three years, Rodgers is doing OK.
But he needs to do more. Clint Eastwood didn't stop at one hit movie, Hugh Hefner didn't settle for one woman, and no great quarterback has just one postseason 'W' on his resume.
"Rodgers looks like he's ready to take that next step," said Dave Cokin, a Las Vegas handicapper and ESPN Radio host.
First, Rodgers stepped out of Brett Favre's shadow by beating the amateur cell phone photographer/Wrangler jeans guy twice this season. Next, Rodgers knocked out Michael Vick and the Philadelphia Eagles in a road wild-card game.
Now, he hits the road to face another rising star quarterback, Matt Ryan, who is seeking his first taste of postseason success. The Atlanta Falcons are 2½- to 3-point favorites over the Packers on Saturday.
The winner will meet the Chicago Bears in the NFC Championship Game, because the Bears will advance this weekend. More on that in a minute.
It will be repeated often that Ryan is 20-2 as the Falcons' starter at the Georgia Dome. Atlanta's lone home loss this season was a 17-14 defeat against New Orleans in Week 16.
But Ryan and the Falcons were outplayed in another home game, and they were outplayed by Rodgers and the Packers on Nov. 28. Atlanta won 20-17 on a last-minute field goal. Rodgers passed for 344 yards, and Green Bay held a 418-294 advantage in total yards, but Rodgers lost a fumble at the goal line in the first half.
Both teams have been remarkably consistent. The Packers lost four games by three points each and two games by four points each. Green Bay's defense, which ranked fifth in the league, has been stronger. It should hold up against Atlanta running back Michael Turner, who Cokin said "is not running at the same level he did earlier in the season."
The opportunities will be there for Rodgers to make big plays. The Packers ranked fifth in pass offense, and the Falcons ranked 22nd in pass defense.
"The Packers are my pick to win the whole thing," Cokin said, "and I will continue to ride them."
I'll play the Packers at plus-3 (minus-120) — a line available at MGM Resorts sports books — with a smaller percentage on plus-120 on the money line. I'll also side with the Bears as 10-point home favorites over the Seattle Seahawks on Sunday.
The Seahawks (8-9) lost nine regular-season games, all by 15 points or more. That means something, because they did not turn into a juggernaut with the flip of a switch.
Cokin (jimfeist.com) noted Seattle "was lucky as hell last week" to eliminate the Saints, and he said Chicago became a much better team after coach Lovie Smith demanded that running back Matt Forte become a more integral part of Mike Martz's pass-happy offense.
The Seahawks upset the Bears 23-20 at Soldier Field on Oct. 17, so there will be no sleeping on Seattle this time.
"I think the Seahawks stink. They had one good game," Cokin said. "I cannot see them being in this game. The Bears might win by three or four touchdowns."
The AFC matchups are about as good as it gets.
New England is favored by 8½ to 9 points over the New York Jets on Sunday. The trash talk from the Jets is out of control, and although the line is inflated, I can't recommend betting against Bill Belichick and Tom Brady.
Each of the past four Baltimore-Pittsburgh battles were decided by three points, and the Steelers are favored by that number Saturday. The Ravens are available at plus-3½ (minus-120) at a few books, and that's the side I would take, for the record.
■ BOTTOM LINES — Find time to tune into "60 Minutes" on CBS at 7 p.m. Sunday. Las Vegas professional gambler Billy Walters will be featured. The news release I received is promising.
Kenny White, former Las Vegas Sports Consultants oddsmaker, calls Walters "the most dangerous sports bettor in the history of Nevada."
Contact sports betting columnist Matt Youmans at myoumans@reviewjournal.com or 702-387-2907. He co-hosts the "Las Vegas Sportsline" weeknights at midnight on KDWN-AM (720) and thelasvegassportsline.com.