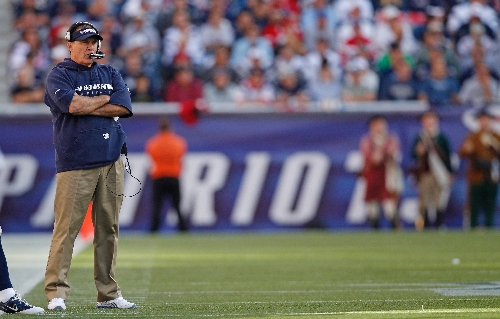 In recent years, the Oakland Raiders basically led the NFL in one category, and that was ineptitude. But maybe something is changing, because Darren McFadden is providing a rush of optimism.
McFadden leads the league in rushing with 393 yards. He has the sudden acceleration and power of a racehorse. Only injuries can stop him.
The big, bad New York Jets defense never had a prayer. McFadden made the Jets look bad while busting loose for 171 yards and two touchdowns in a 34-24 Week 3 Black Hole beatdown.
What can make the NFL so perplexing to handicap is also part of what makes it so popular. The one constant is surprises.
Who predicted the Raiders (2-1 straight up, 3-0 against the spread) and Buffalo Bills (3-0, 2-1 ATS) would be in this lofty position?
The Bills accomplished the rarest of feats by intercepting Tom Brady four times and making Bill Belichick appear dazed and confused. The New England Patriots, who blew a 21-0 lead in a 34-31 loss at Buffalo, don't often get embarrassed.
Belichick is regarded as a coaching genius, but his defense ranks last in the league by allowing 468.7 yards per game. That results in a mad genius. Brady, presumably trying to change his luck, got a haircut.
So the Square Theory of the Week is this: The Patriots will bounce back Sunday. It's a tired handicapping cliche, but I'll jump on the bandwagon this time.
The Raiders look surprisingly improved in most areas yet rank 28th in passing defense, and who better to expose a weakness than Brady? Expect the Patriots to use a ball-control offense to limit McFadden's time on the field, and they control the clock not with the run but with Brady firing short completions to Wes Welker and tight end Rob Gronkowski.
New England's defense needs help to slow McFadden, so run-stuffing tackle Albert Haynesworth's expected return should strengthen the front seven at the right time.
Belichick, who has won 20 of his past 22 October games, is 11-5 ATS after a straight-up loss the past five seasons.
The Patriots' games are high scoring — 19 of the past 22 went over the total — and this one will be, too. I'll side with Belichick and Brady to bounce back as 4-point road favorites.
Four more plays for Week 4 (Home team in CAPS):
■ RAMS (+2) over Redskins: A brutal schedule has stunted St. Louis' growth. After a bye next week, Green Bay, Dallas and New Orleans await. So the Rams are desperate for a win to avoid a possible 0-7 start. Steven Jackson is healthier and might get more carries, and Sam Bradford supplies St. Louis an edge at quarterback.
■ Dolphins (+7) over CHARGERS: San Diego is 0-3 ATS and continuing its trend of sloppy early-season performances under coach Norv Turner. The offseason loss of Darren Sproles and a foot injury to tight end Antonio Gates are contributing to the Chargers' offensive decline. The Dolphins, a loss away from complete disarray, always play better on the road.
■ Jets (+3½) over RAVENS: McFadden and the Raiders gave Rex Ryan's defense a wake-up call, so expect the Jets to show up ready for a brawl. Mark Sanchez was terrible in the Jets' 10-9 loss to Baltimore last season, but he's showing improvement.
■ Colts (+10) over BUCCANEERS: It could be a positive move for Indianapolis to start Curtis Painter at quarterback. Kerry Collins was immobile and useless. But this is mostly a play on a trend against Tampa Bay, which is 4-16-1 ATS in its past 21 at home.
Last week: 5-0 against the spread
Season: 8-4-3
Las Vegas Review-Journal sports betting columnist Matt Youmans can be reached at 702-387-2907 or myoumans@reviewjournal.com.