Patriots help punch Las Vegas books for another loss
December 18, 2016 - 11:09 pm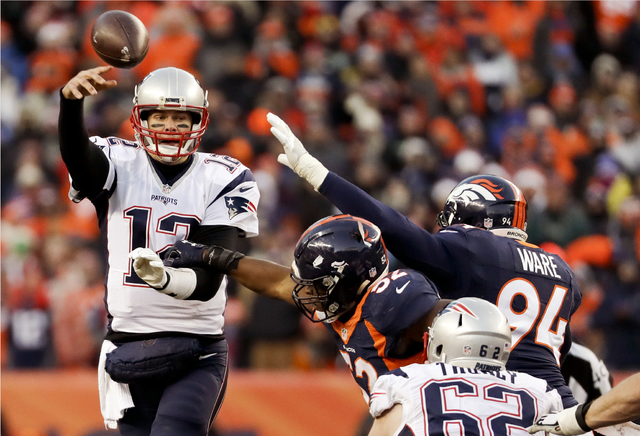 Even on a day when Tom Brady was nowhere near terrific, the New England Patriots won and covered on the road. It was that kind of day — again — for Las Vegas bookmakers, who wanted to cover their eyes.
Depending on the book, the bottom line on NFL Week 15 was either a small loser or a major disaster.
Underdogs went 7-6 against the spread, with three outright wins. While mixed results and a few upsets usually help the books, the spread numbers lie this time. Three popular favorites (New England, Oakland and Pittsburgh) and one trendy 'dog (Tampa Bay) helped pay off the betting public.
"You don't complain and you don't scream, you keep booking it. That's what the racket is," South Point oddsmaker Jimmy Vaccaro said. "It won't be a bad, bad day. But we're not going to win anything."
When the night ended with the Buccaneers covering as 7-point underdogs in a 26-20 loss at Dallas, the tale took an ugly turn at some books around town. Tampa Bay was the hottest 'dog on the board, but the Cowboys cashed on money-line parlays and teasers that were rolling in all day.
"It could be the worst Sunday of the year for us," Westgate sports book director Jay Kornegay said.
The bettors can beat this racket sometimes. Bookmakers have walked away with black eyes on several recent Sundays.
In Denver, where Brady typically has trouble, he started 0-for-6 and finished 16-for-32 with no touchdown passes. Still, the Patriots, 3-point favorites, bullied the Broncos 16-3.
"That was our biggest loss of the day," Kornegay said. "The Patriots, Raiders and Steelers were the worst games of the day."
The Raiders-Chargers result was a fiasco for bookmakers. Oakland opened minus-3 and closed minus-2½ in its 19-16 win in San Diego. The line pinballed, so no bettors should have lost with the favorite covering and the underdog pushing.
"The Oakland game falling 3 sure wasn't any help for us," Vaccaro said. "If you have any sense whatsoever, you couldn't lay 3 and you couldn't take 2½. We got sided pretty good on that. It was a very popular game."
One side seems headed for Las Vegas, and the other side seems headed for Los Angeles. By winning the Relocation Bowl, the Raiders (11-3) are headed back to the playoffs for the first time in 14 years.
Sebastian Janikowksi kicked a 44-yard field goal for Oakland's cover with 2:40 left. Philip Rivers threw an interception in a fitting ending.
The Steelers, 3-point favorites at Cincinnati, rallied from a 20-6 deficit to win 24-20 on six Chris Boswell field goals and one Ben Roethlisberger touchdown pass with 7:29 remaining.
"We just can't get upsets on key games," Kornegay said. "Teasers and money-line parlays are killing us. We have not been able to get those 'wow' scores that we normally see on a weekly basis in the NFL. Instead, we are getting 'I told you so' scores."
Double-digit underdogs are supposed to be sharp bets in the NFL, but those big 'dogs dropped to 3-9 ATS on the season as Cleveland and San Francisco again fell victim to I-told-you-so scores. The Browns, getting 10½, were whipped 33-13 at Buffalo. The 49ers, getting 14, were torched 41-13 at Atlanta.
"The only salvation is they keep betting the Browns," Vaccaro said, referring to so-called sharp bettors. "What can I tell you?"
The sharps did cash with Chicago, which came out of a 27-10 hole only to fall 30-27 to the Packers at frigid Soldier Field. Green Bay, which closed as a 4½-point favorite, almost covered when Aaron Rodgers hit Jordy Nelson for a 60-yard pass in the final minute. But Nelson tripped and went down, and Mason Crosby hit a 32-yard field goal as time expired.
Baltimore, a 5-point favorite, held on to beat Philadelphia 27-26. The Ravens led by 10 in the fourth quarter before the Flacco Factor kicked in and they blew the cover. Joe Flacco tossed a clumsy red-zone pick, and Eagles quarterback Carson Wentz scored on a 4-yard run with 4 seconds left.
The most surprising score of the day was Indianapolis' 34-6 win at Minnesota. Tennessee upset Kansas City as time expired, and Jacksonville fired coach Gus Bradley when he boarded the bus after the Jaguars' 21-20 loss at Houston.
A half hour before the Buccaneers-Cowboys game kicked off, professional bettor "Pimlico" Frank Carulli swaggered through the Westgate book and touted a proposition play on Dallas' Ezekiel Elliott to go over 100½ rushing yards.
"It's the Prop Lock of the Year," Carulli said. "It's a gift. Free money."
Elliott went over the total on a 42-yard run with 5½ minutes to go, and he finished with 159 yards. Carulli was one of the few who bet the Cowboys, but they did cash on a teaser. So did the Packers and Ravens.
"As I've been telling people," Vaccaro said, "don't quit betting the teasers."
Las Vegas Review-Journal sports betting columnist Matt Youmans can be reached at myoumans@reviewjournal.com or 702-387-2907. He co-hosts "The Las Vegas Sportsline" weekdays at 2 p.m. on ESPN Radio (1100 AM). Follow @mattyoumans247 on Twitter.