Playoff bids, big bets change hands
December 30, 2013 - 12:24 pm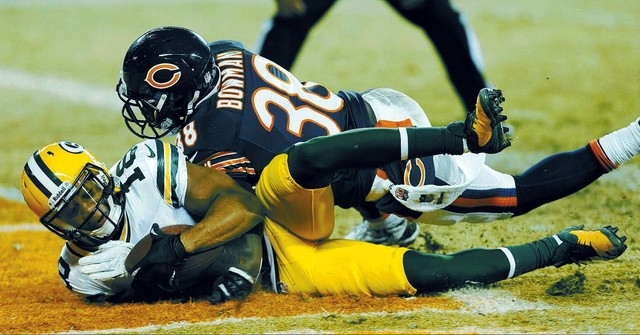 Snow was falling on the Chicago lakefront, everything was on the line, and Aaron Rodgers was running out of time to save the Green Bay Packers. It was how an NFL season should end.
A Week 17 schedule that shaped up as potentially explosive on paper surpassed all expectations. Thirteen of the 16 games had playoff implications. From Chicago to San Diego to Dallas, it was as great as it gets.
"It was the busiest Sunday I have ever seen, non-Super Bowl," South Point oddsmaker Jimmy Vaccaro said.
It also was a black Sunday for Las Vegas sports books and the Bears, with the books taking a big loss and the Bears a devastating one.
More than 59 minutes into a strange, mistake-filled game at Soldier Field, it was unclear how much Rodgers' return was really worth to the betting line. The answer was revealed to be seven points, and the result was worth millions of dollars.
Spinning away from pressure and rolling to his left, Rodgers fired a 48-yard touchdown pass to Randall Cobb with 38 seconds remaining. The Packers won 33-28, and it was Rodgers who saved their season by returning to win the NFC North.
"That's how significant a guy like Rodgers is," Vaccaro said. "He made the one big play, probably a play Matt Flynn doesn't make, and it put them in the playoffs."
Rodgers' comeback caused a 7-point adjustment in the line, and the public backed the Packers as 3-point favorites. For the Bears, who led 28-20 early in the fourth quarter, bookmakers and underdog bettors, it was a brutal beat.
"That game was just a monstrous swing. That was about a $400,000 swing for us," MGM Resorts sports book director Jay Rood said. "The parlays all kicked in. We're getting crushed. It's by far the ugliest day for the books, at least for us. But we've had a good year, so we can't complain too much."
The books took a beating, especially on parlay cards. Vaccaro said the South Point paid out $80,000 on a $100 10-team parlay wager.
"Once again, no crying. That's the nature of the business," Vaccaro said. "Let's call it what it is. It has been a bookmakers' football season up to this point."
Green Bay led the onslaught of favorites cashing in afternoon games. Denver, New England, New Orleans and Seattle also covered big numbers. The Broncos, Saints and Seahawks rolled. The Patriots, laying 7 to 7½ points, got a 35-yard touchdown run by LeGarrette Blount with 2½ minutes to go to cover in a 34-20 victory over Buffalo.
As kickoff approached for the Philadelphia-Dallas nightcap, Vaccaro said, "We had 12 windows open, 10 people deep in each line, but nobody was betting and they were all cashing."
Most of those who were betting were on the Eagles as 7-point favorites. Rodgers is an elite quarterback, and Tony Romo is a level below. With Romo out with a back injury, the Cowboys were counting on veteran backup Kyle Orton with their backs against the wall.
"We need the Cowboys to at least put a Band-Aid on the gash," Vaccaro said.
Philadelphia took the NFC East, holding off Dallas 24-22, and the result probably would have been similar if Romo had played. Just like Romo, Orton was outstanding for most of the game, passing for 358 yards and two touchdowns. And then Orton mirrored Romo by throwing an interception with less than two minutes to go.
Some things never change. Babies cry, politicians lie and the Cowboys lose elimination games in Week 17 when their quarterback soils his diaper.
Favorites went 9-7 against the spread. Three 'dogs — Minnesota, the New York Jets and San Francisco — were straight-up winners. The 49ers opened as favorites but closed as 3-point underdogs in a 23-20 win at Arizona on a field goal as time expired.
Two field goals — one missed and another made — also put the Chargers in the postseason. San Diego, which closed as a 14½-point favorite over Kansas City's backups, needed some clumsy officiating and overtime to defeat the Chiefs 27-24.
The Chargers prayed for three things to happen to sneak into the AFC's final playoff spot. The first two, losses by Baltimore and Miami, came through. The third was a miss by Kansas City's fittingly named kicker, Ryan Succop, who went wide right on a 41-yard kick with four seconds left in regulation.
Meanwhile, the Pittsburgh Steelers, who prayed for a San Diego loss, were left out in the cold and told to stay home for New Year's Eve.
"Who knows? The Steelers have been playing pretty good," Rood said, "and they might have made some noise in the playoffs."
We'll never know. The 8-8 teams are gone and the postseason is here. Drew Brees and the Saints are 2½-point road 'dogs to Philadelphia. The Colts are 2½-point favorites over the Chiefs' starters. The Chargers are lucky to be alive as 7-point 'dogs at Cincinnati.
And, last but not least, the 49ers are 2½-point favorites at Green Bay, where Rodgers will be hard-pressed to top the trick he turned on the craziest Sunday of the season.
Las Vegas Review-Journal sports betting columnist Matt Youmans can be reached at myoumans@reviewjournal.com or 702-387-2907. He co-hosts "The Las Vegas Sportsline" weekdays at 2 p.m. on ESPN Radio (1100 AM). Follow him on Twitter: @mattyoumans247.