Public bettors blindsided as Rodgers, Packers flop
December 14, 2014 - 11:00 pm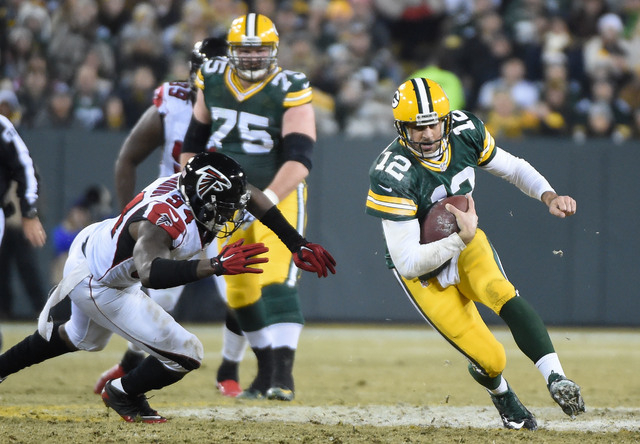 On any given Sunday, there is a quarterback who flops so miserably that he gets mocked by everyone on Monday. But never is Aaron Rodgers that guy.
And Rodgers won't be that guy today, either, thanks to Johnny Manziel.
Still, Rodgers and the Green Bay Packers flopped for the first time in a long time, and this was one you could see coming if you have a good sense for handicapping the NFL. If not, you bet the Packers and got blindsided.
The squares will hate to hear it, but Green Bay-Buffalo was the perfect example of a game pitting squares against sharps. In this case, the line between the two sides was clearly defined.
"The guests really backed the Packers on teasers and parlays," Sunset Station sports book director Chuck Esposito said.
The Packers were popular favorites with the public, but the line dropped all week, from 6 when it opened to 3½ when it closed, and that was a wiseguy move.
"The smarts sniffed it out pretty early," said Jimmy Vaccaro, oddsmaker at the South Point sports book. "It wound up a very good game for us."
Green Bay was the hot team. Yet if a guy falls too in love with an NFL team or a girl, hot or not, eventually he is due to get burned. That's how football betting is a microcosm of real-life relationships.
"I thought it was a tough spot for Rodgers and the Packers," Esposito said, and he was right, because Green Bay had won five consecutive big games and was going on the road to face a dangerous underdog with a great defense.
Rodgers got cooled off. A week after holding Peyton Manning without a touchdown pass, the Bills did the same to Rodgers, who completed only 17 of 42 throws and was intercepted twice in an ugly 21-13 loss.
The Packers made all sorts of mistakes, and not all of them were by Rodgers. But the bottom line is Green Bay was bad. How about Manziel?
"He was worse," Vaccaro said. "You figured the kid might snap out of it, but he never did anything. Cleveland had no chance of scoring. It was that bad. There were a lot more tickets and a lot of junk on the Browns."
On a Sunday that produced mixed results and maybe a small win for the books, the Packers and Browns were the favorites that broke public bettors' hearts the worst.
Cincinnati, a 2-point 'dog, belittled the Browns and their so-called midget quarterback in a 30-0 victory. Manziel passed for 80 yards, was intercepted twice and was taunted countless times by the Bengals.
"I know he's a rookie, and I get it," Esposito said. "But he did not look good. It was more schoolyard than anything else."
It was a disaster, causing Vaccaro to say, "I don't know where the Browns go from here."
Not to the playoffs. And the same goes for the San Francisco 49ers, who were eliminated from postseason contention after a 17-7 loss at Seattle. The 49ers were 9½- to 10-point underdogs, and they probably would have covered if not for a horrible call.
The Seahawks, leading 10-7 early in the fourth quarter, faced a third-and-5 play at the San Francisco 15-yard line. Russell Wilson threw an incompletion but was bailed out on a roughing-the-passer penalty that was not worth a flag. Two plays later, Wilson passed for a touchdown.
Indianapolis, a 6½- to 7-point favorite, covered for some in a 17-10 win over Houston. The Colts got there — for those who wisely bet it early — on Adam Vinatieri's 29-yard field goal with 2:11 left.
The New York Jets covered as road favorites — and that sounds like a lie, but it's not — and so did Pittsburgh and Denver. The Broncos, laying 4½ points, beat San Diego 22-10 as a hobbled Manning got the job done and Philip Rivers flopped.
The Patriots might be an exception to a rule. It's OK to fall in love with the Patriots, who improved to 8-2 against the spread in their past 10 games by ripping Miami, a 9-point underdog, 41-13. The public got it right with Denver and New England.
"The Patriots were bad for a million reasons," said Vaccaro, who counted more than $100,000 in teaser wagers on New England at the South Point.
The best game was saved for last, and it drew major two-way wagering. Dallas, a 3½-point 'dog, blew a 21-0 lead before bouncing back to win 38-27 at Philadelphia. The Cowboys moved to 7-0 on the road and got revenge on the Eagles for the Thanksgiving Day massacre. The score flew over the total, a rare result for Week 15 as 12 of the 15 games have stayed under.
If a battle between losers can be fascinating, the week's 16th game is it. New Orleans is a 3-point favorite at Chicago today, and the total is 54.
"I suspect there will be a lot of points scored," Esposito said, "and I can tell you we'll be Bears fans."
It's better to be a Packers fan. Rodgers will bounce back. Manziel is a little guy with a much bigger problem.
Las Vegas Review-Journal sports betting columnist Matt Youmans can be reached at myoumans@reviewjournal.com or 702-387-2907. He co-hosts "The Las Vegas Sportsline" weekdays at 2 p.m. on ESPN Radio (1100 AM). Follow him on Twitter: @mattyoumans247.