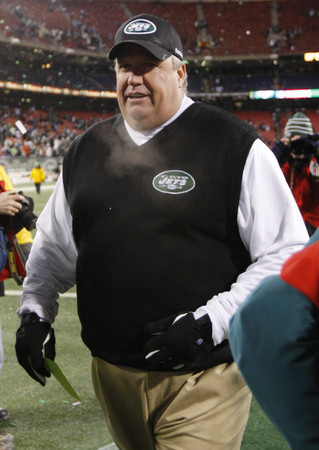 Once again the New York Jets are heavy underdogs, and their overweight coach, Rex Ryan, is running his big mouth.
Either you love it or you're beginning to hate it. With his trash talk, Ryan is adding personality to the NFL playoffs, and these playoffs need it because three of every four games have been boring.
But now it gets good. Three great quarterbacks — Peyton Manning, Brett Favre and Drew Brees — still are standing, joined by a coach with an oversized ego that swells each week.
The Indianapolis Colts are 71/2-point favorites over the Jets in the AFC Championship Game on Sunday, and if you believe Ryan's bravado, bet on the Jets to win straight up. The payoff would be a fat plus-280 on the money line.
Ryan said he would be "shocked" if the Jets lose. It's an absurd thing to say, and Ryan clearly is enjoying his moment in the New York spotlight.
"Now he's turning into Howard Stern. He's a shock jock," said Cal Neva sports book director Nick Bogdanovich, who will be happy if Manning and the Colts humble Ryan.
I was not surprised the Jets beat the Cincinnati Bengals on wild-card weekend. But I was shocked to see the Jets upset the San Diego Chargers.
Ryan's act is amusing. Two weeks ago, he claimed the Jets should be favored to win the Super Bowl. And now the betting public is taking his swagger seriously.
"There's plenty of money for the Jets. Normally you would see a lot of money on the favorite, but that's not the case," Bogdanovich said. "The Jets definitely captured some people's hearts with their late-season run. People are enamored with the Jets."
I'm not going to predict the outcome of this game, because last week I sided with Dallas and San Diego, and the results were disgraceful. I had to listen to country music to lift my spirits.
The Chargers lost my money, my girlfriend left, my dog ran away, and my pickup truck was stolen. All in one day.
I sure do miss the dog and the truck. The money I can win back by betting on college basketball.
It's a must to respect the Jets and their No. 1-ranked defense. But I think I know this: Manning will outplay Mark Sanchez, the Jets' rookie quarterback, and the Colts won't choke as the Chargers did.
"I can't see Manning losing this game," said handicapper Joe D'Amico of Allamericansports.info. "I've seen the Jets at times when their offense is stagnant. Their defense keeps them in a lot of games. But there's no quarterback better than Manning at reading and overcoming blitzes.
"Manning has got over that hump. He got past New England and won a Super Bowl. Manning is the real deal, and his team is the real deal. It's the Colts' year again. I'm not really concerned about the 71/2."
If it were a personality contest between coaches, the Jets would win easily. Ryan is entertaining, and the Colts' Jim Caldwell seems best when he's staying out of the way and letting Manning run the team.
The Colts probably would be 17-0 now if not for Caldwell pulling Manning and several starters in the third quarter of a 29-15 loss to the Jets on Dec. 27. Indianapolis led 15-10 — and the margin should have been larger — when Manning was benched.
It would be a big surprise — but not a shock — if Manning fails to win the rematch.
Las Vegas sports books are rooting against the Jets, who opened at about 50-1 odds to win the Super Bowl and went as high as 200-1.
"The Jets are a liability on most futures books," Bogdanovich said. "There are a few tickets out there at 200-1 and 100-1."
The NFC Championship Game, featuring the New Orleans Saints and Minnesota Vikings, is like a mini-Super Bowl. The Favre fairy tale is intriguing. The Saints are 31/2-point favorites, and Bogdanovich said the betting action is split.
"Minnesota moved more money than any public team all year," Bogdanovich said. "I would like to see a Colts-Saints Super Bowl. I want to see Brees versus Manning because I think those are the two best quarterbacks in the game. But usually when I want something, it doesn't happen."
If the Jets win, get ready for two more weeks of Rex Ryan trash talk, like it or not.
Contact sports betting columnist Matt Youmans at myoumans@reviewjournal.com or 702-387-2907.