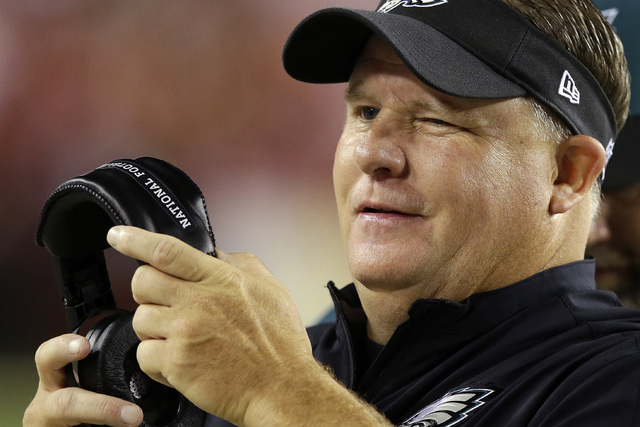 Not only does Chip Kelly speak as quickly as an auctioneer, the Philadelphia Eagles coach instructs his offense to play at high speed. Kelly probably eats breakfast and reads the newspaper in less than a minute.
In the blink of an eye, he has convinced the national media that he invented fast-break football and already is striking fear in the rest of the NFL.
A majority of the instant reactions from Week 1 typically don't last long.
Eventually, the Baltimore Ravens will show they are not as bad as they appeared in a blowout loss at Denver. Soon enough, the Oakland Raiders will realize Terrelle Pryor is not destined to be one of the league's great quarterbacks, despite his surprisingly good debut.
Other immediate reactions might hold true for the long haul. Carolina needs a coaching change, Jacksonville is a bad joke, and Philip Rivers' turnover trend is not going to change.
Rivers and the San Diego Chargers, who wasted no time in blowing a 28-7 second-half lead in a loss to Houston on Monday night, are talking tough and preparing for a track meet as they limp into Philadelphia on Sunday.
"As far as playing the ball-control game, we're not going to do that," Rivers told USA Today this week. "We're going to try to score. If it's fast or slow, we just want to score."
It will be fast, the Eagles will score, and we'll see if the Chargers have a prayer of keeping pace.
Kelly, unlike most college coaches who step up in class, should enjoy longevity in the NFL. The rules have changed and the offenses are in control, with scores and statistics straight out of a video game.
Michael Vick might not be the perfect quarterback for Kelly's system, but he's good for now. LeSean McCoy, who rushed for 184 yards in a 33-27 victory at Washington on Monday, is the right fit.
The Eagles have speed to burn, and Kelly vowed he won't ease off the gas as he did in the second half against the Redskins. Kelly will go for the kill, as he did at Oregon.
The obvious plays are Philadelphia minus-7 and over the total of 55. But it's often wise to avoid the obvious sides and go opposite the popular perceptions from the opening week, so I'll stick the Eagles on a teaser with Baltimore and Green Bay and play it safe with those favorites.
Last season, I never suffered through a winless week and finished 56-28-1. Last week, things changed. Five underdogs for Week 2 (home team in CAPS):
■ BILLS (+3) over Panthers: Running backs Fred Jackson and C.J. Spiller should put Buffalo in position to win as a home 'dog for the second week in a row. The Bills came up short against Tom Brady. Cam Newton is not as scary as a fourth-quarter closer. Carolina coach Ron Rivera is too conservative, making it tough for his team to win by a large margin.
■ Cowboys (+3) over CHIEFS: Kansas City rolled over Jacksonville, the league's worst team, but totaled only 291 total yards. The Chiefs won two games last season and now are favored over the Cowboys, a potentially explosive offensive team with running back DeMarco Murray in the lineup.
■ BUCCANEERS (+3) over Saints: This shapes up a quarterback mismatch in favor of Drew Brees. But New Orleans, which was fortunate to open with a win, usually sees its offense slow down on grass. Tampa Bay is off a bitter loss and should be motivated to make amends.
■ Jaguars (+5½) over RAIDERS: Oakland has covered five of its past 21 games as a home favorite. The Jaguars are tough to take, but the quarterback switch from Blaine Gabbert to Chad Henne improves their chances to cover against another terrible team.
■ GIANTS (+4½) over Broncos: Sloppy play and six turnovers are not going to be the norm for the Giants as long as Tom Coughlin is coach. The Giants are at full strength in the secondary, a requirement against Peyton Manning. The Broncos will be without cornerback Champ Bailey. Eli Manning will clean up the mistakes this week and take a big swing at his big brother.
Last week: 0-4-1 against the spread
Las Vegas Review-Journal sports betting columnist Matt Youmans can be reached at myoumans@reviewjournal.com or 702-387-2907. He co-hosts "The Las Vegas Sportsline" weekdays at 2 p.m. on ESPN Radio (1100 AM). Follow him on Twitter: @mattyoumans247.