Rodgers deals Bears, books predictable loss
September 29, 2014 - 12:00 am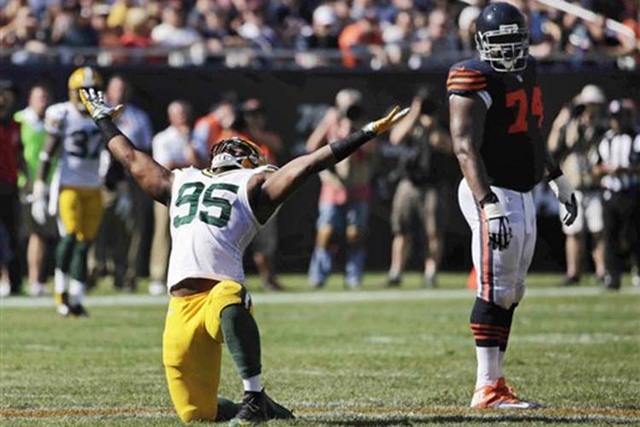 Not everything about the NFL is wild, crazy and unbelievable. Aaron Rodgers beating the Chicago Bears is hardly a shocking cover story fit for The National Enquirer.
It seems Rodgers could beat the Bears in his sleep, and a majority of bettors had that figured out when they woke up Sunday morning. The Green Bay Packers were a hot ticket with the public.
"Rodgers has had a tremendous amount of success against the Bears, and there were just so many things pointing that way," said Chuck Esposito, Sunset Station sports book director. "The guests definitely did back the Packers."
Rodgers passed for 302 yards and four touchdowns as Packers backers were able to relax and cash in on a 38-17 beat down of the Bears, who closed as 2-point home underdogs at most books.
"Predictable," South Point oddsmaker Jimmy Vaccaro said. "On a whim, I went to 2½ about two hours before game time. It just felt right for the Packers. Not that I knew who was going to win, but it was one of those games where you feel like they won't go 1-3."
Green Bay improved to 2-2, which is more than the New Orleans Saints can say. The Saints, shut out in the first half and blown out by Dallas, fell to 1-3 while the Cowboys went to 3-1. That qualifies as unbelievable.
Tampa Bay, a 7- to 7½-point underdog off a 42-point loss, rolled into Pittsburgh and stunned the Steelers in the final minute. That is just crazy.
How about wild? Philadelphia scored 21 points on a blocked punt, an interception return and a punt return, but the Eagles blew a 21-10 lead in a 26-21 loss at San Francisco. The 49ers covered the closing number of 4, but bookmakers got middled on a line that was as high as 5½.
"If you talk about a dead number, so few games fall on 5," Esposito said.
To confirm that, 60 games have been played this season, and Eagles-49ers was the second game to be decided by five points.
"The biggest loser of the day for us was the 49ers falling 5," Vaccaro said. "That wasn't any good. To some degree, we got chopped up a little bit."
With two minutes to go, Philadelphia faced third down at the San Francisco 1-yard line, and Eagles quarterback Nick Foles fired two incomplete passes.
"The play-calling," Vaccaro said, "I just don't get it."
The betting public did get seven favorites to cover, including Baltimore, Indianapolis, Miami and San Diego in blowouts. The Dolphins drilled the Raiders 38-14 in London, and several time zones away later in the day, the Chargers were laying 12½ points in a 33-14 victory over the Jaguars. At 0-4, Jacksonville and Oakland are the league's only winless teams, and that fact can be considered predictable.
EJ Manuel hooked up with J.J. Watt for an 80-yard touchdown, helping Houston cover as a 3-point favorite in a 23-17 victory over Buffalo. The problem for Manuel is he's the Bills' quarterback, and he threw a perfect pass to the Texans' defensive end.
"The biggest win of the day for us was the Vikings," Vaccaro said, and that statement meant Atlanta was a big loser for the public. The Falcons were bet from 3-point favorites to 6 at kickoff, and they got shot down 41-28 by Minnesota and rookie quarterback Teddy Bridgewater, who passed for 317 yards in his first start.
It could be argued that Geno Smith made what should be his last start for quite a while. Smith threw an interception, lost a fumble and led the New York Jets to their third straight loss, 24-17 to Detroit. The Jets were bet to 1½-point favorites at kickoff after being 1½-point 'dogs all week.
The books also cleaned up on the Steelers' misfortune. The Buccaneers' 27-24 upset was sealed on Mike Glennon's 5-yard touchdown pass to Vincent Jackson with seven seconds left, wiping out piles of parlay, teaser and money-line wagers on Pittsburgh.
My worst bet of the season was on New Orleans, a 3-point favorite which trailed 24-0 at halftime and dropped to 0-3 on the road in a 38-17 loss to the Cowboys.
"The Saints would be the biggest surprise as far as a disappointment goes," Esposito said. "I really scratch my head with the Saints when they are on the road."
Tony Romo's 18-yard touchdown pass to Dez Bryant with 3:34 to go put the score over the closing total of 54½, a bad result for bookmakers.
In today's finale, New England is a 3-point favorite at Kansas City, and betting action will be heavy both ways. Even with six teams on a bye, Vaccaro's said the South Point's wagering handle for Week 4 topped the previous week's 16-game schedule.
"The handle is absolutely astounding when I look at these numbers," Vaccaro said. "It boggles my mind."
Here's another mind-bending fact: The Bears rushed for 235 yards and never punted but lost by three touchdowns.
Of course, Rodgers was nearly perfect as Green Bay saved its best game for Chicago, and that was a predictable result on another Sunday highlighted by the wild, crazy and unbelievable.
Las Vegas Review-Journal sports betting columnist Matt Youmans can be reached at myoumans@reviewjournal.com or 702-387-2907. He co-hosts "The Las Vegas Sportsline" weekdays at 2 p.m. on ESPN Radio (1100 AM). Follow him on Twitter: @mattyoumans247.