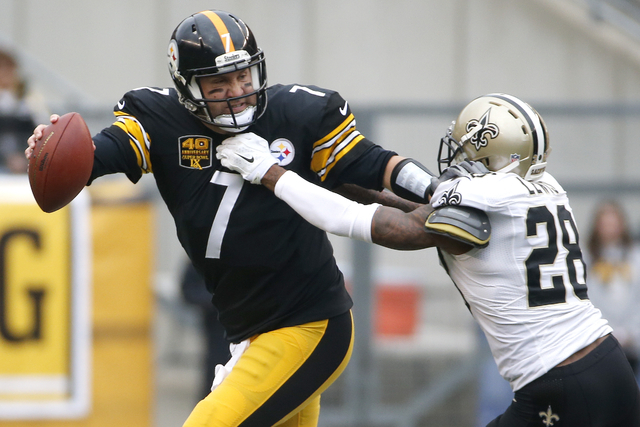 Some hard-working people never get the recognition or respect that is truly deserved. It might be a maid, a mailman or a mechanic. It also could be a blue-collar quarterback such as Ben Roethlisberger.
When the NFL's elite passers are mentioned, the list always starts with Tom Brady, Peyton Manning, Aaron Rodgers and Drew Brees. The list often ends there.
It should include Roethlisberger. The other four quarterbacks are considered the league's filet mignon. Roethlisberger is the McRib, an underrated piece of meat drenched in barbecue sauce and topped with onions, appreciated for its greatness by the people who truly know a quality fast-food sandwich.
Roethlisberger is not flashy, and he does not get the commercials and is not marketed as a superstar. Big Ben's off-the-field image is a little dirty. But he is a two-time Super Bowl winner who just continues to win.
The Pittsburgh Steelers, 8-8 and excluded from the playoffs each of the past two years, are 9-5 and fighting for postseason recognition.
"I'm a guy who never wants to have a losing season," Roethlisberger said after his third straight 300-yard passing game produced a win in Atlanta last week.
As a handicapper, I never want to have a losing week (though some are inevitable) and a losing season is unacceptable. This week, I'll put part of my fate in Roethlisberger's hands and bet on the Steelers to cover as 3-point home favorites over Kansas City on Sunday.
After going 4-0-1 against the spread in their first five road games, the Chiefs have dropped two in a row, at Oakland and Arizona. A few holes have been exposed in Kansas City's defense, and Alex Smith has zero touchdown passes to his wide receivers this season.
Roethlisberger uses all of his weapons. Antonio Brown leads the league in receptions (115) and yards (1,498). Le'Veon Bell is the league's No. 2 rusher with 1,278 yards. Pittsburgh ranks No. 1 in total offense (424.9 yards per game), and Kansas City ranks 22nd.
A rambling playmaker, Roethlisberger occasionally looks old and a step slower. But his numbers — 4,415 yards passing, 29 touchdowns, eight interceptions — are keeping pace with the league's elite.
A suspect Steelers defense could be without injured safety Troy Polamalu, and that's a minor problem. But Pittsburgh, which has stumbled twice at home and cannot afford to fall again, is finishing strong and making a push for the playoffs.
Four more opinions for Week 16 (home team in CAPS):
■ 49ERS (-1) over Chargers: Both teams are in bad form. San Diego is 1-8 ATS in its past nine games. San Francisco is 1-4-1 ATS at home. The 49ers are dealing with the distractions surrounding outgoing coach Jim Harbaugh, and that's obviously a negative situation, but their defense remains solid. The Chargers could muster only 10 points against Denver last week, and quarterback Philip Rivers is banged-up. He will be without two injured starters — running back Ryan Mathews and wideout Keenan Allen. The 49ers should win an ugly game.
■ Falcons (+6½) over SAINTS: If big-play wideout Julio Jones does not return, Atlanta is a risky play. Still, Matt Ryan can trade shots with Drew Brees in a down-to-the-wire shootout in the NFC South. New Orleans' air of invincibility at the Superdome is history after a four-game losing skid. Brees dissected the Chicago defense Monday, but the Bears are bad news, and the Saints (6-8) still have problems on defense.
■ Colts (+3½) over COWBOYS: DeMarco Murray, the NFL's top rusher with 1,687 yards, appears likely to play despite a broken bone in his left hand. But he might not be as effective or finish the game. Dallas, off a big win at Philadelphia, is 2-5 ATS at home. Indianapolis has clinched its division and does not need the win. Andrew Luck, the league leader in passing yards (4,492) and touchdowns (38), will play to win anyway. The Colts can move the ball on a fading Cowboys defense.
■ BENGALS (+3½) over Broncos: Any bet on Cincinnati quarterback Andy Dalton can be second-guessed, especially with Manning on the other side. Manning is struggling late in the season, however, and Denver is more conservative on offense. The home 'dog needs the game desperately. Expect a field goal to decide it.
Last week: 3-2 against the spread
Season: 42-31-2
Las Vegas Review-Journal sports betting columnist Matt Youmans can be reached at myoumans@reviewjournal.com or 702-387-2907. He co-hosts "The Las Vegas Sportsline" weekdays at 2 p.m. on ESPN Radio (1100 AM). Follow him on Twitter: @mattyoumans247.
CHALLENGE SELECTIONS
Five contestants in the Review-Journal NFL Challenge, which is published Sunday, are playing games today based on the Westgate SuperContest lines.
San Francisco is a 1-point favorite over San Diego, and Philadelphia is a 7½-point favorite over Washington.
Matt Youmans is on the 49ers, and Dana Lane and Mike Scalleat are siding with the Chargers. Joe D'Amico and Doug Fitz are on the Eagles.