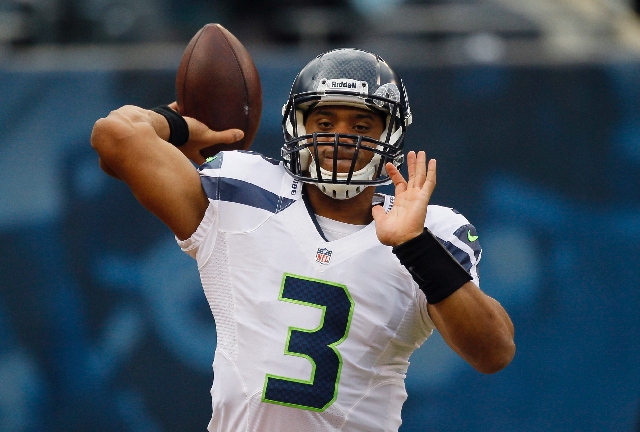 Rewind the film one year. Only a few people were thinking Russell Wilson, as a rookie quarterback, could lead the Seattle Seahawks to the playoffs.
That small support group included Wilson's friends and family, and maybe coach Pete Carroll. That's about it. Seattle was off a seven-win season and, for the most part, off the NFL radar screen.
Wilson, a third-round draft pick, won the starting job in late August, and the rest is point-spread history. The Seahawks finished the regular season 11-5 straight up and against the spread before covering both of their postseason games to notch the league's best ATS record.
Back to the future. Cantor Gaming recently opened lines on the first 16 weeks of the 2013 season, and Seattle is an underdog in only one of its first 15 games. More than a few people now are thinking Wilson will lead the Seahawks to the playoffs.
"I think the Seahawks are going to be the bandwagon team this year," said Mark Goldman, Cantor's vice president of sports book operations. He added that bettors seem to be "enthralled" with Wilson and Carroll.
Things change, sometimes dramatically. A year ago, when Cantor opened lines for the full season — excluding Week 17, which always is too odd to forecast — the Seahawks were 'dogs in 10 of 15 games.
But the 5-foot-11-inch Wilson turned out to be a big surprise. Seattle won three games by four points or fewer, including a controversial 14-12 victory over Green Bay in a Monday night fiasco. It was a season in which almost everything went right, and the offseason has gone well, too.
"It's easy to carry that power rating over and say the Seahawks are going to be just as good or better," said handicapper Steve Fezzik of Pregame.com. "But they are going to regress and probably win 10 games."
So now the Seahawks are a hot team. But are they for real?
Do they deserve to be 4-point favorites at Indianapolis in Week 5, 4-point favorites at St. Louis in Week 8 or 1-point road favorites over the New York Giants in Week 15?
It's dangerous to jump on a bandwagon moving at full speed. In the NFL, teams that make a big leap one year often regress the next. With that in mind, cast a cautious eye on the Seahawks.
Cantor Gaming, once considered a Wild West-type booking operation with seemingly unlimited wagering limits, has become more conservative in recent months. But Cantor is accepting $5,000 on all NFL sides for 16 weeks of games, a positive sign it is staying aggressive enough to satisfy most big bettors.
Putting up point spreads several months in advance is an inexact science, to be sure. But it's a credit to Cantor and good for bettors that these numbers are on the board in early May, and the numbers appear pretty solid.
Always looking for an edge, Fezzik said he fired on about 15 games.
"I don't lay more than 3 points," he said. "Even if the game comes 6, it's not that big of a deal."
Here are my observations:
■ New England never is listed as an underdog. The Patriots are favored 12 times and involved in three pick-'em games (at Atlanta, Houston and Baltimore).
■ Denver, San Francisco and Seattle are favorites in 13 games, underdogs once and in one pick-'em game each. The Broncos are 1½-point 'dogs at New England in Week 12, and there probably is a little value with the Patriots, who could be minus-3 or 3½ by kickoff.
■ Jacksonville never is favored, is an underdog 13 times and is in two pick-'em games. The Jaguars might be better off with Tim Tebow at quarterback.
■ Pittsburgh is a good bet as a 2½-point home favorite over Chicago in Week 3. I'm optimistic about a strong comeback season from Ben Roethlisberger and the Steelers, who finished 8-8. As for Jay Cutler and the Bears, I'm pessimistic.
■ Joe Flacco and Aaron Rodgers can compare their huge contracts in Week 6, when Baltimore is a 1-point home favorite over Green Bay. The Packers and Super Bowl champion Ravens are each underdogs only twice all season.
■ New Orleans is a 1½-point road favorite over the New York Jets in Week 9. I'm inclined to side with Drew Brees. Who is eager to bet on the Jets?
■ There are five pick-'em games in Week 11, including 49ers at Saints, and six pick-'em games in Week 16, highlighted by Patriots at Ravens.
Regular-season win totals will be posted soon. There is no offseason anymore for NFL bettors looking for action.
Contact sports betting columnist Matt Youmans at myoumans@reviewjournal.com or 702-387-2907. He co-hosts "The Las Vegas Sportsline" weekdays at 2 p.m. on ESPN Radio (1100 AM, 98.9 FM). Follow him on Twitter: @mattyoumans247.