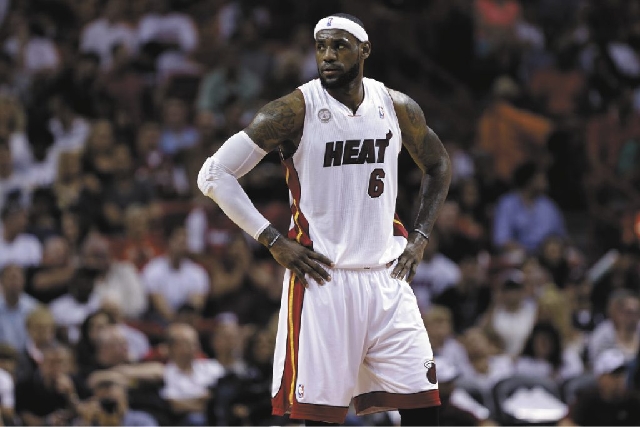 All signs point to a sequel. LeBron James stole the show from Kevin Durant in their first meeting, and, nearly a year later, the NBA's top two players appear set for Part II.
Although a sequel is sometimes a bust — "Blues Brothers" and "Caddyshack" were original classics but miserable failures the second time around — this one is a better bet. Oddsmakers are scripting a predictable Finals scene, with the Miami Heat and Oklahoma City Thunder reunited in two months.
James and the Heat have the look of an unstoppable force, 1-6 favorites to win the Eastern Conference and 1-2 favorites to repeat as NBA champions.
"I think it's warranted. I don't think any team in the East is going to beat the Heat four times," LVH oddsmaker Jeff Sherman said.
So, if there is an opportunity for drama, it mostly likely lies in the West, where the playoffs could get wild. Durant and the top-seeded Thunder are 4-5 favorites to win the conference and at 9-2 odds to unseat the Heat.
Kobe Bryant is down and out, and his Los Angeles Lakers are soon to follow. Derrick Rose has disappeared, and the Chicago Bulls are first-round underdogs without him.
The list of contenders has dwindled, and some of the intrigue is absent.
The only team in the East seemingly capable of making the Heat sweat are the New York Knicks, powered by league scoring leader Carmelo Anthony, who averaged 28.7 points for the season and 36.9 points in eight games since April 1. But Anthony, who was drafted two spots behind James in 2003, has led a team out of the first round only once.
The Knicks are minus-360 favorites over Boston in a best-of-7 series that opens the postseason Saturday. It's always risky to count out the Celtics, but they limp into the playoffs without injured point guard Rajon Rondo and came back weaker after Ray Allen's defection to Miami.
"This has the potential to be a real dogfight and possibly the most entertaining of all first-round matchups," said handicapping pro Jim Kruger of VegasSportsAuthority.com. "Similar to last season, Anthony appears to play better without Amare Stoudemire. Grizzled veteran Kenyon Martin has brought playground toughness to the Knicks since being acquired in late February, and New York should prevail in a hard-fought series."
The Heat are such prohibitive favorites over Milwaukee that most books are not posting a series price. The Bucks, 13½-point underdogs in Game 1 on Sunday, will exit with a moral victory if they win one game.
"Milwaukee would need Oscar Robertson and Kareem Abdul-Jabbar in their prime to challenge Miami," said Kruger, who projects Indiana and Chicago to advance.
The Bulls-Brooklyn Nets series is the most competitively priced, and SportsMemo.com handicapper Erin Rynning is siding with Chicago at plus-125.
He's not counting on a return by Rose, who blew out his left knee in last year's playoffs and remains sidelined despite being medically cleared to play in March.
"I think there's a chance," Rynning said. "But since Rose didn't play in the regular season, it's hard to see him coming back."
Rose's status is a bit of mystery. One certainty, Rynning said, is a "severe coaching mismatch" that favors the Bulls' Tom Thibodeau, who has the clearly better defensive team.
"What first-round upsets are worth wagering on? The only two in the West I can remotely envision considering are Memphis over the Clippers or Golden State over Denver," Kruger said.
The Warriors, who look like live underdogs at plus-425, are thriving behind point guard Stephen Curry's confident playmaking and hot shooting.
The hopes of Los Angeles ride with Chris Paul and the Clippers, minus-160 series favorites over Memphis. The Lakers, minus Bryant, are big 'dogs to second-seeded San Antonio, which is minus-1,000 to advance.
"Without Kobe, I don't expect much from the Lakers," said Sherman, who picks the Spurs in five games. "At 100 percent healthy, San Antonio is the team that could play the Heat as well as anybody."
Oklahoma City, which could not match up with Miami when it had James Harden, should eliminate Harden and the Houston Rockets fairly easily.
But if Rynning is right, the Thunder won't roll through the West.
"I would take my chances with the field against Oklahoma City," Rynning said. "I think the Thunder could be vulnerable, but I don't know if it could be the Spurs, Clippers or Grizzlies."
Bet on it being the Heat in a sequel. James' first title was a struggle that came at the expense of the Thunder. His second one is coming with a lightning strike.
Contact sports betting columnist Matt Youmans at myoumans@reviewjournal.com or 702-387-2907. He co-hosts "The Las Vegas Sportsline" weekdays at 2 p.m. on ESPN Radio (1100 AM, 98.9 FM). Follow him on Twitter: @mattyoumans247.