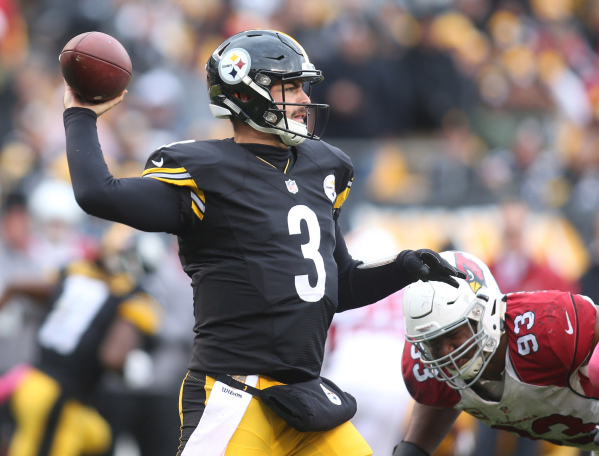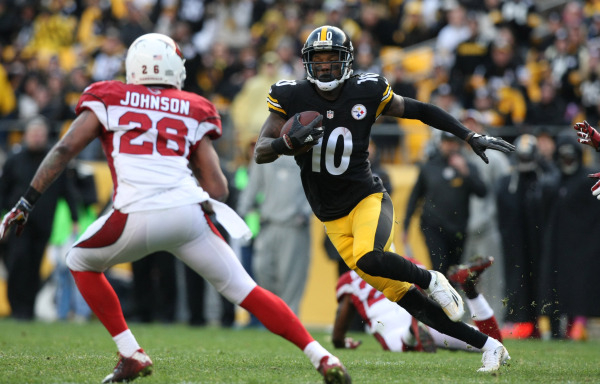 Every bookmaker in Las Vegas showed up for work Sunday morning praying for underdogs and rooting against Tom Brady. That's basically the case every week, but it was especially true this time.
"I said this morning, 'We've got to get Pittsburgh or this could be a disastrous day,'" MGM Resorts sports book director Jay Rood said.
He got his wish with Pittsburgh, which pulled off the day's second-biggest upset. It was a day for upsets and underdogs, until Brady and the New England Patriots rode into Indianapolis with a plan of taking no prisoners.
"I hate needing the team that plays the Patriots," said Jay Kornegay, Westgate sports book director. "This is probably the biggest decision we've had all season."
The bettors love the Patriots for a reason. Brady makes the bookmakers pay almost every week. Almost every week. And Week 6 of the NFL season had the potential to be a bloodbath for the books, and it might have been if not for Landry Jones, Cam Newton and a back-door touchdown pass by Andrew Luck.
Jones, a third-string quarterback summoned in an emergency, connected with Martavis Bryant on two touchdown passes in the second half to push the Steelers to a 25-13 victory over Arizona, which closed as high as a 6-point favorite after the public bet up the opening line of 3.
"Everyone was loading up on the Cards," Rood said. "That was a huge game for us."
The line move on the Cardinals looked promising when they jumped on top 7-0, but they faded fast and dealt bettors the most crippling blow of the eight morning games.
"It's amazing how popular the Cardinals are because they really never have been a public team," Kornegay said. "But when you start winning games, you become a Las Vegas public team very quickly."
The Steelers will become one of those teams when their first-string quarterback, Ben Roethlisberger, returns. On the other hand, the public's love affair with Seattle is probably history.
The Seahawks, 7-point home favorites, dealt bettors the worst blow of the three afternoon games by squandering another fourth-quarter lead. Newton led two 80-yard scoring drives to lift Carolina to a 27-23 win.
His game-winning throw, a 26-yard strike to tight end Greg Olsen with 32 seconds left, was stunning for a few reasons. Olsen is obviously Newton's favorite target, yet he was invisible to two of Seattle's star defensive backs, Richard Sherman and Earl Thomas, who allowed him to streak into the end zone.
"The Carolina game was huge," Kornegay said. "That really knocked out about everything as far as teasers and money-line parlays, or else Patriots-Colts would have been even bigger."
The Panthers might be phony, but they are 5-0. The Broncos might not be for real, either, but their 6-0 record means something.
In a game both teams tried several times to lose, Denver defeated Cleveland 26-23 in overtime. The Browns drew sharp money and closed as 3½-point underdogs after the line opened at 4½. Peyton Manning was intercepted three times.
"I don't know how they are doing it, but the Broncos are doing enough to get there," Rood said. "The defense is keeping them in it."
Underdogs went 9-3 against the spread, with five outright wins. Cincinnati, Minnesota and the New York Jets covered as favorites in mostly uneventful fashion.
Houston, a 2½- to 3-point 'dog, upset Jacksonville 31-20 — and that was notable because the words "upset Jacksonville" are never side by side in a sentence.
Detroit got its first win by beating Chicago 37-34 in an eventful overtime game. But the Bears, who closed as 3½-point 'dogs, got the cover for smart bettors. Miami and San Francisco were outright winners as 'dogs.
Philip Rivers almost doubled Aaron Rodgers in passing yards and nearly upset him at Lambeau Field. San Diego, getting 10½ points, took it to the wire in a 27-20 loss. Rivers completed 43 of 65 passes for 503 yards and two touchdowns. Rodgers passed for 255 yards and two scores. The Chargers outgained Green Bay by 178 yards.
"If you looked at the box score, you would have said, 'The Chargers must have smoked them,'" Rood said. "I sure would have liked to see the Chargers pull it out. The Packers-Patriots teasers were kind of out of control."
The Patriots cashed, but only on teasers and money-line tickets. New England opened in some spots as a 7-point favorite, and the line rapidly moved to 7½ and closed at 8½ to 9½.
In the Westgate SuperContest, a record number of contestants (849 of 1,727) were on the Patriots at 7½. Kornegay said the tickets and dollars wagered were on New England at about an 8-to-1 ratio.
With a 34-21 lead, Brady lost his killer instinct and went into a rare three-and-out offense. Luck burned bettors by throwing a touchdown pass with 1:19 to go. The Patriots, who blocked the extra-point kick, won 34-27.
The bookmakers' prayers were answered as they won big games in the morning (Pittsburgh), afternoon (Carolina) and evening (Indianapolis).
"No one was interested in betting the Colts," Kornegay said. "We knew we needed some team to step up and get an outright upset or Patriots-Colts would be a monster game."
The day ended as a monster disappointment for most bettors.
Las Vegas Review-Journal sports betting columnist Matt Youmans can be reached at myoumans@reviewjournal.com or 702-387-2907. He co-hosts "The Las Vegas Sportsline" weekdays at 2 p.m. on ESPN Radio (1100 AM). Follow him: @mattyoumans247