Super rematch may be just what the NFL needs
September 18, 2014 - 9:39 pm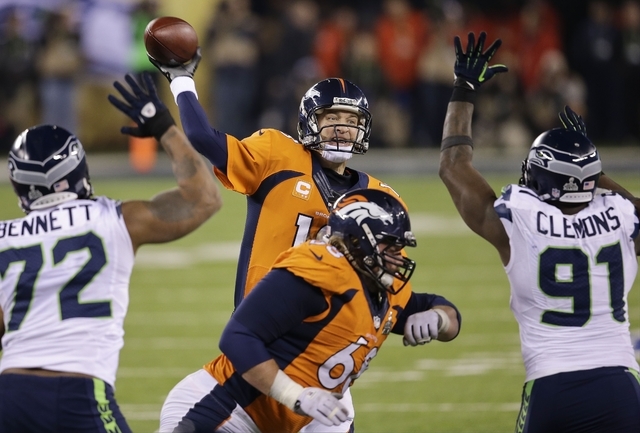 With controversies off the field and officiating fiascos on it, the NFL is in desperate need of a change of topic. So, this is an opportune time for Peyton Manning to be the top story.
There is no better time for the league's first regular-season Super Bowl rematch since 1997. Denver and Seattle meet again Sunday, and it's a safe bet to say the sequel will be better than the original.
In February, Manning and the Broncos were given the toilet-bowl treatment in a 43-8 wipeout. This time, Manning is in the underdog role, and that fact alone is encouraging some bettors to give him another shot.
"There are two ways to look at it," South Point oddsmaker Jimmy Vaccaro said. "You're getting Peyton Manning and points."
Vaccaro did not mention the other reason, but it's obvious. The Seahawks are at home, where they routinely beat the snot out of every team that tries to trespass.
Seattle, a small underdog in the Super Bowl, is a 5-point favorite in the rematch. The money line is minus-240, another option for those nervous about Manning getting points.
"It's predominantly the public backing the Seahawks," MGM Resorts sports book director Jay Rood said. "It will be a huge game for us, and I think it's going to be a big decision. We're probably going to get a considerable amount of Seahawks money."
Rood did not say the so-called sharps are on the Broncos, though they line up on the 'dog more often than not. My money is on the Seahawks, just as it was in the Super Bowl, because I look at the game two ways.
One, betting against Seattle on its home field has been about as wise as investing in a Ponzi scheme presented by Bernie Madoff. The Seahawks are 19-2 straight up and 16-5 against the spread in their past 21 home games, including a 20-point flushing of the Green Bay Packers in the season opener.
Two, the Seahawks are off a loss and angry about it, so they have a point to prove to everyone putting the Broncos at No. 1 in this week's power rankings.
Denver is an improved team on paper, especially on defense, where it added pass-rush specialist DeMarcus Ware and cornerback Aqib Talib and welcomed back linebacker Von Miller from an injury that forced him to sit out of the Super Bowl. But the Broncos have a lot to prove, because they never were in the game in February, and that was on a neutral field.
"Denver is catching Seattle at the worst time coming off that loss," William Hill sports book director Nick Bogdanovich said. "I would like to see the Broncos go in there and win, but I just don't think they do.
"I can't wait to watch it. It should be entertaining, to say the least. Let's face it, if you could only watch one game out of the 16 this week, this would be the one."
It definitely would not have been Tampa Bay-Atlanta, a massacre that made the Super Bowl look like a barnburner by comparison.
This has been an ugly month for the NFL, with star players suspended amid legal issues, a commissioner fighting to avoid impeachment and a few incompetent officials threatening the integrity of the games.
The Indianapolis Colts are 0-2, but they should be 1-1, if not for officials making two critical blunders late in Monday's game, which Philadelphia won 30-27 with an asterisk.
"Unless you're Stevie Wonder or Ray Charles, it was pretty obvious," Bogdanovich said. "It was pretty bad."
But this weekend's schedule is good enough to put some of the focus back on the field. New Orleans (0-2) is dominant at home, where the Saints are 10-point favorites over the Minnesota Vikings, who are missing suspended running back Adrian Peterson.
"It's a perfect storm. I know we're going to need Minnesota for our lungs," Rood said. "If you're standing in the betting line, you're going to hear, 'The Saints can't go 0-3.' "
Dallas, off a strong defensive effort in a win at Tennessee, is in a pick-em game at St. Louis.
"The Cowboys are probably my favorite play this week," Rood said.
Buffalo (2-0) is a 2½-point favorite over the San Diego Chargers, who are in a bad spot on the road after their emotional upset of the Seahawks.
Manning is in a tough spot, and he'll make a better second impression against Seattle. But I'll predict the Seahawks in a 10-point decision.
■ CLOSING NUMBERS — After three straight break-even weeks in college football — 4-4 last week and 10-10 for the season — I'm looking for a breakout performance. Six plays for Saturday (home team in CAPS):
EAST CAROLINA (-2½) over North Carolina; WYOMING (-3½) over Florida Atlantic; COLORADO (-8) over Hawaii; Clemson (+15½) over FLORIDA STATE; Mississippi State (+9½) over LOUISIANA STATE; NEBRASKA (-7½) over Miami.
Las Vegas Review-Journal sports betting columnist Matt Youmans can be reached at myoumans@reviewjournal.com or 702-387-2907. He co-hosts "The Las Vegas Sportsline" weekdays at 2 p.m. on ESPN Radio (1100 AM). Follow him on Twitter: @mattyoumans247.