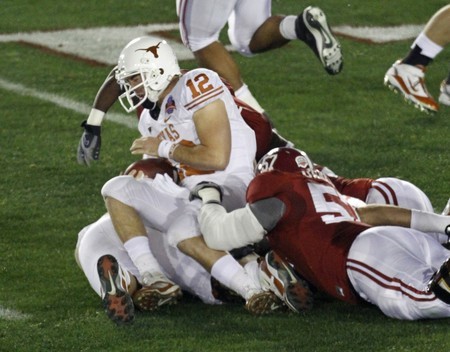 An injury to Texas quarterback Colt McCoy seemed to drain most of the drama from the Bowl Championship Series national championship game. Without their senior star, the Longhorns were little more than a long shot.
We never got to see the real McCoy, who hurt his right shoulder on his team's fifth offensive play and became a spectator Thursday night.
But a big surprise arrived in the second half. Alabama coach Nick Saban — and gamblers everywhere — ended up sweating it out.
The Crimson Tide, up 18 at halftime and primed to roll, had to hang on for a 37-21 win that produced drama in Pasadena, Calif., and in Las Vegas sports books.
At most books, Alabama closed as a 4-point favorite, with a total of 45. The oddsmakers nailed the right numbers.
If you fell asleep on the couch in the third quarter, don't be fooled by the final score. Texas was covering the spread, trailing 24-21, and had the ball with just more than three minutes left.
The betting public rode the Tide and started lining up to cash in after two late touchdowns.
"It's not a good result, and I'm almost sure a majority if not all the books lost on the game," Las Vegas Hilton sports book director Jay Kornegay said. "We took some bigger wagers on Texas, but it wasn't enough to overcome the heavy support for Alabama. It was an avalanche of tickets on Alabama.
"At some point in the game, it was so bad it didn't look like the national championship game. It got pretty ugly. I would have liked to see the game with McCoy in there. That was a huge difference."
In a way, it was a fitting end to the college football season and the BCS fiasco. Most of us might think the Tide would have defeated the Longhorns, even with a healthy McCoy, but we don't know for certain.
Just as we don't know Alabama would beat Boise State, which finished 14-0 but did not get a shot to prove it was better than No. 2.
According to most estimates, Alabama would be favored by 10 or 11 points over Boise State, if the two met in a playoff game. The Broncos were 71/2-point underdogs in their 17-10 upset of Texas Christian in the Fiesta Bowl.
Utah rocked Alabama 31-17 in a BCS game last year, but as the argument always goes, the Tide played with little motivation.
"I think with full focus, a Texas or Alabama would win by double digits against Boise," Northcoast Sports handicapper Phil Steele said.
The Longhorns were in position to cover Thursday after Garrett Gilbert, McCoy's backup, hit wide receiver Jordan Shipley with a 28-yard touchdown pass to cut the deficit to 24-21 with 6:15 left. The Tide punted, and Gilbert trotted back onto the field.
But Gilbert was sacked from his blind side with 3:02 left, Alabama recovered a fumble, and Heisman Trophy winner Mark Ingram scored on a 1-yard run for a 10-point lead. The Tide tacked on another score after a Gilbert interception.
In the final seconds of the first half, a senseless call by Texas coach Mack Brown resulted in Alabama intercepting a Gilbert shovel pass and returning it for a touchdown.
So here's the scorecard after 34 bowl games: Underdogs were 16-18 straight up and 21-12-1 against the spread.
"The Mountain West Conference looked good with BYU and Utah handling the Pac-10 teams the way they did," Steele said.
The Big Ten also improved its profile with Ohio State, Penn State, Wisconsin and Iowa posting wins. The Buckeyes upset Oregon in the Rose Bowl, a redeeming victory for Ohio State coach Jim Tressel and quarterback Terrelle Pryor.
"Pryor played a phenomenal game. Tressel gets the blame when they lose, but I thought he did a great coaching job," Steele said. "Ohio State should be in the top three next season."
The Southeastern Conference, led by Alabama and Florida, again is the biggest winner.
The Tide winning but not covering the spread, Kornegay said, would have been a "pretty good scenario" for the books Thursday.
The best scenario would be an Alabama-Boise State showdown up next. Keep dreaming. At least Alabama-Texas produced some drama.
Contact sports betting columnist Matt Youmans at myoumans@reviewjournal.com or 702-387-2907.